Notices of confiscation 8 dunums of agricultural land in Az-Zawiya /Salfit
Violation: The occupation reveals confiscating lands for security means.
Location: Az-Zawiya / East Salfit.
Date: 9 October 2018.
Victims: Farmers in Az-zawyia
Details:
Tuesday , 9 October, IOF delivered a confiscation notice of 8.42 dunums to a number of farmers West Salfit, in basin 4 of Az-Zawyia in Seseria lands that are isolated behind the Apartheid wall . According to notice number (18/17/t) assigned by the IOF commander "Nadav Alov" , the occupation gave right to themselves of disposal in the confiscated lands until 2020 , with the possibility to renew the military order after that.
Pictures 1-3 :The Military notice
In the attached map it is obvious that the location is close to (Mjen dain ) outpost which is considered an addition to "Elkana" colony , behind the Apartheid wall which the occupation built north west Az-Zawyia, the damaged lands belong to citizens : Abdulqader Shuqair and Rajih Shuqair.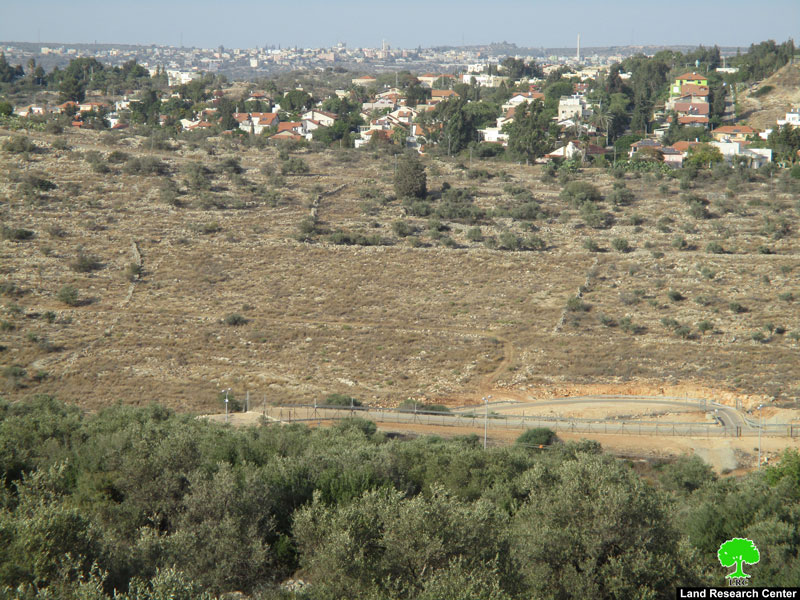 Pictures 4 : Lands subjected by the confiscation order.
Az-Zawyia mayor Na'em Shuqair told LRC observer:
"Seresia north west the town is one of the areas that lost many of its lands behind the Apartheid wall, the occupation implanted one gate that opens for farmers in the time of olive harvesting and cultivation, and worked very hard in Judaization the area, Settlers build random houses in 2006 and named it (Mjen Dan) about only 150 meters away from Elkana settlement, in the recent years settlers carried out burning 150 dunums in many stages ,in addition to cutting and destroying number of olive trees . Through the gate they showed worst sorts of racism, Palestinian farmers found themselves standing alone in the face of the occupation's racism, but still insisting on protecting the area from Judaization.
Many farmers point out that these notices to take over lands close to the outpost reveal the occupations plan to build a military base that will help in developing and growing the outpost.
It is important to mention that Az-Zawyia is the most subjected area in Salfit by the occupation's racist plans, there are about 2000 dunums of the town's lands isolated behind the Apartheid wall west the town, in addition to that building bypass road 5 north and isolating area with a solo gate monitored by the racist occupation.
Pictures 5+6 : ElKana settlement and the Apartheid wall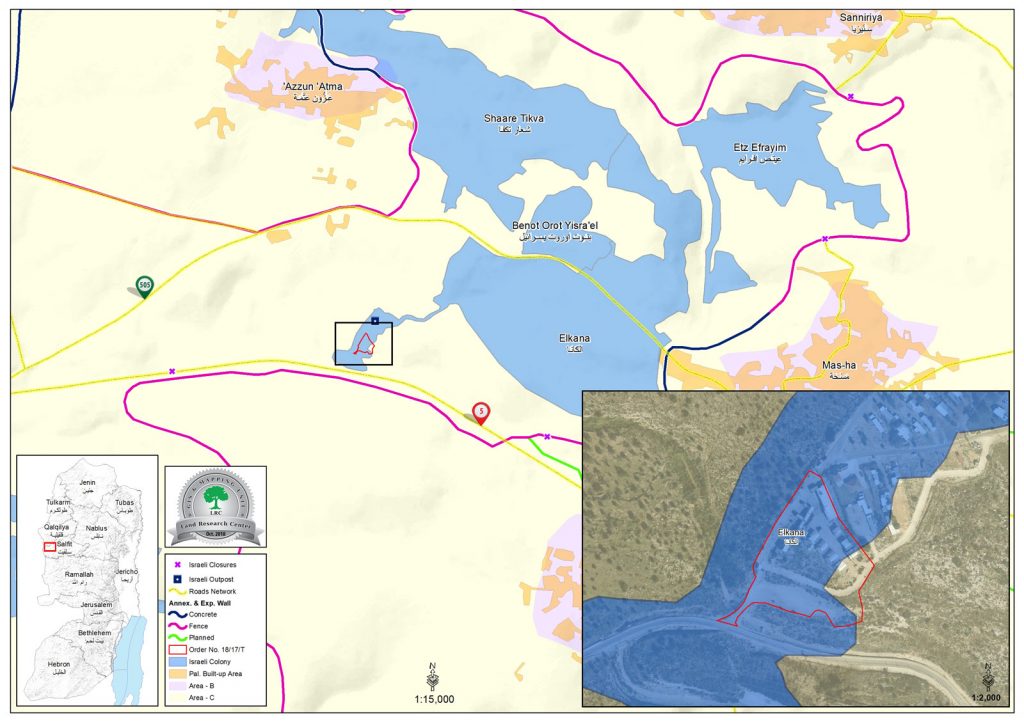 About Az Zawiya:[1]
Located 17 kilometer west of Salfit and adjacent to the Green Line, Az Zawiya has a population of 1006 people according to statistics conducted in 2077. (81%) of the population depends on agriculture and sheep grazing while the rest work in governmental jobs or private sector projects. Az Zawiya has a total area of 12,000 dunums, 693 of which are a built-up area of the town. Most agricultural lands in Az Zawiya are planted with olive, figs, and cactus. The Israeli occupation confiscated 1747 dunums of Az Zawiya lands for colonies and the Apartheid Wall as the following:
Two colonies are built on Az Zawiya lands. The first is Mazor Atiqa which was built in 1986 and confiscated 573 dunums. The other is Elkana which was built in 1977 and confiscated 57 dunums. Elkana is inhabited by 3050 colonists.
Bypass road number 5 and it devoured 520 dunums of Az Zawiya lands
The Apartheid Wall which destroyed 579 and isolated 4228 dunums