The Israeli Occupation Authorities target Barta'a Ash Sharqiya residents with new demolition orders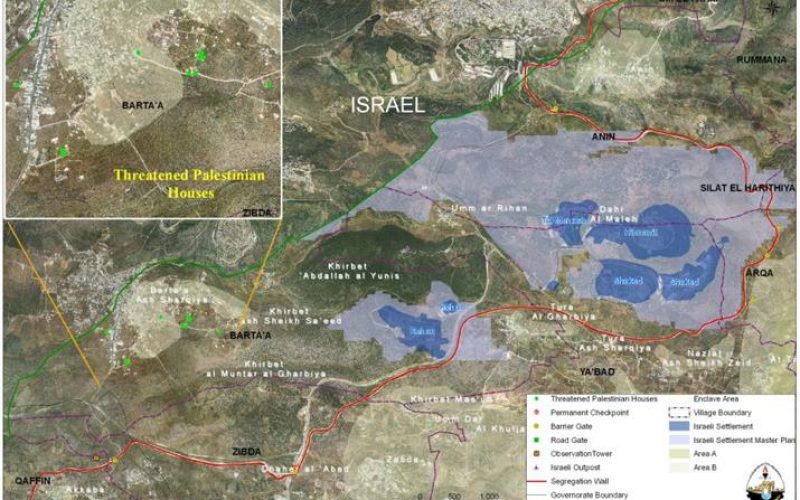 On the 18 of January 2010, the Israeli occupation forces delivered 9 demolishing orders to Palestinian residents in Barta'a Ash Sharqiya (East Barta'a) west of Jenin city. The 9 orders that are set out by the Israeli civil administration and handled by the Israeli occupation forces came all under the pretext of lacking proper building authorization due to their location in areas classified as 'C' according to Oslo II interim agreement of 1995 which fall under the full Israeli administrative and Security control. Following are the names of house owners who were targeted by the demolition orders:
3.
Muhammed Al Sheikh Ali
9.
Ahmed Saleh Qabha.
Map 1 indicates the location of threatened houses in East Barta'a village.
indicates the location of threatened houses in East Barta'a village.
Map 1:

Targeted Palestinian houses in Barta'a Ash Sharqiya
Later on February 10, 2010, the Israeli Occupation Forces delivered three families in Barta'a village orders to demolish their houses under the pretext that their houses were built without proper building authorization. Owners of the houses are Jum'a Mahmoud, Jihad Ibrahim Qabha and Abdel 'Aziz Abu Salah.
The Israeli Segregation Plan in Barta'a Ash Sharqiya Village
The latest Israeli revised map of the Segregation Wall that was published on the Israeli Ministry of Defense website on April 30, 2007, showed that Barta'a Ash Sharqiya village along with 6 other Palestinian communities are entrapped in an enclave and isolated from the center of life in Jenin city. The enclave includes the villages of Al Muntar Al Gharbi, Kh. Ash Shiekh Saed, Kherbit Abdullah Al Younis, Um Ar Riham, 'Arab Al Hamdoun, Kherbit Al Maleh and Barta'a Ash Sharqiya. See Table 1 & Map 1:-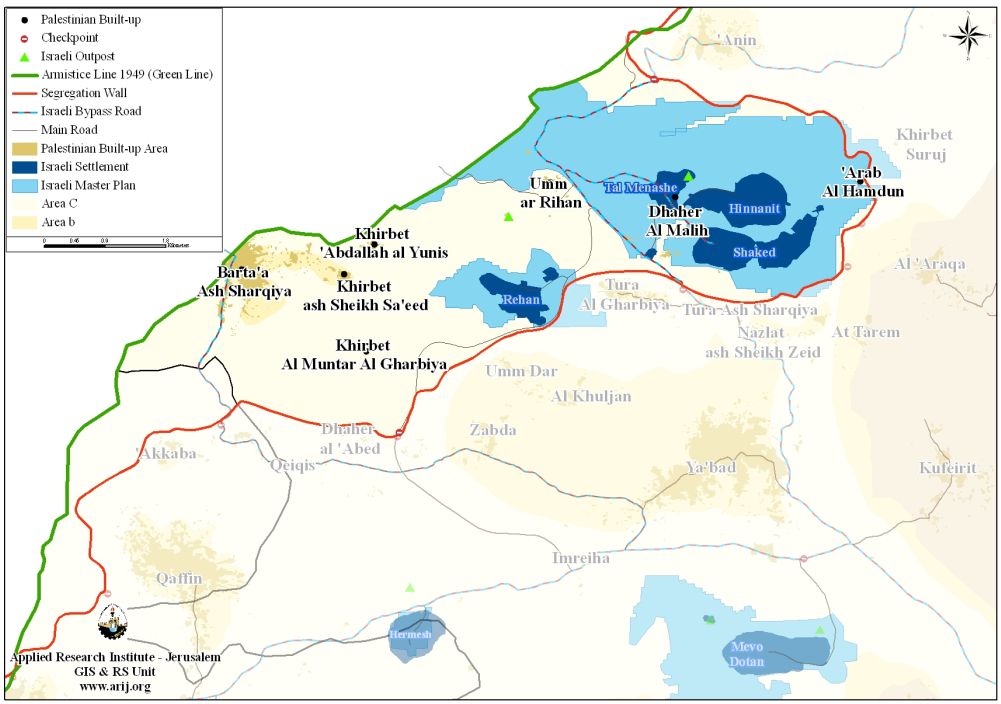 Map 2: The Israeli Segregation Wall plan in Barta'a Ash Sharqiya Village
Table 1: Barta'a Enclave

No.

Name of Enclaved Palestinian Communities

Pop. (2008)

(PCBS)

1

Umm Ar Rehan

434

2

Abdullah Al Younis

163

3

Kherbit Ash Sheikh Sa'ed

253

4

Kherbit Al Mintar Al Gharbi

22

5

Barta'a Ash Sharqiya

4180

6

Arab Al Hamdoun

105

7

Daher Al Maleh

252

Total

5409
The map also shows that 4 Israeli settlements are included within the enclave which Israel plans to annex. See Table 2
Table 2: Israeli Settlements located with Barta'a Enclave

No.

Settlements inside Enclave

Population (2008)

Area (Dunum)

Date of Establishment

1

Rehan

170

418

1977

2

Shakid

578

858

1981

3

Hinnanit

811

769

1981

4

Tel Menashe

452

275

1994

Total

2011

2320
Source: Geo-graphical Information System – ARIJ 2010
The Segregation Wall in Barta'a Ash Sharqiya enclave extends for more than 17 kilometers starting from 'Anin village near the 1949 Green Line (Armistice Line), then it extends to the east towards Arqa village cutting through its lands. It then stretches southeast towards Ya'bad and Barta'a villages where it isolates a considerable area of lands of the two villages and then continues towards Zabda village in the south where it isolates some of its lands within the enclave. Table 3 below gives details of the isolated lands in Barta'a Ash Sharqiya enclave.
Table 1: Lands isolated within Barta'a Ash Sharqiya Enclave

No.

Enclaved Village Boundary

Area Within Enclave (Dunum)

Total Village Area (Dunum)

Percent from Village Boundary

1

Zibda

2661

11601

22.9

2

Barta'a

10760

13462

79.9

3

Anin

7140

11614

61.5

4

Ya'bad

6323

37539

16.8

5

Arqa

868

5663

15.3

6

Silat Al Harthiya

63

8964

0.7

Total

27815

88843

31.3

Source: Geographical Information System – ARIJ 2010
Table 3 shows that in Barta'a Enclave, 27815 dunums (27.8 km²) are already isolated behind the Wall. Any movement from or to these villages (Table 1) is completely controlled by the Israeli Occupation Forces. These residents (exceeding 5400 inhabitants – PCBS 2008) are segregated from their lands, livelihood, and vital social services that are only found in the city centers east of the Wall such as hospitals, schools and universities. Of the isolated lands in Barta'a Enclave, 5185 dunums (5.18 km²) are agricultural lands in addition to 19437 dunums (19.4 km²) of forests and open spaces. Entrance to the isolated agricultural lands is only to farmers who are able to prove landownership through a credited Israeli organization (most likely to be the civil administration) and only the owners whose names listed in the ownership deeds (usually the eldest of the families) receive permits. Furthermore, the Israeli Civil Administration only issue permits on seasonal basis. Hence the owners find a hard time to manage the cultivated lands on their own especially that the permits do not include additional labor or equipments.
The Housing Restriction Dilemma
The demolition orders received by residents of Barta'a Ash Sharqiya village state that the existing structures were built in violation of the fourth chapter of the Israeli City, Village, and Building Planning Law no. 79 of 1966 which was amended after the 1967 war by the Israeli Occupation Authorities on the basis of Military order No. 418 to comply with Israel's interests and settlement plans in the occupied Palestinian territory. Residents of Barta'a Ash Sharqiya were given a period of one month from the date of issuance of military orders to object the orders and start with licensing procedures.
Amendment to Law No. 79 of 1966:
In Year 1971, the Israeli Occupation authorities 'amended' Law number 79 of 1996 in accordance with Israeli Military Order number 418, under which all significant decisions on permits and plans would be made by a High Planning Council appointed by the Military Commander. MO 418 also allowed the High Planning Council to prepare, amend, cancel, disregard, or dispense any plan or permit; it also had the authority to exempt persons from obtaining the necessary license. Most members of the High Planning Council have been military officers and all have been Israeli citizens. The amendment to this law has advanced the establishment of new settlements and the expansion of existing ones while it prohibited the natural development of the Palestinian community simply by rejecting permits and demolishing Palestinian houses under the pretext of building without proper building authorization. .
To conclude:-
The self serving illegal policy adopted by the Israeli Occupation Authorities aim at putting pressure on the Palestinians to push them into voluntary transfer, and to facilitate the annexation of their lands to the interest of building and expanding of the Illegal Israeli settlements and outposts. Due to the rigid Israeli building license policy, the Palestinians build in area 'C' without licenses, to cope with the natural growth of the population. The Israeli authorities face these constructions by demolition orders. On the other hand, the Israeli authorities facilitate the process of issuing building permits to Israeli settlements in the West Bank, in spite of the fact that its existence stands in violation of the international law.