Israel to build new segment of the apartheid wall around "Ma'ale Isreal"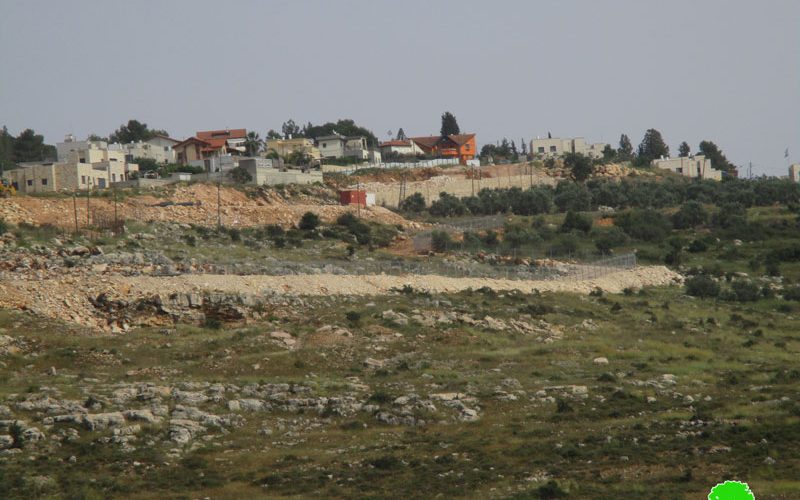 violation: completing the construction of the apartheid wall
Location: Sarta Ash-Sharqiya village/ Salfit Governorate.
Date:  May 01 – 2018
Perpetrators: Israeli Occupation Forces
Victims:  residents of Sarta
Description:
The occupation forces carried out ravages around "Ma'ale Isreal" illegal outpost, field observation reported that 3 vehicles belong to the Israeli occupation are working to build a new segment of the Apartheid wall in the northern and western side from the outpost.
This new segment will isolate at least 40 dunums of Palestinian lands to the side of "Ma'ale Israel" settlement, the targeted lands are not cultivated as there real Palestinian owners and farmers are not allowed to reach them and are labeled as "closed military zones" for over than 20 years, the mentioned lands originally belong to Sarsor and Salah families from Sarta village.
The new segment as the ravaging shows will have a length of 800 meters, 300 of them are ready in the day this report was prepared.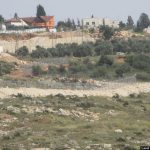 Photos 1-3 : "Ma'ale Israel" illegal outpost and the surrounding apartheid wall.
Feras Salameh , legal consultant in Salfit governorate told LRC observer:
"The Israeli occupation authorities are attempting to legalize "Ma'ale Israel" outpost, which is the first stage towards new expansion and developmental projects, which will increase the colonial area in Salfit governorate".
The occupation obstruct movement of Palestinian farmers in areas close to settlements, Abdulla Salah from Rural council of Sarta told LRC observer
 "The Israeli occupation prohibit us from reaching our land in "Burkan settlement" (close to Ma'ale Israel outpose), the Israeli occupation use different pretexts like the land is not used or security purposes. In the mean time , they leak the land to settlers to conduct their colonial plans.
The Israeli illegal outpost "Ma'ale Israel" was built in 1993, at that time it consisted of 5 mobile caravans, after 2000 they were replaced with permanent housing units, and the Israeli authorities implanted a military watchtower and roads to support the outpost's development. "Ma'ale Israel" lies close to "Burqan industrial settlement" which facilitates Judaization and colonial projects.
About Yasuf:
It is 16km south of Nablus. Yasuf is surrounded by Huwara and Jamma'in (north), Marda (west), Yatma (east), and Iskaka (south).
Yasuf is inhabited by 2090 people (according to 2013 projections). It has a total area of 6037 dunums, 330 of which are built-up area of the village.
The Israeli occupation confiscated 814 dunums for these two colonies: Kfar Tapuah colony which was built on Yasuf lands in 1978. The colony is inhabited by 523 colonists and Rachelim- Shvut that was built in 1991 and devoured 10 dunums.
Besides, the bypass road number 508 confiscated more than 155 dunums of the village lands.
According to Oslo Accords, only 1427 dunums of Yasuf lands are under Area B (PA is in charge of civil matters with Israel responsible for security) while most of Yasuf is under Area C (Israel maintains full security and administrative control). About of 4609 dunums of Yasuf is in area C.