Stop-work order in the Hebron city of Yatta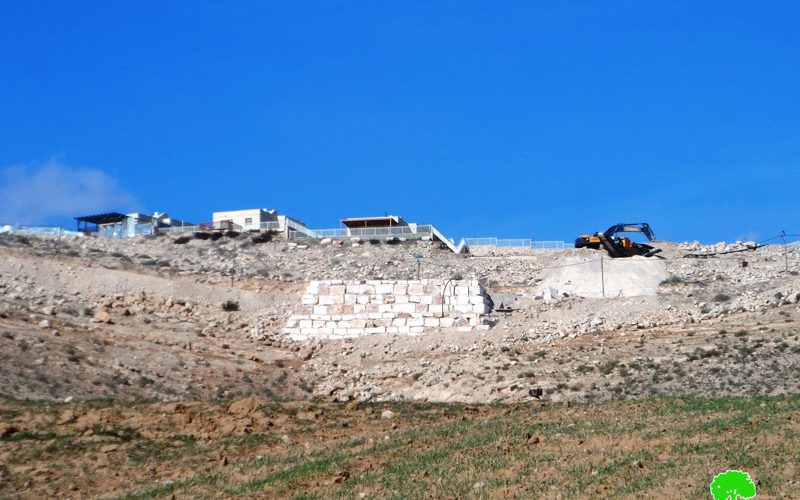 Violation: issuing stop-work and demolition order
Location: Um Al-Kheir hamlet- Yatta city
Date: January 10, 2018
Perpetrators: Israel Civil Administration
Victims: resident Zayed Hathaleen
Details:
Israeli Occupation Forces issued on January 10, 2018 stop-work order, targeting the residence of Zayed Hathaleen in Khirbet Um Al-Kheir, east Yatta city in Hebron governorate on the claim of" unlicensed construction" within area classified "C" according to Oslo Accords.
Residents of the area pointed out that a vehicle relative to Israel Civil Administration accompanied by an army patrol raided the area, issued the order, delivered it to the owner and took photos of the structure before the force had left.
The order number 050137 stated that the center is built without proper license and ordered immediate halt on construction works. January 24, 2018 was assigned as the hearing session of the Inspection Sub-Committee in the Israeli court of Beit El colony to consider the legal status of the notified structure.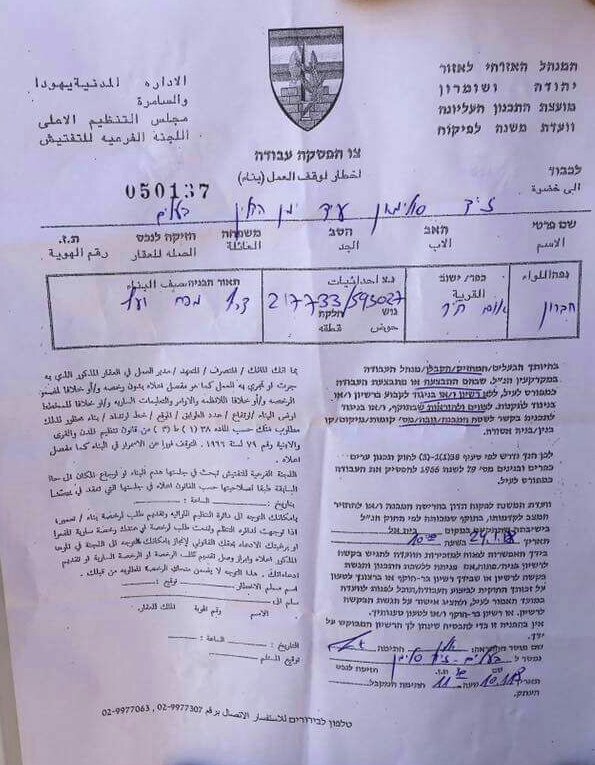 The stop-work order number 050137 served on the center
Noteworthy, the residence is of 24m2 and is home for the citizen's five member family including three children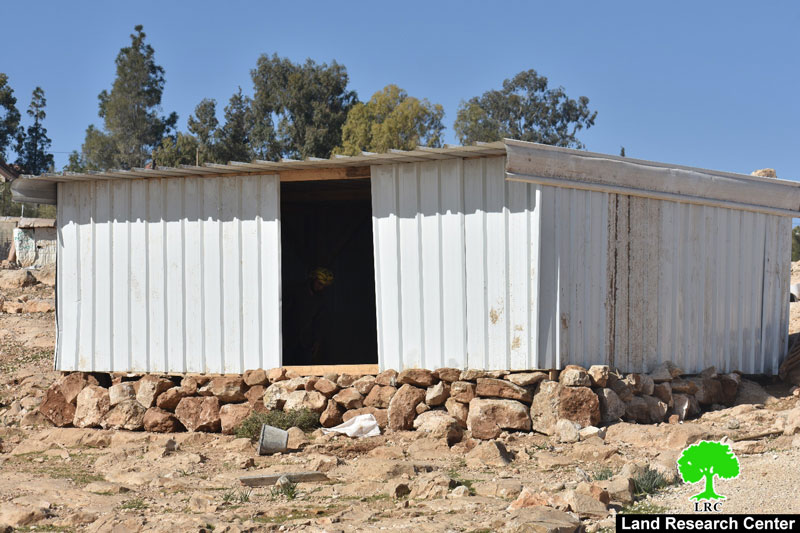 Photo 2: view of the residence
Reportedly, the Israeli Occupation Forces demolished Hathalin's twice in 2016. The first residence was made of tin-plates and second was gifted by aid organization after the first unit was demolished.
About Um AL-Kheir:
It should be marked that the hamlet of Um AL-Kheir — inhabited by AL-Hadhaleen family– is located nearby Karmel colony, which is founded on confiscated lands from the area. The Israeli occupation has been working hard to displace people through serving demolition and stop-work orders on the area's residents and their properties. Not only, colonists are reported to carry out various attacks to push people out of the area to take it over for the sake of colonial expansion.
Colonial groups such like " Reghafim" incite the so-called Israel Civil Administration to target Palestinian structures and quicken the process of demolishing structures served with military order. Such group is active in the areas of West Bank.
It is reported that Israeli Occupation Forces carried out a demolition in Khirbet Um Al-Kheir on November 15, 2016. Eyewitnesses said that member of "Reghafim" group were present at time of the demolition; they took photographs through a drone to document the incident.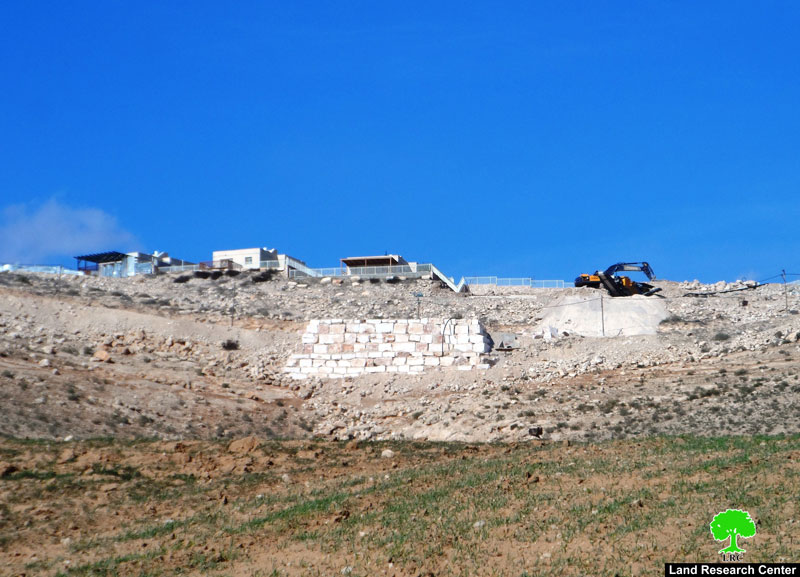 Photo 3: ravaging and expansion works to the south of Karmeil colony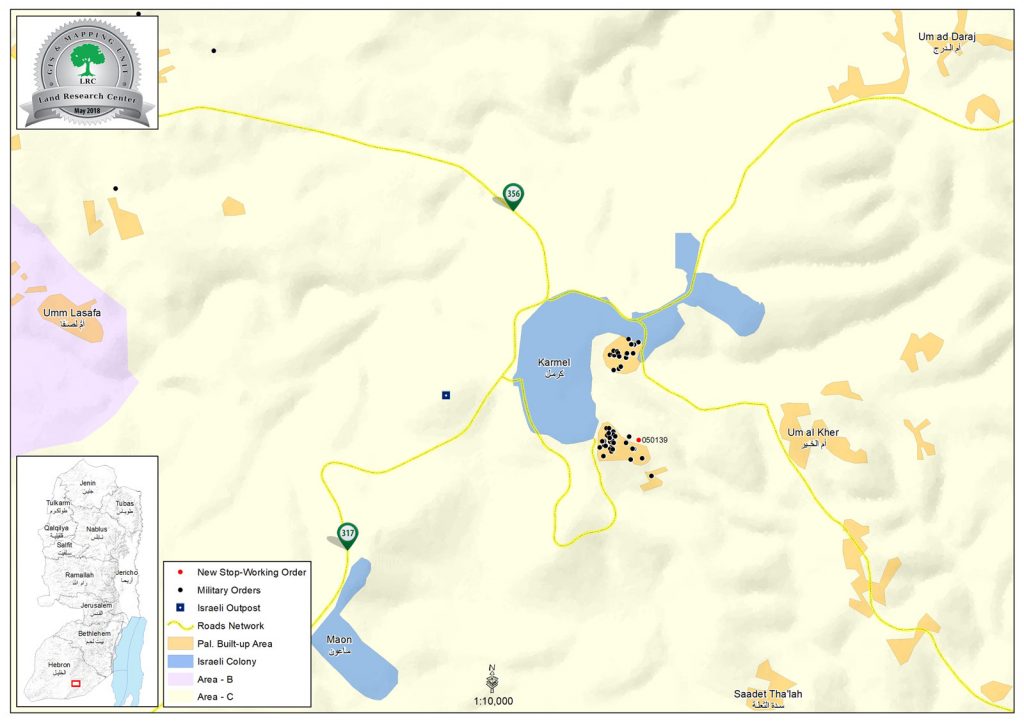 Prepared by
The Land Research Center
LRC