Israeli Occupation Forces demolish an agricultural residence in Jerusalem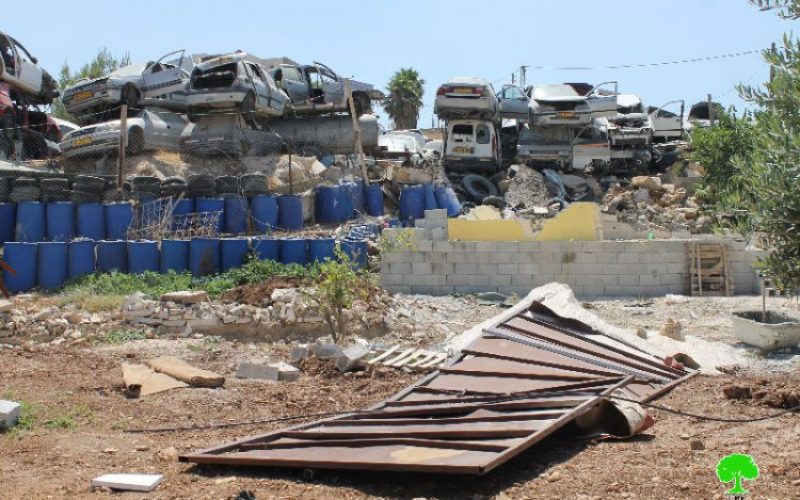 Dozers of the Israeli occupation army demolished on July 12, 2016 a residence that is used for agricultural ends in the Anata neighborhood of Al-Buhaira in Jerusalem on the claim of unlicensed construction. It should be marked that the structure (80m2) is composed of two rooms, kitchen and a bathroom. It is roofed by metal slaps and is owned by citizen Mohammad Hilweh.
Citizen Mohammad told Land Research Center the following: " I built the house in 2010 to be used for agricultural ends after it was demolished during the same year. Eight months ago, staff from Israel Civil Administration arrived at the location and delivered me a demolition order. I didn't hire an attorney since the attorney I hired first time and the expenses I paid didn't prevent the demolition of my structure"
He also added: " On July 10, 2016, a staff from Israel Civil Administration arrived at the location and photographed the structure without delivering any notice or order. On July 12, 2016, a massive force from the occupation army accompanied by two dozers arrived at my place at dawn and demolished a wall surrounding the farm with the length of 20m, destroyed the main gate and demolished the residence. The demolition lasted for two hours and a half before the force had left"
It should be marked that the area of Anata is classified as area "C" according to Oslo Accords, which is under Israeli military control. The area accommodates a number of citizens and includes a Bedouin community known as Al-Fhaidat, which witnessed various demolitions in the past. Noteworthy, Anata is located nearby the apartheid wall and is constantly monitored by a watchtower founded in the wall.
The Israeli acts of ravaging and destruction violate the international laws and human rights that include but limited to:
Article 17 of the (1948) Universal Declaration of Human Rights stating: "Everyone has the right to own property alone as well as in association with others. No one shall be arbitrarily deprived of his property."
Section ‹G› of article 23 of the (1907) The Hague Conventions asserting: "In addition to the prohibitions provided by special Conventions, it is especially forbidden to destroy or seize the enemy's property, unless such destruction or seizure be imperatively demanded by the necessities of war."
Article 33 of Geneva Fourth Convention : "Reprisals against protected persons and their property are prohibited".
Article 53 of the Geneva Fourth Convention (194

8

) declaring: "Any destruction by the Occupying Power of real or personal property belonging individually or collectively to private persons, or to the State, or to other public authorities, or to social or cooperative organizations, is prohibited, except where such destruction is rendered absolutely necessary by military operations."
Article 147 of Geneva Fourth Convention Grave breaches to which the preceding Article relates shall be those involving any of the following acts, if committed against persons or property protected by the present Convention: wilful killing, torture or inhuman treatment, including biological experiments, wilfully causing great suffering or serious injury to body or health, unlawful deportation or transfer or unlawful confinement of a protected person, compelling a protected person to serve in the forces of a hostile Power, or wilfully depriving a protected person of the rights of fair and regular trial prescribed in the present Convention, taking of hostages and extensive destruction and appropriation of property, not justified by military necessity and carried out unlawfully and wantonly.
Prepared by
The Land Research Center
LRC