The Israeli Occupation Demolishes Jawa'ada family home in Sekka village / West Hebron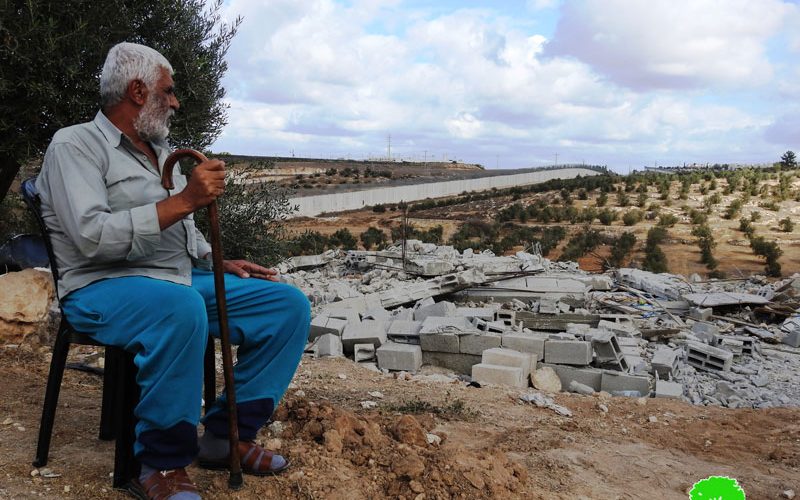 Violation: Demolishing citizens houses.
Date: Oct 18th 2021.
Location: Sekka village – Dura town / Hebron Governorate.
Perpetrators: The Israeli Occupation Civil Administration.
Victims: Citizen Ahmed Jawa'ada.
Description:
Monday, October 18th 2021, the occupation authorities demolished a house that belongs to Ahmed Jawa'ada, on the pretext of building without a license in Sekka village, West Hebron Governorate.
About 9:00 am, A massive army force accompanied by a vehicle from the building and organization department at the civil administration raided the area with two caterpillar bulldozers and an excavator (Hyundai).
The Occupation forces went to the western part of the village , encircled the targeted house and carried out the demolition.
Photos 1-6: Location of citizen Aj-Jawa'ada house – Sekka village
Reportedly, The Demolished house was built early 2021 , and consists of one floor with a total area of (150 m2) , built of bricks and cement , and was at the latest phases of construction. the house was supposed to be a home for a family of 5 , 3 of them are children.
In August 22nd 2021 , the occupation authorities issued a notice entitled "Removal of a new building" in reference to military order (1797)2018 , which targets newly constructed or incomplete buildings.
The notice is numbered (20539) and ordered to demolish or remove the building, and threatened to carry out the demolition in 96 hours.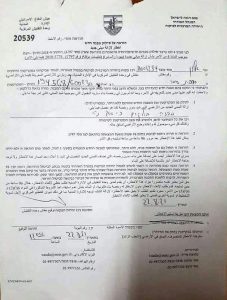 Notice number (20539) for Aj-Jawa'ada house
Sekka Village:
Located at the western side of Dura town in Hebron Governorate, Sekka village has a total population of 1200 people, most of them work in agriculture, public jobs, and other fields. The village is administrated by a joint village council along with Tawas village.
The village contains a primary school, a mosque, and women societies, border by the Annexation and Expansion Wall from the west , which isolated a large part of its land, Tawas village from the east , a colonial road , and Al-Majed village to the south.
Legal Commentary:
The demolition of Palestinian homes and structures by the occupation authorities is part of their violations of international and humanitarian law:
Article 17 of the Universal Declaration of Human Rights, dated December 10, 1948 states that "No one shall be arbitrarily deprived of his property".
Article 53 of the Fourth Geneva Convention of 1948 prohibits the destruction of property, as this article states the following: "The occupying power is prohibited from destroying any private, fixed or movable property related to individuals or groups, the state or public authorities, or social or cooperative organizations, unless the war operations inevitably require this destruction.
Article 33 of the Fourth Geneva Convention states: "No protected person may be punished for an offense he or she has not personally committed.
Paragraph 'g' of Article 23 of the Hague Convention of 1907 AD also warned against destroying or seizing the enemy's property, unless the necessities of war necessarily require such destruction or seizure.
Prepared by
 The Land Research Center
LRC