The Occupation Demolished a House and a Cistern in Farsh Al-Hawa area / north Hebron.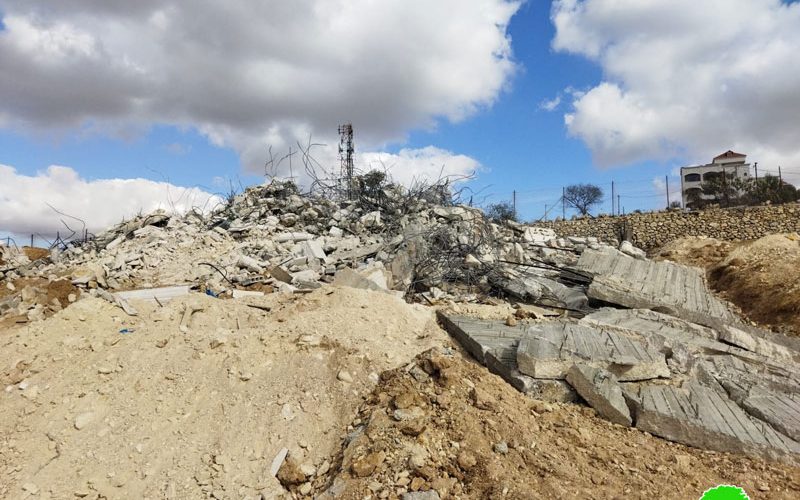 Violation: Demolition of a house.
Date: October 18th 2021.
Location: Farsh Al-Hawa / North Hebron City.
Perpetrators: The Israeli Occupation Civil Administration.
Victims: Citizen Iyad 'Amer.
Description:
Monday, October 18th 2021, The Israeli Occupation Authorities Demolished a house belongs to Eyad 'Amr, on the pretext of building without a license in Farsh Al-Hawa , north Hebron City.
About 3:00 pm, a massive army force and a vehicle from the building and organization department at the Civil Administration raided the area with a Hyundai excavator and a Volvo bulldozer, and demolished a house that belongs to citizen Amr, a cistern, and a cement wall.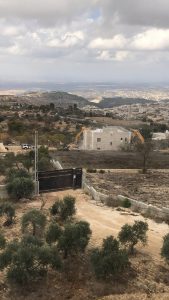 The Occupation Forces Demolished a house (two floors), with a total area of 340 m2 , built of stones and cement , and was in the last phases of construction. the owner started constructing the houses in 2021 , it was supposed to be a home for citizen 'Amr and his wife.
The Occupation Forces also demolished a cistern nearby the house, with a storage capacity of 300 m3.
In addition, the Occupation Demolished cement wall "30 m * 2 m" that fenced the real estate (600 m2).
Photos 1-4: the Rubble of the house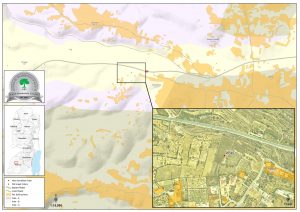 In October 6th 2021, the occupation authorities issued a notice entitled "Removal of a new building numbered (20540) and ordered to demolish the house immediately, on the pretext of building without a license, and threatened to demolish it within 96 hours after the issue date.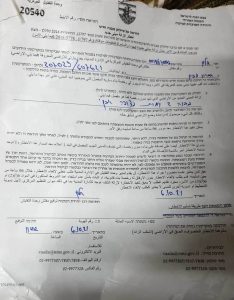 Notice number 20540 which targets 'Amr's house

The Occupation authorities issued the notice in reference to military order (1797) for 2018, which targeted newly constructed buildings or recently-inhabited houses. Recently, the occupation authorities carried out a number of demolition operations in reference to this military order.
The Occupation court refuses petitions and objections on this type of notices, the Israeli supreme court also rejected the petition submitted by Legal Aid Institutions to Rescind military order 1797.
Israeli Demolition policies and international Law:
Israeli Demolition policies were never triggered by security needs and military necessities, rather they are practiced to serve colonial expansion.
Israeli also endeavors to minimize Palestinian presence and drive them out from their home land through making their lives unbearable through restricting their access to water and land resources and prohibiting them from building homes. The Israeli Demolition [policies are violation of international Laws and Conventions, including:
The Fourth Geneva Convention, Article 147, stipulates that "extensive destruction and appropriation of property, not justified by military necessity and carried out unlawfully and wantonly" 
Article 53 of the Fourth Geneva Convention of 1948 prohibits the destruction of property, as this article states the following: "The occupying power is prohibited from destroying any private, fixed or movable property related to individuals or groups, the state or public authorities, or social or cooperative organizations, unless the war operations inevitably require this destruction.
Article 33 of the Fourth Geneva Convention states: "No protected person may be punished for an offense he or she has not personally committed.
Paragraph 'g' of Article 23 of the Hague Convention of 1907 AD also warned against destroying or seizing the enemy's property, unless the necessities of war necessarily require such destruction or seizure.
United Nations General Assembly resolutions on Israeli settlement
Prepared by
 The Land Research Center
LRC