The Israeli Occupation Demolished a Store in Haris Village / Slfit Governorate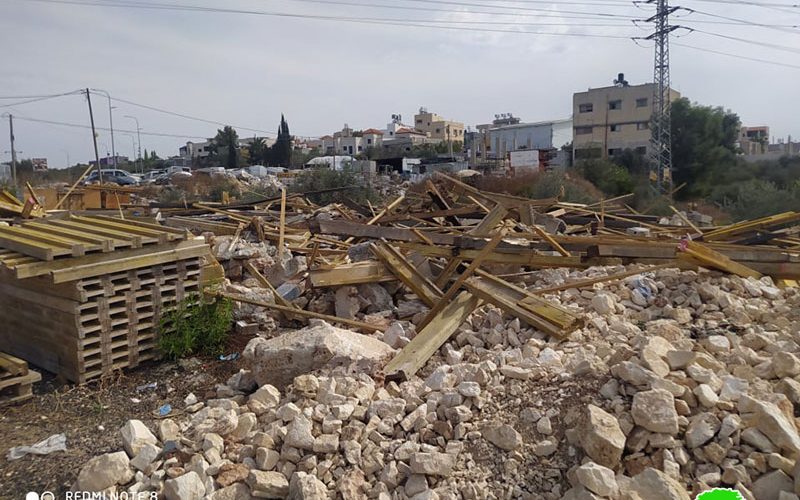 Violation: Demolition of a store.
Location: Haris village / Salfit governorate.
Date: October 12th 2021.
Perpetrators: The Israeli Occupation Civil Administration.
Victims: Citizens Osama 'Aqel and Bilal 'Aqel.
Description:
October 12th 2021, the Israeli Occupation forces and the so-called civil administration raided the western entrance of Haris village known as "Khallet Hamed" and demolished an under-construction building (200 m2) , on the pretext of building without a license in area C , according to Oslo accords.
The targeted structure belongs to Osama and Belal 'Aqel, while the plot on which the structure is built belongs to Jawdat 'Aqel from Haris village.
Reportedly, Thursday, October 7th 2021, the building inspector at the Israeli civil administration served a notice to the structures. The notice ordered to remove the building within 96 hours, and was issued in reference to military order (1797) , which targets new structures in C area.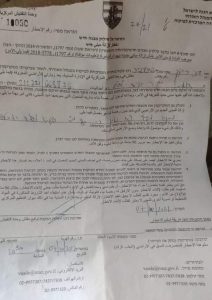 Notice no.10050 to demolish and remove a facility
The following table shows more information about the targeted structures:
Affected citizen

Family members

Children

Females

Area m2

The targeted facility

Osama 'Aqel

4

2

3

200

Built of cement floor , wooden walls, zinc ceiling

Belal 'Aqel

3

1

1

Total

7

3

4

200

 

 
 
 
 
 
 
 
Scenes from the demolition of a store belongs to 'Aqel family
Affected citizen Osama 'Aqel told LRC:
"Three months ago, My partner Bilal and I rented a plot from our uncle Jawdat 'Aqel, in order to build a grocery shop at the village western entrance in Khallet Hamed area, in order to create a source of income for our families. However, before finishing the construction of the store, the occupation bulldozers completely demolished it. And the losses exceeded 120 thousand shekels, most of which were paid as debts."
During the past three months, the occupation demolished five commercial and industrial structures at the western entrance of Haris , where the occupation imposes heavy restrictions that prohibit developmental projects at the area , while bulldozers ravage the surrounding lands for future expansions.
About Haris:[1]
7 km to the northwest of Salfit governorate, Haris is located with a total land area of 8769 dunum, of which 190 dunums are the village's built-up area. Haris is surrounded by the villages of Deir Istiya from the north, Kifl Haris from the east, Kfar ad-Dik and Bruqin from the southwest and Qarawat Bani Hassan from the west.
It has a total population of 3740 people according to the census of Palestinian Central Bureau of Statistics for 2009. Those people hail from the following families: Abu Atta, Dawoud, Salamih, Sultan, Shihada, Souf, Faz', Awwad, Qasim, and Klaib. The Israeli occupation confiscated 3631 dunums from the village as follows: 
Israeli colonies confiscated 2672 dunums as detailed in the below table
| | | | |
| --- | --- | --- | --- |
| colony | Year of establishment | Confiscated area\dunum | Number of colonists |
| Kiryat Netafim | 1982 | 188 | 384 |
| Revava | 1991 | 269 | 703 |
| Burkan | 1981 | 177 | 1207 |
| Burkan Industrial | 1981 | 1346 | — |
| Ariel Industrial | — | 692 | — |
| Total |   | 2672 | 2294 |
726 dunums were confiscated to open the bypass roads numbers ( 505, 4765, 5506)
The apartheid wall confiscated 233 dunums for its establishment. Upon its completion, the wall will isolate 7135 dunums
According to Oslo Accords, the lands of Haris are classified as follows:
631 dunums are classified as area "B"
7815 dunums are classified as area "C"
[1] GIS-LRC
Prepared by
 The Land Research Center
LRC