Israeli colony asks Hebron man to pay property tax "Arnona"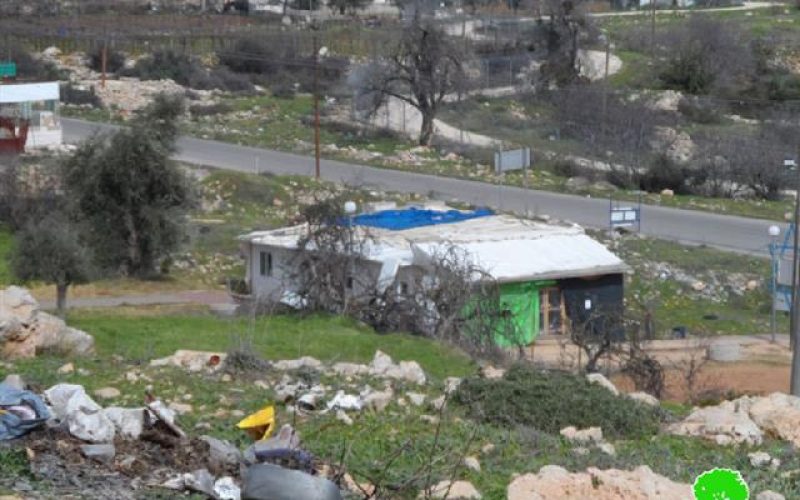 Violation: demanding Hebron man to pay property tax
Date: 18/01/2015
Location: Hebron
Perpetrators: Qiryat Arba colony's council
Victims: Jabari family
Preface:
In a new Israeli escalation on the West Bank lands, the occupation every now and then impose new procedures and "fake laws" to get control over more lands in the area. For the first time ever, a Hebron man receives a property tax (only for Israelis) on his land from a Jewish-only-colony.
Details:
The council of the Jewish-only colony of Kiryat Arba in Hebron has ordered a Palestinian local to pay property tax, claiming that his house is located on land belonging to the colony. Abdul-Karim al-Jabari(57) received warrants demanding he pay 88,200 shekels ($22,000) in Arnona, or property tax, to the Jewish-only colony's council as per taxes on his land.
Jabari asserted that a colonists from Qiryat Arba on January 18, 2014 came and handed him out an envelope with the tax notice inside. Noteworthy, Jabari's land has a synagogue that colonists of the nearby built while ago. Authorities of the occupation banns entry to this land as a result.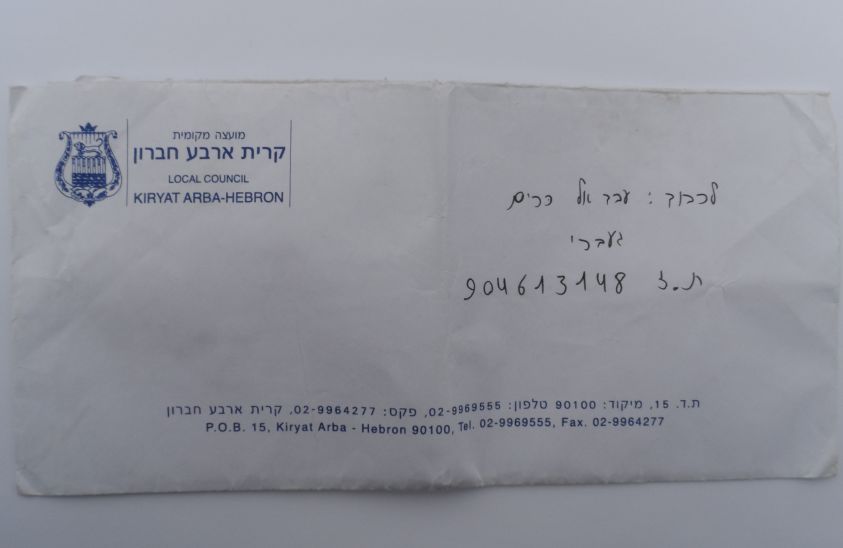 Photos 1-3: the tax notice from Qiryat Arba
The story goes back in time to 2002 when a group of colonists broke into a 8dunums plot owned by al-Jabari family and set up a tent to carry out some Talmudic rituals. The plot's location is between the two colonies of Qiryat Arba and Givat Habot.
Following this issue, al-Jabari submitted a complaint to Israeli side to remove the tent which was dismantled in 2007. In 2008, colonists came and re-put the tent but Jabari's follow-up on the issue caused the tent to be removed twice in the same year.
As a final move, colonists brought construction material and made the tent into 100 m2 room( metal slaps and ready walls). Water and electricity were provided for the room.
Al-Jabari through his attorney asserted that the plot is located out of the jurisdiction of Qiryat Arba colony's council and that Israel Civil Administration has no right on the land whatsoever. Also, the land is reported to be located within Hebron borders( Hebron Municipality).
Jabari said he was surprised since his land is taken and he has got no kind of services on the land. "Why property tax then in the first place", said he.
In al-Jabari eyes, colonists with protection and help of army are trying to take over his land for the favor of the nearby colonies. To accomplish such an aim, al-Jabari said that colonists cut down his trees, torched crops, denied him access to his plot and even threw rocks on his house.
What is Arnona ?
Arnona is a local property tax paid by each household to the local municipality / council.
In Israel, this tax is also paid by renters.
The tax rate differs widely from location to location.
The rate is set at the start of each year and is a rate per square meter of property (the larger the property the higher the arnona paid).
Arnona's revenues from Palestinian in east Jerusalem are extremely high. Such amounts are used to provide services for Jews in Western Jerusalem as opposed to Palestinian.
Jewish neighborhoods and quarters witness rapid development at the expense of Palestinians from east Jerusalem.
Prepared by
The Land Research Center
LRC