Depositing a master plan for Nevi Daniel at the expense of al-Khadr lands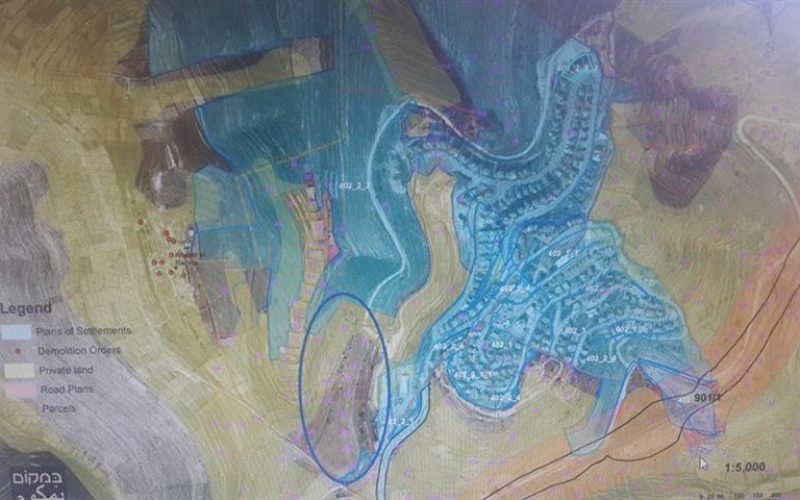 Violation: advertising the confiscation of 84 dunums
Location: al-Khadr/ Bethlehem
Date: 24/09/2014
Perpetrators: Supreme Planning Committee
Victims: Salah family
Details:
The so-called Supreme Planning Committee relative to Israeli Civil Administration announced depositing a master plan no.(402/6) for Nevi Daniel colony, which is located to the south of Bethlehem. The master plan is a modified one for previous plans under the number of (402/2/1) and (402/2/2).
According to the master plan, the colonization Sub- Committee intended to change the status of vast area of confiscated land from al-Khadr, especially within the natural block no.4. Noteworthy, the aforementioned lands were confiscated according to military orders in 2001-2002 under the pretext of them being "colony's periphery lands ; buffer zone" ".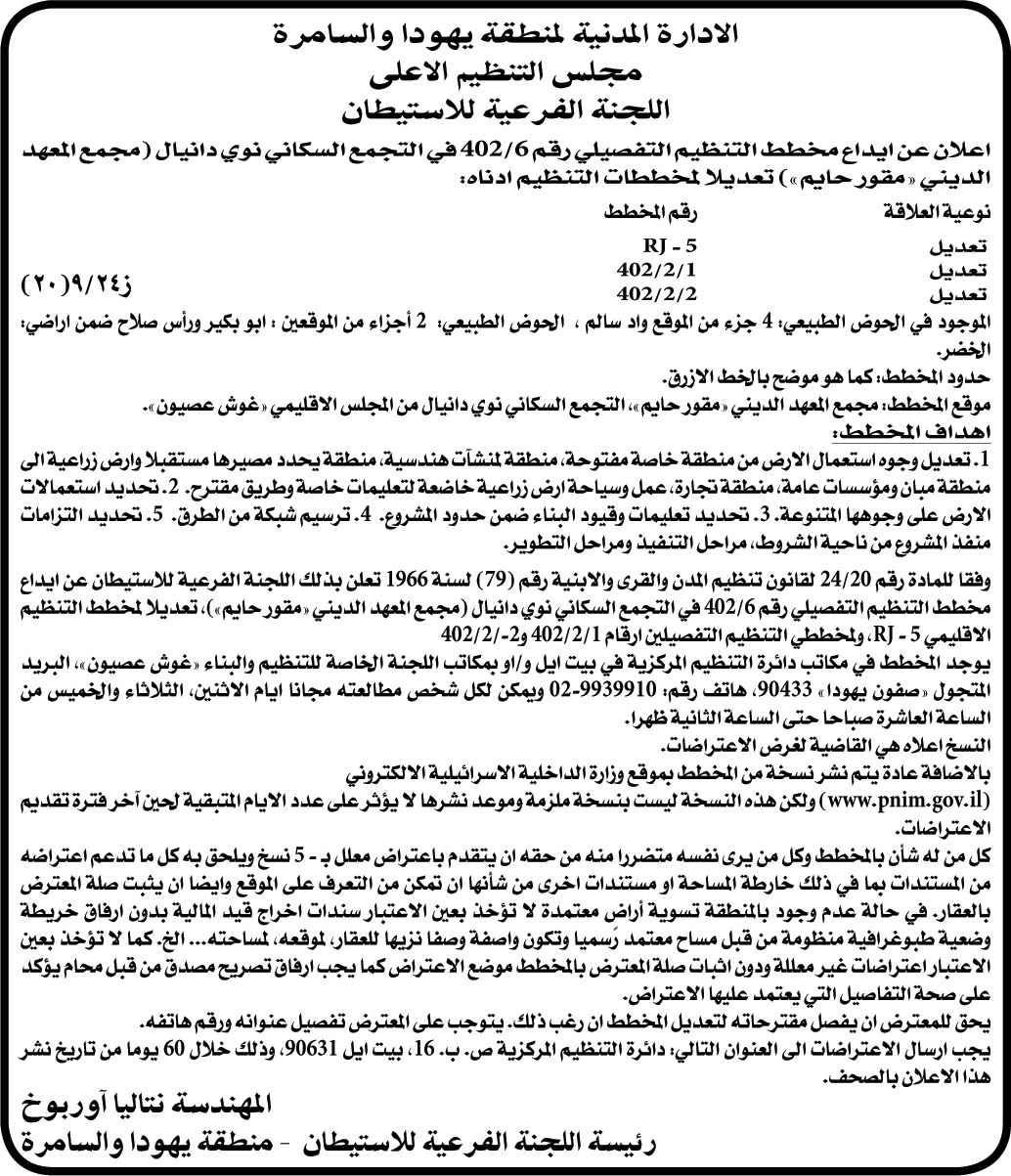 Photo 1: the advertisement that was featured in al-Quds newspaper/page 24 on 24/09/2014
Changing land status to serve the colonial expansion works :
It should be marked and according to what has been mentioned in the master plan that the occupation is planning on the following :
Changing the lands use from a private open area to an area of architectural facilities, from agricultural lands to an area of buildings and enterprises, a commercial area, an industrial and touristic area and an agricultural area abiding to specific procedures.
Specifying the uses of the land
Specifying the procedures and the construction limitations within the project
Designing a roads network
Mentioning the requirements of the project implementer in regard to conditions, implementation and development
Residents of al-Khadr objected the master plan since the targeted lands are owned by them not "State property" as the occupation claims; the lands belong to the following :
Mohammad Abdelsalam Salah, Mohammad Hussein Salah, Hamed Suliman Salah, Abdelkarim Salim Salah, Mohammad Rashid Salah, Abdelkarim Salim Salah, Mahmoud Nafi' Salah, Abdullah Naf'i Salah, Mohammad Nafi' Salah, Rashid Mahmoud Salah, Issa Mohamad Salah, Mohammad Awatif, Issa al-Shaikh , Rashid Mahmoud Salah, Ahmad Hammad Salah, Taha Hammad, Ali Mohammad Salah, Mahmoud Mohammad Saleh, Qasim Salah, Mohamad Sobeih Hussun Bint Isma'el Salah, Oudeh Salah, Mohammad Hussein Salah, Hassan Mohmmad Salah, and Salmad Hammad Salah.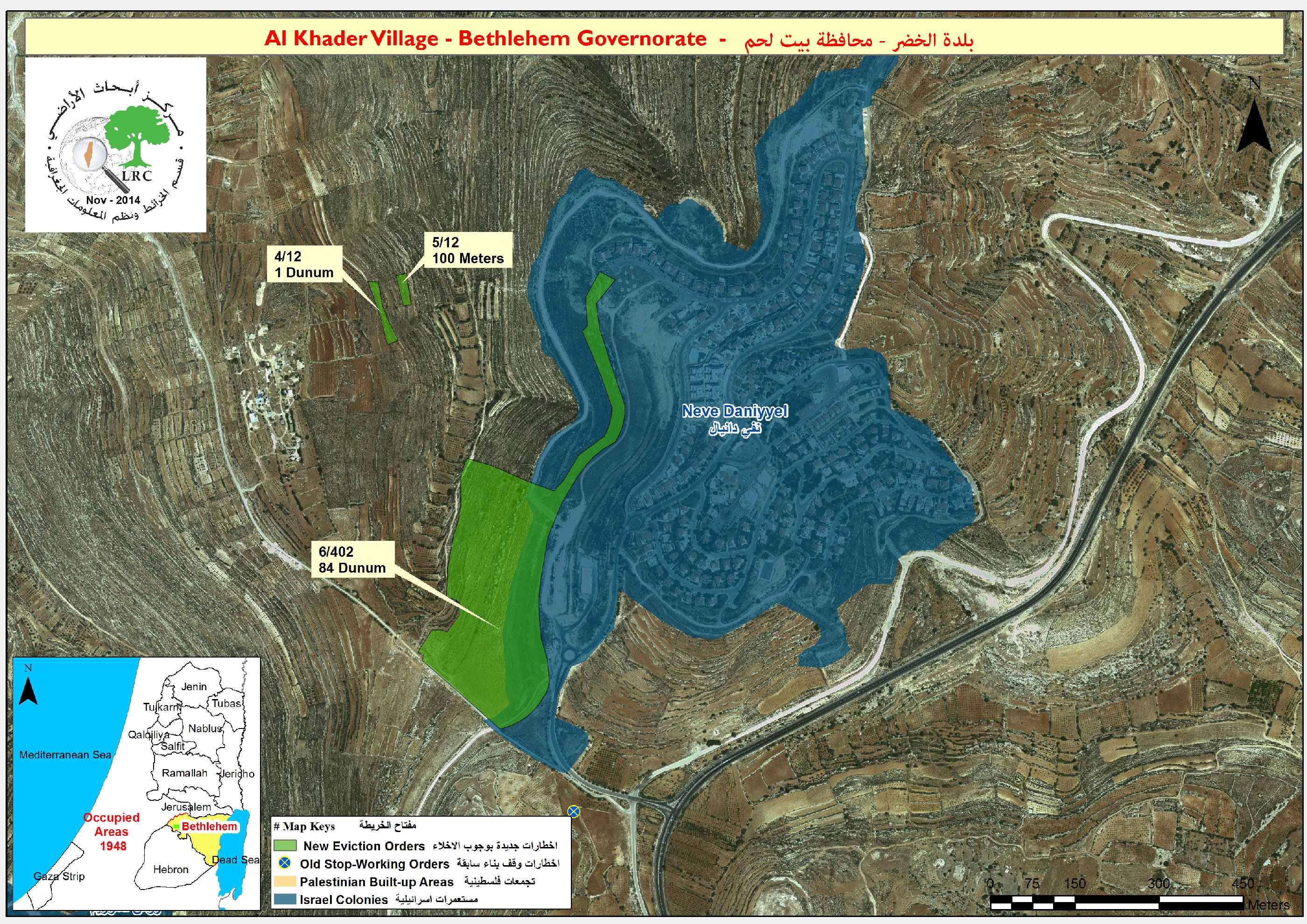 · Al Khadr:
Located 4 kilometer west of Bethlehem, Al Khadr village is surrounded by Beit Jala and Battir (north), Husan and Nahhalin (west), Ad Doha, Wadi Rahall, and Beit Jala (east), Wadi An Nais (south).
Al Khadr has a population of 9774 according to statistics conducted in 2007. It has a total area of 8279 dunums, 184 of which are built-up area.
The Israeli occupation confiscated 29 dunums of Al Khadr lands for Efrat and Daniel colonies. Efrat was built in 1979 and devoured 5.8 dunums of Al Khadr. It is inhabited by 7037 colonists. Daniel was built in 1982 and confiscated 23 dunums. 1073 colonists live in the colony.
Bypasses number 60 and 375 devoured more than 487 dunums. Not to mention the Apartheid Wall that destroyed 280 dunums and isolated 5638 dunums of the village. The Wall in Al Khadr is 2805 meters long.
According to Oslo Accords, 10% of Al Khadr is under Area A (PA has full civil and security control) while 6% is under Area B (PA is in charge of civil matters with Israel responsible for security). However, most of the village lands (84%) is under Area C (Israel maintains full security and administrative control). Here are the area in dunums:
· Area A (808) dunums
· Area B (475) dunums
· Area C (6996) dunums
Nevi Daniel colony :
It was established in 1982 on the lands of Palestinian villages of Wad Rahhal and al-Khadr, southwest of Bethlehem. The colony is reported to be founded on 549 confiscated dunums. Nevi Daniel populates around 1073 colonists.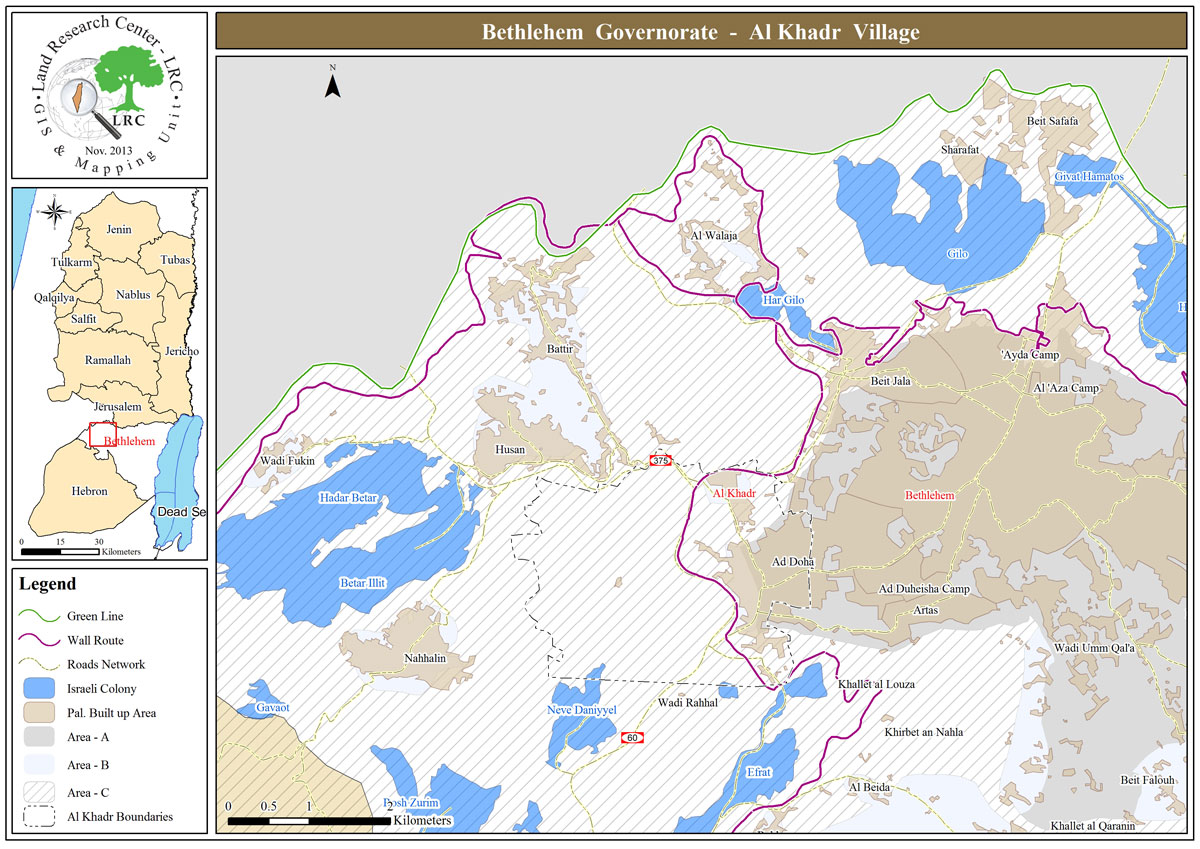 Prepared by
The Land Research Center
LRC