Revava colony expands on Haris Village lands / Salfit Governorate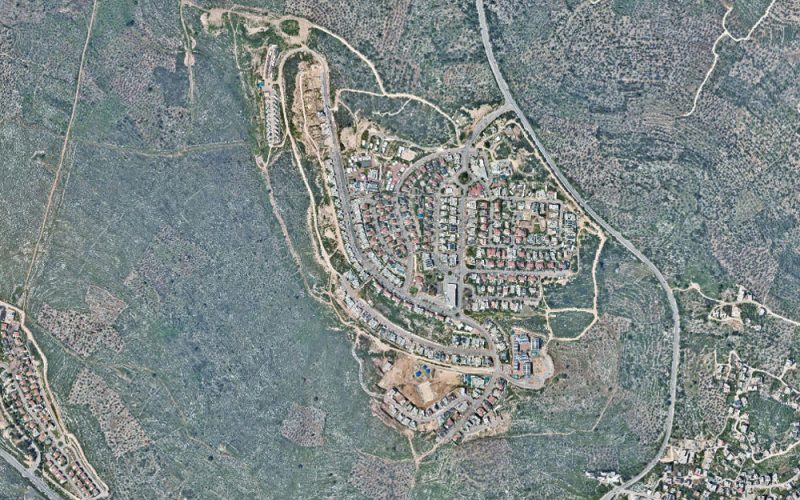 Violation: Establishing a new colonial block.
Location: Haris village west Salfit.
Date: October 2nd 2022.
Perpetrators: The High organization council at the Israeli Civil Administration.
Victims: People of Haris village.
Description:
The high organization council on the Israeli Civil Administration – Colonization subcommittee published signs in "At-Tayrat" area within natural block (8) of Haris village lands west Salfit , the signs include a plan that shows where the expansions will take place , in the area that connects the colony Revava , to Burkan , and Kryat Netavim , on lands that were registered as state lands , on an area of 265 of postures.
Last August, the Israeli Civil Administration and the high organization council at the Israeli Civil Administration deposited a new organizational plan (170/5) to expand control area that Revava colony covers. The order is a modification of the British Mandate plan that targets the location.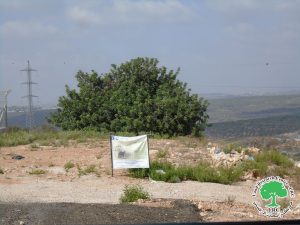 This will expand Revava colony double its current size , and turn it into one large cluster along with Ariel, Elkana , Burkan and Rivava colonies , this will devour large parts of the governorate lands .
The Occupation targeted a number of colonial plans in Rivava colony , LRC Israeli Violations team documented the plans and the targeted area:
The targeted location

date

Number of units

Plan no.

Plan status

notes

Natural blocks 2 , parts of locations: Al-Burj, and Khallet Haida from Haris lands

February 24th 2014

–          

No 170/5/2

Announcement of plan deposition

Announcement made by high organization council , colonization subcommittee and the aim is:1- changing land allocation from agricultural areas into area allocated for buildings ,  public facilities for the Ministry of education , working sports , open public areas and roads.

2- publishing construction instructions within the project borders.

Haris

August 16th 2016

17

170/4/5

Announcement of plan deposition

Anouncement made by: high organization council – Colonization subcommittee.

Deir Istiya

Natural blocks 8 and 2

January 23rd 2020

55

170/4/8

Announcement of plan deposition

 

Deir Istiya natural block 8

And Haris natural block 2

 

February  11th 2021

 

170/4/8

Announcement of plan deposition

 

Deir Istiya town natural block 8 , At-Tayrat klocation.

Haris village natural block (2) Al-Breig location

August 8th 2022

399

170/5

plan deposition

 
Revava settlement Expansion over the years
About Haris:  [1]
7 km to the northwest of Salfit governorate, Haris is located with a total land area of 8769 dunum, of which 190 dunums are the village's built-up area. Haris is surrounded by the villages of Deir Istiya from the north, Kifl Haris from the east, Kfar ad-Dik and Bruqin from the southwest and Qarawat Bani Hassan from the west.
It has a total population of 3740 people according to the census of Palestinian Central Bureau of Statistics for 2009. Those people hail from the following families: Abu Atta, Dawoud, Salamih, Sultan, Shihada, Souf, Faz', Awwad, Qasim, and Klaib. The Israeli occupation confiscated 3631 dunums from the village as follows: 
Israeli colonies confiscated 2672 dunums as detailed in the below table
| | | | |
| --- | --- | --- | --- |
| colony | Year of establishment | Confiscated area\dunum | Number of colonists |
| Kiryat Netafim | 1982 | 188 | 384 |
| Revava | 1991 | 269 | 703 |
| Burkan | 1981 | 177 | 1207 |
| Burkan Industrial | 1981 | 1346 | — |
| Ariel Industrial | — | 692 | — |
| Total |   | 2672 | 2294 |
726 dunums were confiscated to open the bypass roads numbers ( 505, 4765, 5506)
The apartheid wall confiscated 233 dunums for its establishment. Upon its completion, the wall will isolate 7135 dunums
According to Oslo Accords, the lands of Haris are classified as follows:
631 dunums are classified as area "B"
7815 dunums are classified as area "C"
About Revava colony:[2]
The colony of Revava started in 1991 on confiscated lands from Deir Istiya village. It totals 1540 dunums in area, of which 436 are the colony's built up area. Revava has a total population of 703 .
The colony of Revava, since its establishment, formed an obstacle in the face of the Palestinian building movement in the area of Deir Istiya in addition to the confiscation of vast area of agricultural lands and the ban on sheep grazing in the periphery of Israeli colonies.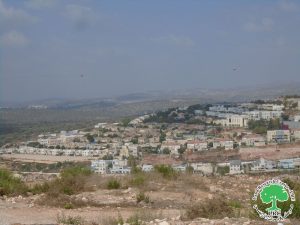 [1] GIS-LRC
[2] GIS-LRC
Prepared by
 The Land Research Center
LRC