The expansion of "Tzofim" settlements on land of Jayyous Town / Qalqilya governorate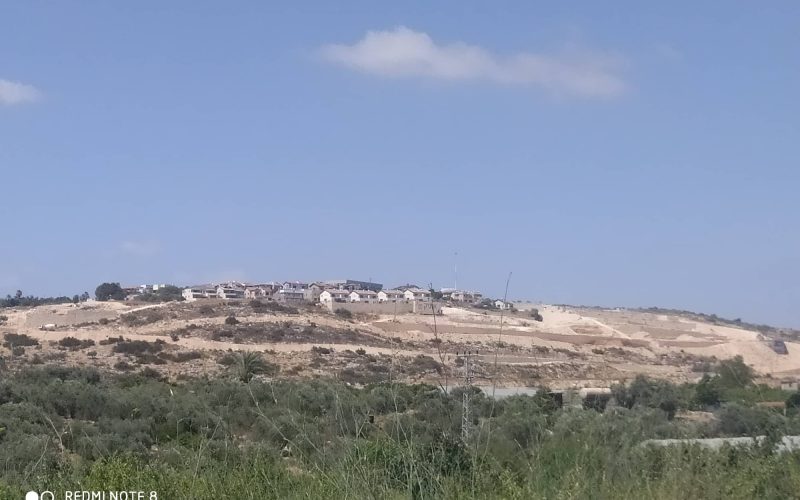 Violation

: settlement expansion.

Location: Jayyous lands, northeast of Qalqilya.
Date of violation: 09/06/2022.
The aggressor: the settlement of "Tzofim".
Affected party: the people of the area.
Violation details:
The machinery of the Israeli occupation, through private Israeli companies, continue the razing and leveling of vast areas of pastoral lands surrounding the settlement of "Tzofim", specifically from the southern and eastern sides of the settlement.
It is worth noting that no less than 70 dunums have been (settled "registered") – until the date of preparing of this report – most of which are located within the land basin No. (3) known as Shaleesh, as most of the lands there are considered state lands by the occupation.
The occupation is seeking to establish a new settlement neighborhood equipped with the infrastructure as well as advanced services, and to establish a huge housing complex there that will pave the way for accommodating dozens of settler families in it.
The settlement of "Tzofim" is considered one of the settlements that enjoys the support of the occupation because of its distinguished location, whether on the water basin or the location overlooking the Palestinian coastal plain.
The Israeli settlement of Tzofim:
It was established in 1990 on the lands of the village of Jayyous, with about 869 dunums were looted from the village.
Jayyous[1]:
Jayyous is located 10 km to the northeast of Qalqiliya city and is edged Falamya village from the north, Tzofim settlement from the west, Khirbet Jabir from the east and Izbet Al-Tayeb from the south.
Its population mounts to 3731 (2014 census) people who live on a total land of 10,925 dunums, of which 418 dunums are considered the village's built-up area.
Israeli colonies confiscated 724 dunums from Jayyous lands. Tzofim settlement that was established in 1990 is founded on confiscated lands from the village.
The apartheid wall is founded on 1045 dunums from the area and was reported to isolate 6,496 dunums behind its construction.
The lands of Jayyous hamlet are classified according to Oslo Accords as the following:
3128 dunums (29%) are classified as area B.
7707 dunums (71%) are classified as area C
[1] GIS – LRC.
Prepared by
 The Land Research Center
LRC