Notifications to stop work in 3 houses in the village of Al-Tawani, east of Yatta, south of Hebron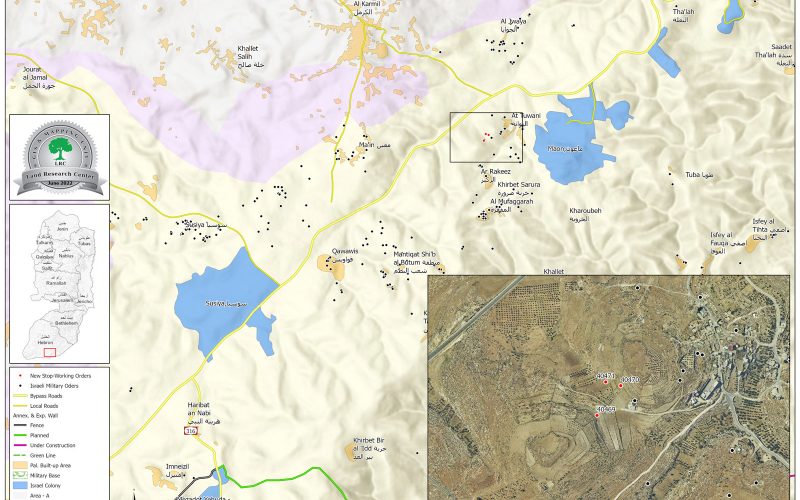 Violation: Notifications of suspension of work.
Violation date: 28/06/2022.
Location: Al-Shuwaiha – Yatta / Hebron Governorate.
The aggressor: the so-called Israeli Civil Administration.
Affected party: 3 citizens of the Al-Amour family.
The details:
On Tuesday, June 28, 2022, the Israeli occupation authorities notified to stop work and construction in 3 houses in the village of Al-Tawani, east of Yatta, under the pretext that they were built without a license.
A force of the occupation army, accompanied by the so-called Civil Administration, stormed the village, and headed towards the "Al-Shuwaiha" area, south of the village. The so-called building inspector wrote the notices and stuck them on the threatened houses, and took pictures of houses before leaving the site.
In its notifications, the occupation authorities ordered to immediately stop construction work on the pretext of starting it without a permit (building license), and set the date (20/7/2022) as a date for a session of the so-called Inspection Subcommittee (the authority that issued the notifications), where it will hold its session at its headquarters in the settlement of "Bethel" and will discuss what it called "the demolition of the building or/and the return of the place to its previous state".
The notifications targeted the houses listed in the following table:
| | | | | | | | |
| --- | --- | --- | --- | --- | --- | --- | --- |
| Name of the affected citizen | Family members number | Number of children | Number of females | Are in m² | Stage of building | Notification | Photo number |
| Munther Khader Al-Amour | 6 | 4 | 3 | 120 | Under construction | | |
| Khaled Suleiman Al-Amour | 7 | 5 | 3 | 50 | Under construction | | |
| Mohammed Suleiman Al-Amour | 5 | 3 | 2 | 70 | Inhabited | | |
| Total | 18 | 12 | 8 | 240 |   |   |   |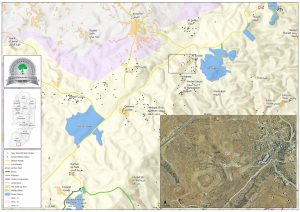 These notifications come in light of the occupation authorities targeting citizens' homes and facilities in the village of Al-Tuwani and its surroundings, as they issued many stop-work notices demolition orders, and carried out many demolitions that affected residential and agricultural facilities, under the pretext that they were built without a license, and while citizens are preparing licensing files to be submitted to the authority that notified them, but the occupation does not allow licenses for Palestinian construction in areas classified as "C".
The village of Al-Tawani[1]:
The village of Al-Tawani is located southeast of Yatta town, south of Hebron in the West Bank, about 20 kilometers from Yatta town. It has a population of about 600 people, managed by a village council, and in the village there is a health clinic attached to the village council building. The village also has a mosque and a mixed school until the eighth grade. For drinking water, Al-Tuwani depends on rainwater and collection wells. The village of Al-Tuwani is considered one of the most prominent besieged villages with its ruins, which suffers from constant harassment by the settlers, as it is besieged on its four sides by settlement and bypass streets.
[1] GIS – LRC