Settlers  attack citizens' lands and crops in the village of Al-Tuwani, east of Yatta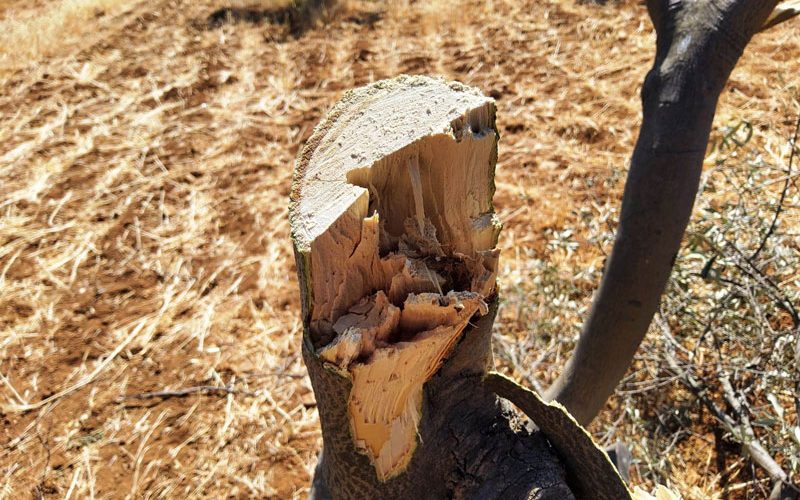 Violation: cutting down olive trees and vandalizing agricultural crops.
Violation date: 06/05/2022.
Location: Al-Tuwani – Yatta Town, Hebron Governorate.
The perpetrator: the settlers of "Ma'on" settlement.
Victims: Farmers from Al-Tuwani village.
The violation details:
Settlers from the settlement of "Ma'on", which is built on the confiscated lands of Yatta, attacked olive trees, wheat and barley fields, in the Hamra and Sarura areas, east of Al-Tuwani village.
The head of Al-Tawani Village Council, Mr. Muhammad Rabi'i, stated that the settlers attacked, on Friday evening, 6/5/2022 AD, 102 olive trees in the Hamra area. Following the attack, citizens noticed a group of settlers fleeing the scene of the attack, and upon arrival there, it became clear to them that the settlers had cut and vandalized the above mentioned number of olive trees.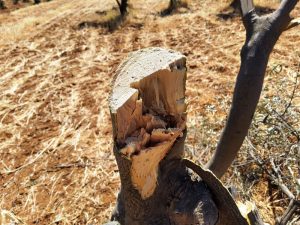 Photos 1-5: The damage caused to the trees of the citizens of the village of Al-Tuwani – Photographs by activists from the village.
Tree vandalism by farmer's name, No. of family members, No. of children, No. of trees and age of trees:            
| | | | | |
| --- | --- | --- | --- | --- |
| Farmer's name | No. family members | Of whom children | No. of trees | Age in year |
| Mufdhi Raba'i | 12 | 6 | 25 | 15 |
| Saber Raba'i | 10 | 2 | 42 | 40 |
| Juma'a Raba'i | 1 | 6 | 20 | 30 |
| Hatem Makhamra | 8 | 4 | 15 | 5 |
The head of the village council indicated that the settlers' attacks on citizens' lands and olive trees will inflict heavy losses on them, as the settlers continue to target this area at this very promising olive season in compare to previous years.
It should be noted that the settlers have been attacking this area since a long time under the sight of the occupation soldiers manning the watch towers around colony and near the citizens' lands. The head of the village council added that the citizens whose property was attacked have submitted 820 complaints to the Israeli police against these attacks, but without a concrete response so far, which proves that the settlers and the Israeli official bodies are partners in these unstoppable attacks.
On the other hand, citizen Mufdhi Raba'i, 65 years old, reported that he saw a group of settlers trying to burn a heap of the crop on the threshing floor of the village before midnight on Sunday, May 8, 2022, but they fled the site after they were discovered.
Mr. Mufdhi Raba'i, also, indicated that the settlers, between now and then, graze their cattle in the pastors of the Sarura area and nearby, and vandalize crops as well as preventing  the Palestinian shepherds from reaching those areas.