The Israeli Occupation Targets Artesian Water Cisterns in Beit Ummar / North Hebron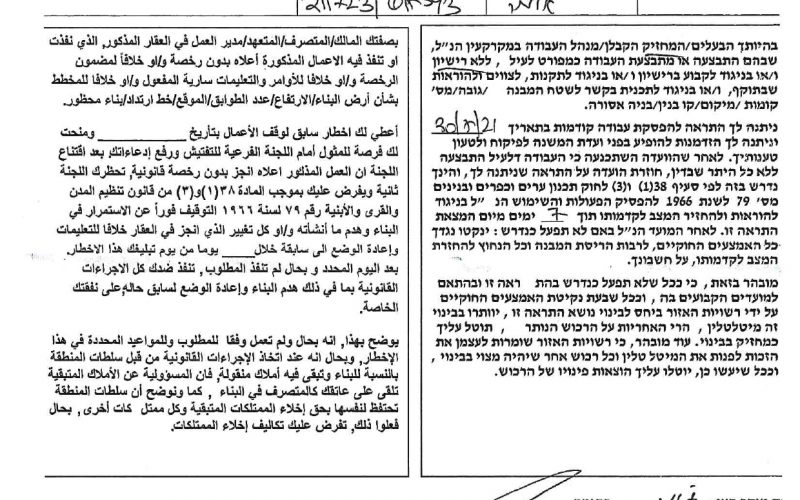 Violation: Demolition orders target cisterns.
Date: October 12th 2021.
Location: Ath-Thughra – Beit Ummar / Hebron Governorate.
Perpetrators: The Israeli Civil Administration.
Victims: A number of farmers in Beit Ummar.
Description:
A part of the Israeli Occupation Policies that aims to control water resources at the west bank, the occupation authorities served notices to a number of artesian water cisterns, on the pretext of  extracting artesian water without a license from Israeli West Bank Army Commander .
Reportedly, the occupation served stop-work notices in Beit Ummar south Hebron , followed by demolition orders for number of cisterns used to collect artesian water that farmers had extracted from their own lands.
Noteworthy, Ath-Thughra is an agricultural area the contains several green houses, where many farmers found artesian water 50 m deep under the ground in their farmlands.
However, in October 12th 2021 , the occupation authorities issued demolition orders for 10 cisterns at the area , and threatened to demolish them within  7 days.
One of the farmers , Nabeel Ibreghith (52) testified that the occupation authorities issued demolition orders for 8 cisterns at his agricultural lands in Ath-Thughra , which he used to irrigate (45 dunums) planted with vegetable.
In addition, the occupation issued demolition orders for two cisterns belong to citizen Taha Abu Marya at the area, who uses the water to irrigate an agricultural area of 10 dunums planted with vegetables.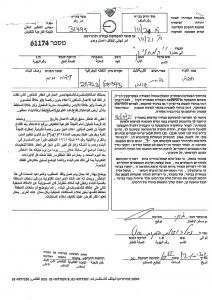 Note: attached Demolition order and a map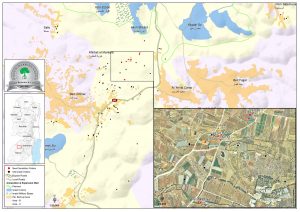 Burying cisterns:
In November 4th 2021, the Israeli occupation forces closed several cisterns in Ath-Thughra area , though burying them with cement.
One of them belongs to citizen Bassam 'Addi , who used to irrigate a plot and green houses on an area of 15 dunums planted with vegetables the troops also buried a cistern in citizen Mohammed Abu Ayyash land, that used to provide water for 8 dunums , each one of the springs produces 70 m3 of water during 24 hours.
In case the occupation authorities destroyed water resources at the area, there will be an economical and agricultural crisis, as many families at the village depend on agriculture as a main source of income.
Noteworthy, shortly after Israel occupied the west bank again in 1967 , they sent a water and exploration mission , and issued many military orders that restrict Palestinians' access to their water resources.
Israeli Military Orders issued to deny Palestinian access to their water resources:
An Order issued in June 7th 1997 stating: "all the water resources that have been occupied again are the property of the state of Israel".
Order No. 92 issued in August 15th 1997 , gives the Israeli authorities complete control over the entire water supplies in the West Bank and Gaza. Only the Head, appointed by the Area Commander, has influence in any issue regarding "transportation, extraction, export, consumption, sale, distribution, inspection of its use, purification, allotment of shares, the establishment of water projects
Order No.58 issued in August 19th 1967: states that ″it is prohibited to construct any new water installation without a license and that the licensing officer has the right of rejecting any application for a license without having to give the justification for his rejection.
Order No. 158 (1967): "Order Amending the Water Supervision Law" ordained that all wells, springs and water projects are under the full direct command of the Israeli Military Commander. Every installation or resource built without a permit will be confiscated.
Order No. 291 (1968). All pre-1967 land and water-related arrangements are declared invalid.
Order No. 948 states that every citizen in the Gaza Strip is compelled to obtain the approval of the Israeli military commander before implementing any water-related project.
Prepared by
 The Land Research Center
LRC