New Expansions in Elkana colony – Mas-ha / Salfit Governorate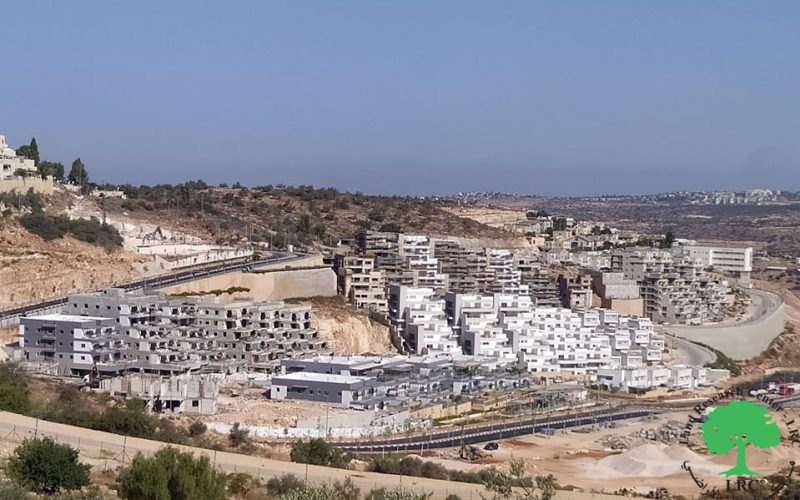 Violation: Expansions in Elkana colony.
Location: Mas-ha village / west Salfit governorate.
Date: During the year 2021.
Perpetrators: Illegal Israeli Colonists of Elkana.
Victims: People of Mas-ha village.
Description:
Elkana colony continuously expands on Mas-ha village lands. During the past five years, the illegal colony grew double its size, and was provided with developed infrastructure to ensure its growth.
Reportedly, 60 new colonial units are under construction in the new colonial block at Elkana b, on Palestinian lands at an area known as Al-Helo mount in Mas-ha. This will attract more colonists' families and increases population illegally resides the Occupied West Bank.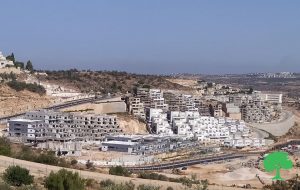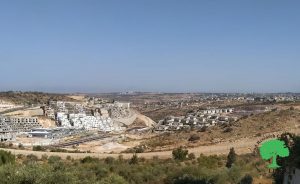 Photos 1-4: The new colonial block
There is also a new Israeli Scheme to establish a Regional Colonial Council for the illegal colonies (Sha'arie Tikva, Etz Efraim, Elkana) , noting that the colonies are behind the Annexation and Expansion Wall in Lands of Mas-ha, Senirya, 'Azzun 'Atma , and Beit Amin. The establishment of the colonial council will contribute in perpetuating Judaization at the area.
Noting that constructions in Elkana colony had a devastating impact on the agricultural sector, most lands isolated behind the annexation and expansion wall are closed to Palestinian farmers and targeted in colonial expansion projects.
Noteworthy, during the past few years, the so-called the Civil Administration for Judea and Samaria area – The high organization council – the colonization subcommittee have been supporting Elkana colony in its growth , the colony is 140 % larger in comparison to its original size.
| | | | | | | |
| --- | --- | --- | --- | --- | --- | --- |
| Location | Publish date | Number of colonial units | Plan area in dunums | Plan number | notes | Plan status |
| Mas-ha | Sept 4th 2014 | 283 | 97 |   | Changing land use – from Agricultural to Residential | Ratified – tender offer 2014/11 |
| Mash  | Feb 24th 2015 | 156 |   |   | Reopening tender / number of beds is not enough | Tender offer יש/22/2015 |
| Mas-ha | Sept 22nd 2016 |   |   | | To build Orot college – construction of number of buildings, institutions, open spaces and roads' networks. | Depositing a detailed outline |
| Mas-ha | Sept 26th 2016 | 234 |   | | Expanding residential units for seniors  | Announcing a plan (confiscation military order 997) number 1/14/125 in Kiniya (Elderly home) |
| Mas-ha | Jan 27th 2021 |   |   | | Republishing the construction plan for Orot college – buildings, public institutions, open areas and roads networks | Depositing a detailed outline |
| Mas-ha | Nov 20th 2019 |   | 110 | 25/125 | Additional neighborhood | Depositing a detailed outline |
About Elkana:
Elkana was established in 1977 over the ruins of a Jordanian military camp; it has been considered as a source of destruction and the launching point of many attacks against the Palestinians.
The colony was built near the Palestinian village of Mas-ha which lost over 5000 dunums of its lands due to the construction of the annexation and expansion wall. Citizens lost their source of income after losing their fruitful lands as a result.
Elkana expanded over the years to reach over 1700 dunums in area; the colony is two parts, Elkana A and Elkana B with plans ongoing to merge both parts. In addition to that, there are several outposts built in the two colonies with developmental plans for the infrastructure and expansion to be carried out in the area. 
About Mas-ha:[1]
17 km away from Salfit governorate, Mas-ha populates 2003 inhabitants on a total land area of 7870 dunums, of which 600 dunums are the village's built-up area. The occupation confiscated massive area from the village for the favor of the apartheid wall and settlements.
The wall is reported to be of 8.9km in length and 100m in width. As per its construction, the wall confiscated 890 dunums of Mas-ha lands and isolated 4235 other dunums from the area. The following settlements are founded on the lands of the village:
settlement

Year of establishment

Population

Area\dunum

Elkana A

1977

3,050

1,373.5

Elkana B

1985

617

539

Shari Tikva

1982

3,692

1,130.5

Benot Orot Israel

1989

N.A

168

Total

7,359

3,211
(Source: Geographical Information System GIS – LRC)
[1] GIS-LRC
[1] GIS-LRC
Prepared by
 The Land Research Center
LRC