Immanuel Colony Expands on Jinsafut village lands / Qalqilya governorate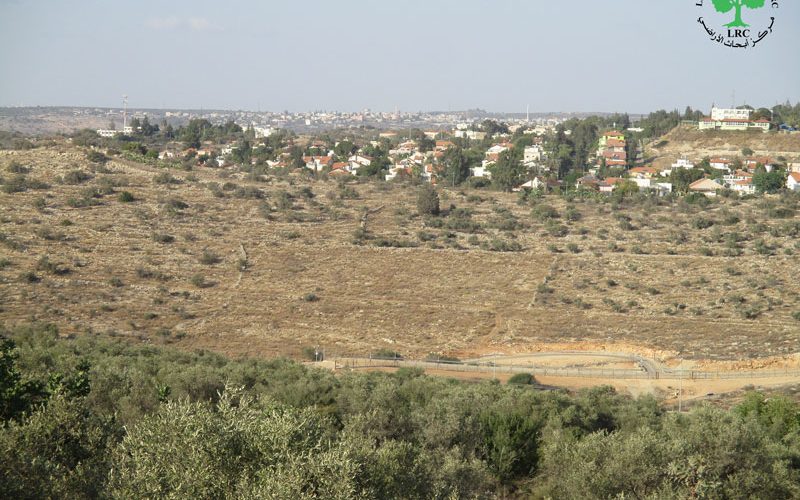 Violation: Colonial Expansion.
Location: Jinsafut village / Qalqilya governorate.
Date: September 1st 2021.
Perpetrators: The Israeli settlement council at the West Bank.
Victims: People of Jinsafut village.
Description:
Early September, The Israeli Occupation machineries carried on ravaging a plot with a total area of 18 dunums southeast Jinsafut village, in order to establish a new colonial block for illegal colony of Immanuel on Jinsafut and Deir Istiya village lands east Qalqilya.
The targeted area in the ravages is a pastoral land, classified as governmental properties. The area is locally known as Jabal Ad-Deeb. the occupation Authorities closed it off in 2000, on the pretext of protecting Immanuel colony security.
Thabet Bshair-  Jinsafut village council member told LRC:
"Before 1985, The targeted lands used to be planted with wheat and field crops, but as a result of colonists' assaults and expansions in Immanuel illegal colony – After the Al-Aqsa Intifada in 2000- the area was closed to Palestinian landowners and farmers. Noteworthy the targeted lands belong to farmers form 'Eid family which is proved by legal papers."
Constructions in 'Immanuel colony started in 1983, when a group of colonists sat up basic colonial units on mountain tops in confiscated lands from Deir Istiya village. Later, the outpost received support and recognition from the occupation government, and started expanding on Palestinian lands. The growing colony is a threat on Palestinian environment, being a home of large factories. Immanuel has a population of 4220 settles according to Israel Central Bureau of Statistics in 2019.
Noteworthy, the expansion works are a part of Israeli colonial schemes – announced by the Israeli Settlement Council on The Ministry of Housing and Construction website. during the past ten years many expansion plans/outlines were published for Immanuel colony, explained in the following table:
| | | | |
| --- | --- | --- | --- |
| The Palestinian village affected | Plan date | Plan number | notes |
| Jinsafut | 10/01/2014 | Tender offer number 2014/3 | Construction of 102 colonial units |
| Jinsafut | 05/06/2014 | Tender offer number 175/2014 | The bedding was reopened for construction of 102 colonial units  |
| Jinsafut | 23/01/2015 | Tender offer number 6/2015 | Leasing plots |
| Jinsafut | 23/01/2015 | Tender offer number 7/2015 | Building a mall |
| Deir Istiya | 09/02/2015 |   | Ratification of a new expansion plan/ construction of 102 colonial units on 92 dunums nearby the industrial area at the colony. |
| Marda – Deir Istiya | 20/09/2021 | 10/120 | A new plan enters into effect – establishing an industrial area , the plan was deposited in May 14th 2018 |
| Jinsafut | 26/11/2020 | 3/6/120 | Ratification of an organizational detailed outline |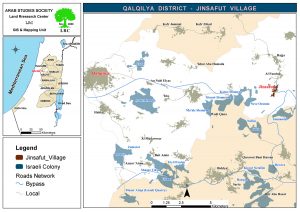 United Nations General Assembly resolutions on Israeli settlement
Resolution 242 of 1967: Withdrawal of Israel armed forces from territories occupied in the recent conflict;
Resolution 446 of 1979: that the policy and practices of Israel in establishing settlements in the Palestinian and other Arab territories occupied since 1967 have no legal validity and constitute a serious obstruction to achieving a comprehensive, just and lasting peace in the Middle East.
Resolution 452 of 1979 : the policy of Israel in establishing settlements in the occupied Arab territories has no legal validity and constitutes a violation of the Fourth Geneva Convention relative to the Protection of Civilian Persons in Time of War of 12 August 1949″ and "calls upon the Government and people of Israel to cease, on an urgent basis, the establishment, construction and planning of settlements in the Arab territories occupied since 1967, including Jerusalem.
Resolution 465: March 1, 1980, demanded Israel to stop the planning and construction of settlements in territories occupied since 1967, including Jerusalem. It also called on Israel to "dismantle the existing settlements".
Resolution 478: August 20, 1980, condemned in "the strongest terms" the enactment of Israeli law proclaiming a change in status of Jerusalem. The resolution called on all states "that have established diplomatic missions" in Jerusalem to withdraw them from the city.
Prepared by
 The Land Research Center
LRC