The Israeli Occupation issued Final Demolition Order for a Store in Ar-Ramadeen / south Hebron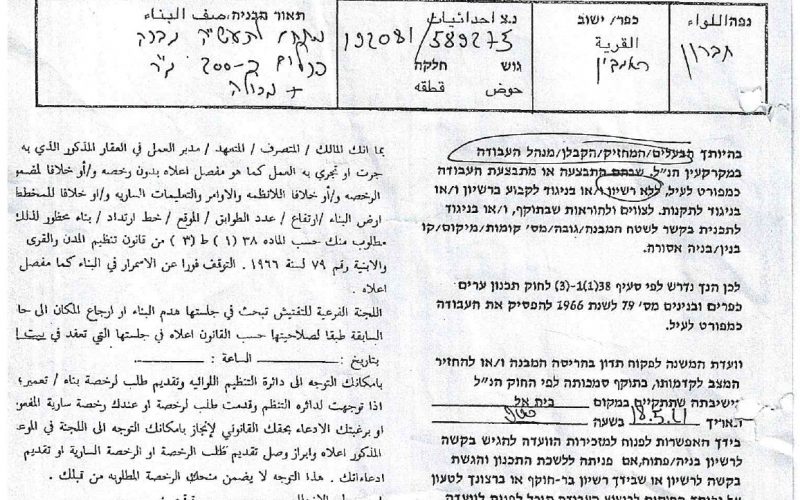 Violation: Final Demolition order for a store.
Date: July 11th 2021.
Location: Khallet Ash-Shajara – Ar-Ramadeen / Hebron Governorate.
Perpetrators: The Israeli Occupation Civil Administration.
Victims: Citizens Haya and Younis Rjoub.
Description:
Sunday, July 11th 2021 , the Israeli Occupation authorities issued a demolition order for a store on the pretext of building without a license in "Khallet Ash-Shajara" area north Ar-Ramadeen town.
The targeted facility belongs to brother and sister Younis and Haya Ar-Rjoub , it is a shack of steel sheets with a total area of (165 m2) used for selling Solar Cells Panels.
Affected Citizen Younis Ar-Rjoub said that a vehicle belongs to the building and organization department in the Civil Administration raided the area, and the building inspector wrote a demolition order for the facility, hanged it and took pictures of it before withdrawing.
The Occupation Authorities issued demolition order number (61064) and ordered the immediate stoppage of construction works and demolish what was built within 7 days. In case the owner failed to carry out the demolition before the deadline, the occupation forces will demolish the structure and make him pay all the costs.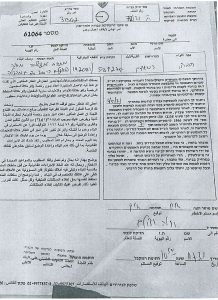 Demolition order 61064 issued against Ar-Rjoub facility
The Occupation also targeted a container near the facility used as a store for batteries – a part of the solar panels project ran by Haya and Younis , noting that Haya supports a family of 7 , 5 of them are children. While, her brother Younis supports a family of 4, 2 of them are children.
The Occupation authorities targeted the facility with a halt of work notice issued in May 4th 2021, and came back later and issued a final demolition order.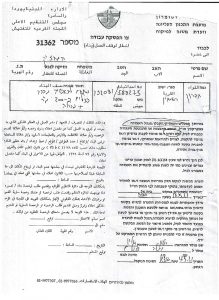 Notice 31362 – Halt of work for Ar-Rjoub facility
Khaleet Ash-Shajara area is located to the north of Ar-Ramadeen town , nearby the main road that connects Ar-Ramadeen and Ad-Dhaheriya , the area contains many shops , and considered vital for Adh-Dhaheriya.
Prepared by
 The Land Research Center
LRC