The Israeli Occupation Expands Shiloh Colony on Ramallah and Nablus lands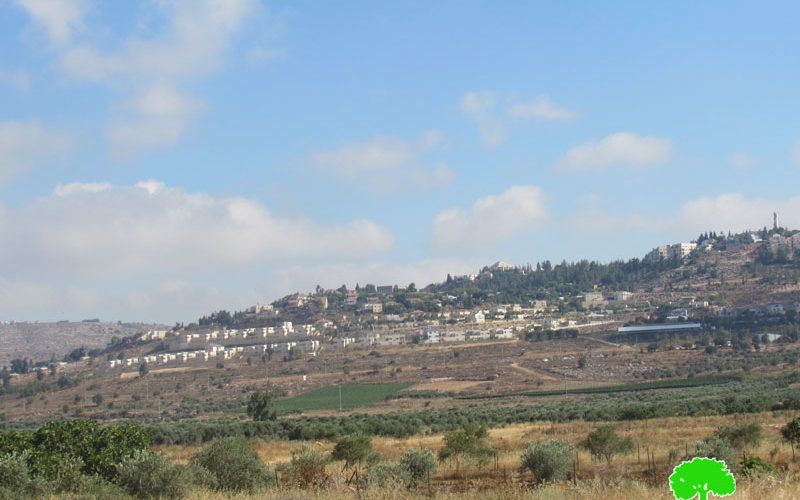 Violation: expansions in Shiloh colony.
Location: Jalud village lands – Nablus Governorate, Turmus'ayya town – Ramallah governorate.
Date: June 9th 2021.
Perpetrators: Colonization subcommittee.
Victims: Farmers from the village.
Description:
Wednesday, June 9th 2021, The Colonization subcommittee deposited an outline to expand Shiloh colony on Ramallah and Nablus lands.
The Scheme targets 375 dunums of Jalud village lands in natural block 13 in Turmus'ayya lands , natural block 3 of She'ab Al-Massri location.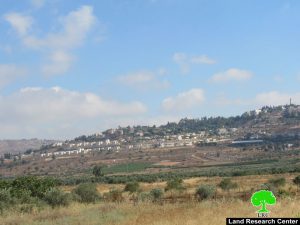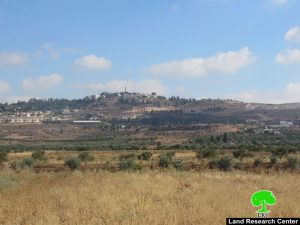 Photos 1-2: Shiloh colony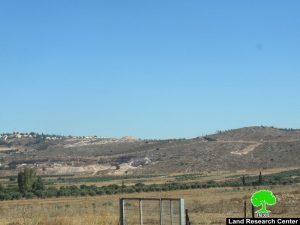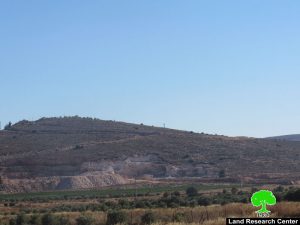 Photos 3-4: The targeted location after the expansion works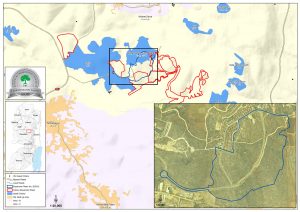 The new colonial scheme holds number (2/2/205), and changes land settlement from Agricultural into residential areas.
Reportedly, the scheme targets a pastoral area that the occupation had confiscated from its owners and registered as an Israeli State property, most of these lands are locate in the northeastern borders of the illegal colony Shiloh.
This way, Shiloh colony will expand to the north towards 'Amihai colony (only 900 m away), which will devour more Palestinian lands.
The Occupation closed off the targeted lands in 2000, at the evening of the second Intifada, the area was announced as a closed military zone, and today it is an expansion area for colonists.
The targeted lands belong to farmers from Hazma, Abu 'Awad and Hamayil families.
Illegal colony of Shiloh was built east Ramallah city with a population of 4307 colonists (2018). The colony controls 1400 dunums, and surrounded by the Palestinian villages of Jalud, Qaryut from the north, Turmus'ayya town from the south, Mizpe Rahel colony from the east and a number of outposts and Male Levona colony from the south.
About Jalud:[1]
Jalud is located 29 km to the southeast of Nablus city and is edged by Qusra village from the northeast, Qaryut village from the west, Yesh Kodish and Ahya outposts from the east and Shilo colony from the south.
Its population mounts up to 598 people (2014 census). Jalud's total land area is 22,473 dunums, of 80 dunums are considered the village's built-up area.
Israeli colonies confiscated 2227 dunums from Jalud lands. Shilo colony that was established in 1978 confiscated 640 dunums from the village. Mizpe Rahel colony and other outposts namely (Yesh Kodish, Ahya, Eli, Adi Ad and Kida) are founded on confiscated lands from the village.
Bypass roads confiscated around 436 dunums from the village.
The lands of Marda are classified according to Oslo Accords as the following:
5541 dunums (25%) are classified as area B
16932 dunums (75%) are classified as area C 
About Turmus'ayya:
 It is located 25 km to the north east of Ramallah city. It has a population of 3736 people (according to a 2007 census). Its total area is 18139 dunums, 1350 of which are built-up area. About 11218 dunums of land are under Area B (PA is in charge of civil matters with Israel responsible for security) and 6921 dunums are under Area C (Israel maintains full security and administrative control).
The Israeli occupation confiscated vast areas of the village for the benefit of the following colonies:
Shilo and Mizpe Rahel devoured 1023 dunums.
Mizpe Rahel devoured 706 dunums.
The bypass road number 60 stole 12.5 dunums.
United Nations General Assembly resolutions on Israeli Colonial Expansion:
1-United Nations General Assembly resolution of 20/1/1972, in which it demanded that Israel is asked to stop  a number of measures and practices, including (building Israeli settlements in the occupied Arab territories and transferring some of the civilian population from Israel to the occupied Arab territories).
2-United Nations General Assembly resolution of 15/12/1972, in which the General Assembly requested Israel to stop annexing any part of the occupied Arab territories, establishing settlements in those lands, and transferring the population to them.
3-United Nations General Assembly of 7/12/1973, in which the General Assembly expressed its grave concern over Israel's violation of the provisions of the Fourth Geneva Convention of 1949 and all measures taken by Israel to change the features of the occupied territories or their demographic composition, and considered them a grave violation of international law.
4-United Nations General Assembly Resolution of 29/11/1974 in which the General Assembly expressed its deepest concern over the annexation by Israel of some parts of the occupied territories, the establishment of settlements and the transfer of residents to them.
5-United Nations General Assembly resolution of 15/12/1975, consisting of four sections, and in the first section it condemned all the measures that Israel practices in the occupied territories, describing these practices as serious violations of the United Nations Charter and an obstacle to the establishment of a lasting and just peace in the region, stressing that these procedures are null and void, and have no basis of legitimacy.
6-General Assembly Resolution of 28/10/1977, which affirmed in its first clause that all measures and actions taken by Israel in the Palestinian territories and other Arab territories occupied in 1967 are legally untrue, and are a serious obstruction to the endeavors to reach a just and permanent peace in the Middle East. The General Assembly also deeply regrets that Israel continues to implement these measures, in particular the establishment of settlements in the occupied Arab territories.
7-United Nations Security Council Resolution 478, adopted on 20 August 1980, is one of two General Assembly resolutions [1][2] followed by seven UNSC resolutions condemning Israel's attempted annexation of East Jerusalem. In particular, UNSC res 478 notes Israel's non-compliance with United Nations Security Council Resolution 476[3] and condemned Israel's 1980 Jerusalem Law which declared Jerusalem to be Israel's "complete and united" capital, as a violation of international law. The resolution states that the Council will not recognize this law, and calls on member states to accept the decision of the council. This resolution also calls upon member states to withdraw their diplomatic missions from the city.
8-In resolution 2334 (2016), the Security Council reaffirmed that the establishment by Israel of settlements in the Palestinian territory occupied since 1967, including East Jerusalem, had no legal validity and constituted a flagrant violation under international law and a major obstacle to the achievement of the two-State solution and a just, lasting and comprehensive peace. In the same resolution, the Council reiterated its demand that Israel immediately and completely cease all settlement activities in the Occupied Palestinian Territory, including East Jerusalem, and that it fully respect all of its legal obligations in that regard. No such steps were taken during the reporting period.
[1] GIS-LRC
Prepared by
 The Land Research Center
LRC