Apei Yanahel Colony Expands on Kissan village lands / Bethlehem Governorate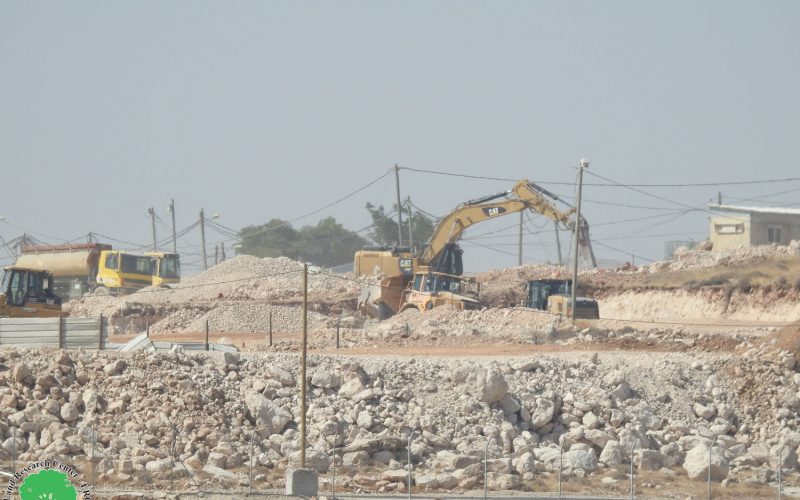 Violation: Colonial Expansion.
Location: Kissan Village / Bethlehem governorate.
Date: May 20th 2021.
Perpetrators: Colonist of Apei Yanahel.
Victims: People of Kisan Village.
Description:
Thursday, May 20th 2021, Apei Yanahel colonists expanded their illegal colony on Kissan Village lands. Reportedly, 8 new caravans were added to the colony, in addition to ravaging vast areas of lands for the expansion of the colony.
Apei Nahal Colonists are carrying out a vicious campaign against people of the village in order to force them to evict the area and leave it a reserve for future colonial expansion. Fanatic colonists also attack herders in postures, which affected many farmers at the village and forced them to leave the area.
Photos 1-6: Apei Yanahel colony
One of the affected, Hussain 'Azzal told LRC:
"We've been suffering endlessly with colonists; everyday they carry out new attacks against our women and children, all this with one aim is to force us to leave our lands."
 Noteworthy, in 2020 Apei Yanahel colonists built new structures and developed infrastructure at the colony to provide an easier life for colonist, while people of the village are deprived from their basic rights. 
Legal Feedback for Colonization:
Building new outposts and expanding Israeli Colonies on Palestinian lands is a violation of international conventions and agreements including Hague convention of October 18th 1907 , and Geneva fourth convention on protection of Civilians in times of war in August 12th 1949:
Resolution 242 for 1967: calls for the withdrawal of Israeli armed forces from territories occupied in the 1967 conflict.
Resolution 446 for 1979: calls upon the Government and people of Israel to cease, on an urgent basis, the establishment, construction and planning of settlements in the Arab territories occupied since 1967, including Jerusalem.
Resolution 452 for 1979: the policy of Israel in establishing settlements in the occupied Arab territories has no legal validity and constitutes a violation of the Fourth Geneva Convention.
Resolution 465 for 1980: 5-  Determines that all measures taken by Israel to change the physical character, demographic composition, institutional structure or status of the Palestinian and other Arab territories occupied since 1967, including Jerusalem, or any part thereof, have no legal validity and that Israel's policy and practices of settling parts of its population and new immigrants in those territories constitute a flagrant violation of the Fourth Geneva Convention relative to the Protection of Civilian Persons in Time of War and also constitute a serious obstruction to achieving a comprehensive, just and lasting peace in the Middle East;
Resolution 478 of 1980:  Censures in the strongest terms the enactment by Israel of the "basic law" on Jerusalem and the refusal to comply with relevant Security Council resolution.3
 Geneva Fourth Convention:
Article 49: the Occupying Power shall not deport or transfer parts of its own civilian population into the territory it occupies.
Article 53: prohibits the destruction of property, as this article states the following: "The occupying power is prohibited from destroying any private, fixed or movable property related to individuals or groups, the state or public authorities, or social or cooperative organizations, unless the war operations inevitably require this destruction.
Article 147: extensive destruction and appropriation of property, not justified by military necessity and carried out unlawfully and wantonly. ( it is considered a serious violation of the convention)
 Kisan:[1]
Located 18km south of Bethlehem, Kisan village is surrounded by Tuqu' (north), Sa'ir (west), the Dead Sea (east), Arab ar Rashayda/ Sa'ir/ Al Buweib (south). Kisan has a population of 560 people (2017 census). It has a total area of 133,278 dunums- 88,7 of which are built-up area. The Israeli occupation confiscated 2201 dunums of Kisan lands to build the following colonies:
Maale Amos which was built in 1981 and devoured 320dunums of Kisan. It is inhabited by 299 colonists.
Mizpe Shalem which was built in 1971 and confiscated 396 dunums. 193 colonists live in that colony.
Mizpe Shalem B which was built in 1980 and stole 58 dunums.
Ibei Hanachal outpost which confiscated 166 dunums of Kisan.
Israeli Bypass road number 90 devoured more than 1000 dunums.
According to Oslo Accords, 11% of Kisan is considered nature reserve while 40% is under Area B (PA is in charge of civil matters with Israel responsible for security). However, most of the village lands (49%) is under Area C (Israel maintains full security and administrative control). Here are the areas in dunums:
Land considered natural preserve (24.480) dunums
Area B (88.5) dunums
Area C (108.455) dunum
[1] GIS-LRC
Prepared by
 The Land Research Center
LRC