House and Cistern demolished in Khallet Al-Warda in Bani Na'im town / south Hebron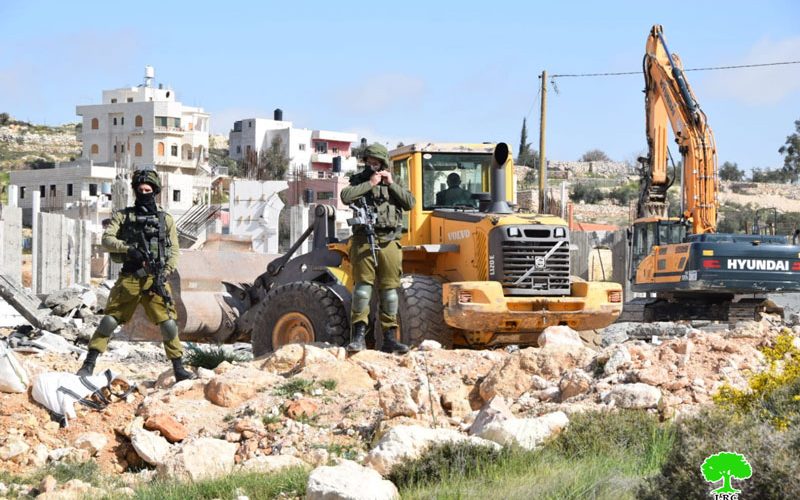 Violation: Demolishing a house and a cistern.
Date: March 8th 2021.
Location: Khallet Al-Warda – Bani Na'im town / Hebron Governorate.
Perpetrators: The Israeli Civil Administration.
Victims: Citizen Joda Ar-Rajabi.
Description:
Monday, March 8th 2021, the Israeli Occupation Authorities demolished a house and a cistern belong to citizen Joda Ar-Rajabi , on the pretext of building without a license in "Khallet Al-Warda" area west Bani Na'im town east Hebron.
About 10:00 am, an army force, border guards, and an officer from The Building and Organization department in the Civil Administration accompanied by a Volvo bulldozer and s Hyundai excavator raided the area and demolished a house belong to Ar-Rajabi.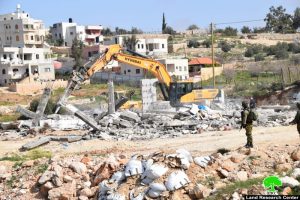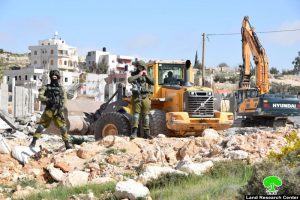 Photos 1+2: Demolition operation for Ar-Rajabi house
Ar-Rajabi (38) said that the Occupation Authorities demolished my two-floors house, the first floor has a total area of 130 m2 , while the other in 180 m2 , built of reinforced concrete and stones , and was supposed to be a home for a family of 9 , 7 of them are children.
The Occupation forces also demolished an under construction cistern below the house, with a storage capacity of (250 m3) and was supposed to provide water for domestic use.
The Occupation bulldozers also demolished woods, hand tools, and building materials nearby the residence, Ar-Rajabi's loss is estimated to reach 500 thousand Shekels (about 150 thousand Dollars).
Ar-Rajabi Started building the house in 2020, on a plot he owns in Khallet Al-Warda , he also received a halt of work and construction notice in August 11th 2020 , and hired a lawyer to file an objection , but the occupation forces refused the objection , and issued a final demolition order in November 11th 2020, which was implemented in March 8th 2021.
The Occupation is targeting Khallet Al-Warda area, through demolishing buildings and facilities, in order to halt Palestinian physical expansion, for more information read LRC reports: