Brukhin colonists vandalize 15 Olive trees in Kafr Ad-Dik / Salfit governorate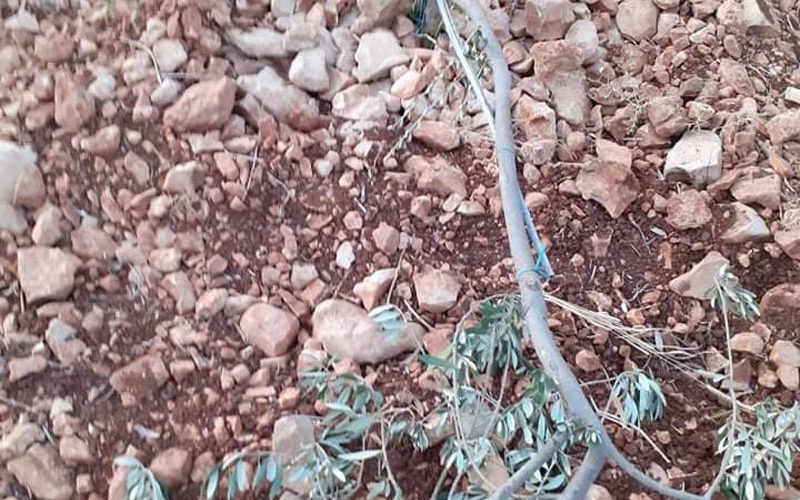 Violation: Cutting and vandalizing 15 olive trees.
Location: Kafr Ad-Dik town/ Salfit governorate.
Date: August 4th 2020.
Perpetrators: Brukhin Colonists.
Victims: Farmer Zaher Taha.
Description:
Tuesday Evening, August 4th 2020 , Illegal colonists sneaked into a plot belongs to Karam Ahmed located to the northeast of Kafr Ad-Dik town, and about 400 kilometer from the confiscated lands where Brukhin was built.
Illegal colonists raided the village in the darkness of the night , and carried on cutting and vandalizing 15 olive saplings aging 5 years old , in addition to sabotaging a part of the siege that surrounds a room at the location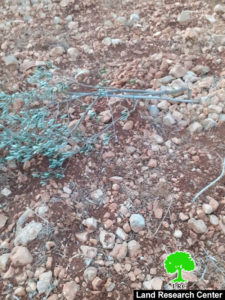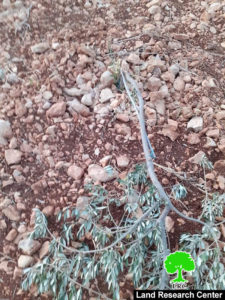 Photos 1-3: following a vandalism attack at Zaher Taha's land
The vandalized saplings belong to farmer Zaher Taha from Kafr Ad-Dik , who told LRC the following:
"I own a plot with a total area of 5 dunums , planted with more than 55 aging olive trees , two years ago I added another 15 olive trees."
 Zaher asserted: This is not the first attack on the land; in 2011 the occupation demolished an ancient cistern and an agricultural room , and the owner had to rebuild them again , they later halted work on the road that leads to the plot in 2014 , and threatened the bulldozer owner  of confiscation in case they got back to work on the road again.
For information about more violations in Kafr Ad-Dik , read our report.
Noteworthy, the area has witnessed several raids and vandalize attacks , the great majority of the attacks targeted olive trees , settlers are trying to hinder farmers' access to the area , and create a reality that facilitates Brukhin's expansion on the area's agricultural lands.
Kafr Ad-Dik:[1] 
Kafr ad Dik is located 15 km to the west of Salfit. It is surrounded by Bidya (north), Rafat and Deir Ballut (west), Bruqin and Sarta (east), and Bani Zaid villages (south).
Kafr ad Dik has a population of 4553 people, according to a 2007 census.
Its total area is 15529 dunums; however, it has been suffocated by bypasses and 3 Israeli colonies that lay over its lands.
This has further limited its expansion knowing that it had already had a 791-dunum organizational plan (built-up area); it also isolated the village from its surroundings.
The Israeli occupation confiscated 2477 dunums of Kafr ad Dik lands for the benefit of:
Colonies devoured 1225 dunums, and they are:
Name of colony

Year of construction

Area of confiscated land/ dunum

Number of colonists

Har Eli Zahav

1983.

134.

339.

Eli Zahav- Yoezer

1982.

290.

424.

Bedoel

1984.

800.

1088.

·

1999.

1.

339.

·

1225.

1512.
*Source: Field Research- Monitoring Israeli Violations Team- Land Research Centre (LRC).
Bypasses stole 362 dunums
The Apartheid Wall seized 890 dunums and isolated 8824 dunums and is expected to be 8905 long in Kafr ad Dik lands.
Lands of Kfar ad-Dik are categorized according to Oslo Accords into lands under Area B (15% of the lands) and lands under Area C (85% of the lands).
[1] GIS-LRC