The confiscation of the waste collection truck of Bidya municipality – Salfit governorate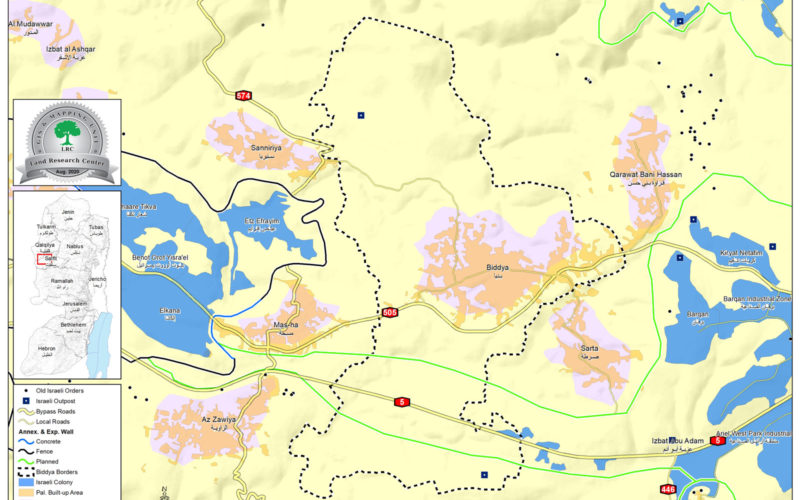 Violation: Confiscation of a waste collection truck.
Location: Bidya town / Salfit governorate.
Date of violation: 01/07/2020.
Perpetrators: the Israeli Occupation Army.
Affected people: Citizens of Bedya town.
Violation details:
On Thursday morning, July 1, 2020, the Israeli occupation army confiscated a garbage collection truck belonging to the Joint Services Council for Solid Waste Management in the west of Salfit Governorate, while it was transporting waste from the town of Bidya towards the town's waste dump in the "Khallet Hassan" area, north of the town.
It is noteworthy that the confiscated truck is a production of  Volvo  company,  year 2013 . The occupation army forced the driver of the truck to drive to the  Azzun Atma Wall gate, then, the truck was driven by the army personnel in to the colony of "Oranit" where it was kept.
The occupation army claims that the confiscation of the truck came after complaints by settlers regarding the smoke rising from the  burning dump, noting that there is no Israeli settlement in the area surrounding the dump site.
For his part, Dawood Salama, head of the Environmental Health Department at Bidya Municipality, confirmed to the Land Research Center's researcher that:
" The confiscation of the garbage truck has created a great dilemma for the citizens of Bidya town, as the waste accumulated on public roads and between homes, prompting the town to rent another truck in order to transport the waste temporarily until the confiscated truck is retrieved, and this will increase the financial burden on The municipality, in light of the deliberate restrictions imposed by the occupation, especially that the town produces large quantities of waste daily".
Bidya town:
Bidya is located 25 km south east of Nablus city and surrounded by Deir Istiya and
Kafr Thulth (north), Seneria , Masha, and Az-Zawiya (west) , Qarawat Bani
Hussan and Sarta (east), and Kafr Ad-Deek (south).
Bidya has a population of (10,451) people according to  2017 census.
Bidya has a total area of 13,827 dunums , of which 1,367 dunums are a built
up area.
The occupation confiscated 637 dunums of its land for the following purpose:
 17 donoms were confiscated for the expansion of Ariel" colony from 1999;
 620 dunum were seized for the building of   Bypass roads 505 and  5;
 The Israeli Occupation is planning to construct a segment of the
Annexation and Expansion wall on the town's lands. (the plan is to construct
a 4118 m segment, which will eat up 411 dunums and isolate 3,690 dunums behind it.
Oslo accords classified the town's lands as the following:
–    (B) area : 2,045 dunums.
–    (C ) area: 11,782 dunums.