Halt of work notice target an Agricultural room and a water harvesting reservoir in Bruqin / Salfit governorate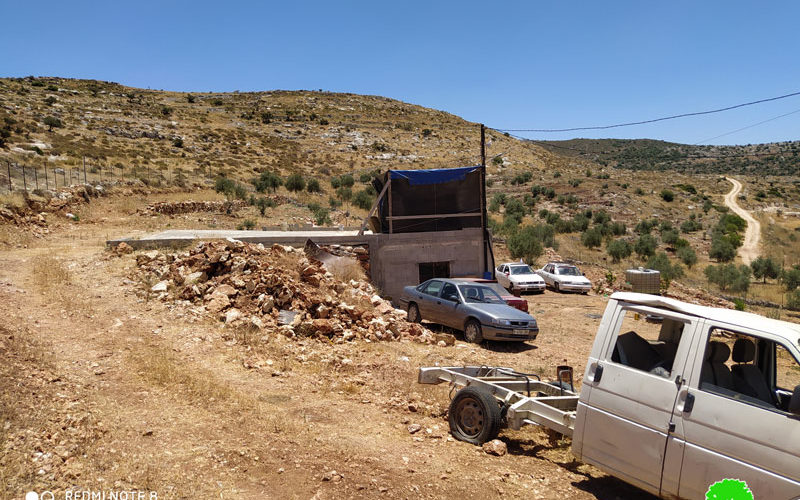 Violation: Halt of work notice target an Agricultural room and a water harvesting reservoir.
Location: Bruqin village / Salfit governorate.
Date: June 21st 2020.
Perpetrators: The Israeli Occupation forces.
Victims: Farmer Abdul Fatah Smara and his family.
Description:
Sunday , June 21st 2020, the Israeli Occupation Forces raided Bruqin west Salfit , and the Israeli Occupation Civil Administration's officer served a halt of work notice  on an agricultural facility built of bricks and zinc (32 m2 ), and a water harvesting reservoir (30 m3), the targeted facilities are located to the east of "Khallet Al-Kharoub" in Bruqin.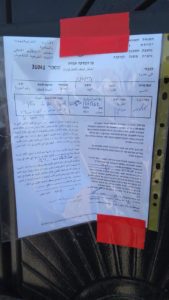 The targeted facilities belong to Abdulfatah Smara (54) who told LRC: "late last year I started constructing a room and a cistern in my 10 dunums olive grove, I thought this would protect my land from colonial expansion , as "Ariel" industrial area crawled to only 1 km away from the location, and future expansion is on the table."
According to the military order number (31041) , the occupation set July 27th in Beit El military court to decide the fate of the structure.
Noteworthy, Wadi Al-Matwi is a part of The Salfit town of Bruqin , the area is weary of decades of Israeli violations. Settlers of "Ariel" opened their waste water towards the village and polluted its great nature.
17 facilities in Burqin received threats from the occupation , most of them are in the surrounding of the illegal settlement "Ariel".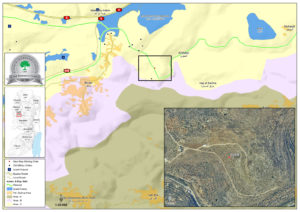 Bruqin:[1]
It is located 10 km to the west of Salfit city; Bruqin is one of the Palestinian villages that depend mostly on agriculture in its income. And bordered by Haris (north), Kafr Ad-Dik (west), Farkha and Salfit (East), Kafr Ein, Bani Zayed, Qarawat Bani Zaid (south).
The town has a population of (4,174) people in 2014 census.
The town has a total population of 285,12 dunums , of which 706 dunums are the town's built up area.
The occupation devoured (3,385) dunums , for the following purposes:
Table 1: land confiscations in Bruqin:
No.

Colony

Establishment date

Built-up area

Type

Built over

1

Barkan

1981

622.5

Industrial

Sarta, Bruqin, haris

2

Bruchin

1999

265.5

Residential, industrial

Bruqin, Haris

3

Ariel Gardens

1978

5226

Industrial

Bruqin

 
Bypass roads devoured about 503 dunums.
Oslo accords divided the land into the following :
A area: (1,005) dunums.
B area : (4,376) dunums.
C area: (6,906) dunums.
[1] GIS-LRC