Confiscating Heavy Machineries From Al-Mazra'a Al-Gharbiya village / Ramallah governorate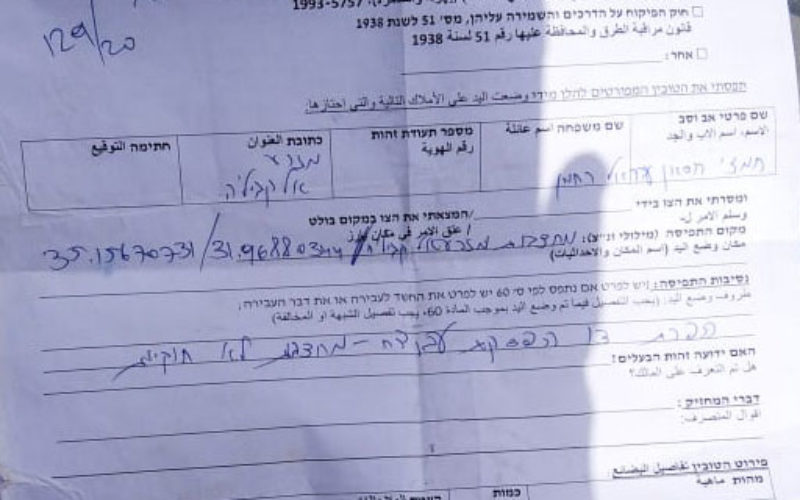 Violation: Confiscating heavy machineries' and excavation tools.
Location :Al-Mazra'a Al-Gharbiya village / northwest Ramallah city.
Date: June 17th 2020.
Perpetrator: The Israeli Occupation Forces.
Victims: Citizen Hassan Ladawda.
Description:
Massive army forces accompanied by truck tankers raided Al-Mazra'a Al-Gharbiya on Wednesday June 17th 2020 , and carried on confiscating machineries and excavators , on the pretext of operating them in C area without a license , the confiscated machineries belong to Hassan Ladawda and partners.
Affected Citizen told LRC:
"I own a plot with a total area of 70 dunums north Al-Mazra'a Al-Gharbiya in natural block 1 of As-Sekal area , and I have legal papers prove that I own the land , half of the land was classified B, and the other half was classified C in the Oslo Accords. Five years ago I started working in the plot through uprooting massive rocks and selling them to stone processing company to produce them as building materials , I work in this plot with my four sons , three of them are families' providers, and we cooperate with three contractors."
Ladawda asserted: "Almost three years ago , the civil administration protected by the Occupation force raided that plot and confiscated machineries worth about 70000 Shekels , On the pretext that the plot is in C area. The occupation back then gave us notices issued by the civil administration stating that we are not allowed to operate machineries or work in the plot  , we hired a lawyer and got the machineries back after winning the case , but we had to pay a fine that reached 25,000 shekels. Then I carried on working in the plot , first because it is my property , and second because it is the only source of income for my family."
Wednesday , Jun 17th 2020 , about 7:00 am , Massive army forces (about 250 troops) spread around the plot and declared the plot a closed military area , the force was accompanied by six jeeps related to the so called Israeli Civil Administration , three bulldozers (a caterpillar and two Volvos) , a Volvo truck , three winches to implement the confiscation, the force carried out the following:
Confiscating Two Bulldozers one of them belongs to Adeeb Diriya , and the other belong to Yousif Blo , who are contractors cooperate with us in the implementation.
Confiscating two caterpillar excavators (Bagger) , one of them belong to citizen Adeeb Diriya, and the other belong to Abu Nidal Jaber.
Confiscating two machineries and an Electric Motor belong to citizens Adeeb Diriya and Wael Blo.
Confiscating a Ford 2017 truck and an electric motor.
Destroying a machinery used for stone sawing.
The confiscated properties along with what was destroyed according to Ladawda – worth more than 3 million shekels , the operation started at 7:00 am and continued until 5:00 pm. And before the force withdrew they gave Ladawda and his partners Confiscation notices.
The Owner and his partners are planning to get a lawyer hoping that they may regain some of their properties , noting that hiring a lawyer may cost  multi hundreds of shekels , in addition to stopping the project that was providing a source of income for many families, the owner is also living in fear that he may never be able to work again inn his plot , or that the occupation may seize it for the favor of the nearby illegal colony "Nahliel" (only 3 km away).
Al-Mazra'a Al-Gharbiya is a hot spot for Israeli Violations, the Israeli occupation  established Horsha colony on its lands , and it expanded "Kerem Elem" illegal Colony, the occupation is trying to impose unbearable restrictions on people of the village , and depriving them from all their basic rights.
For more information read LRC reports about Al-Mazra'a Al-Gharbiya in 2020:
Opening a colonial road for "Horsha" outpost , read our report.
Expanding Kerem Elem outpost, report.
Setting up a new metal gate leveling to confiscate vast areas of lands in Al-Mazra'a Al-qibliya, report. 
About Al-Mazra'a Al-Gharbiya (Al-Qibliya):[1]
It is located 12km to the northwest of Ramallah city. The village is edged by Abu Shkeidim area from the north, Talmon colony from the west, Abu Qash village from the east, and Ein Qiniya village from the south.
The village has a total land area of 15,275 dunums, of which 1165 dunums are the built-up area. Around 5000 people inhabit the village (2014).
The Israeli occupation confiscated around 329 dunums from the village's lands to establish the colonies of Nahliel (1984) and the colony of Talmon (1989).
Also, the bypass road number 450 confiscated 75 dunums from the village.
According to Oslo lands classifications, the village lands are as follows:
8533 dunums are area classified "B"
6742 dunums are area classified "C"
[1] GIS-LRC