New Jewish Cemetery to be established on confiscated lands from Salfit
Violation: Establishing a Jewish Cemetery on Confiscated lands from Salfit.
Location: 'Azzun 'Atma, Masha , and Az –Zawiya / Salfit governorate.
Date: May 1st 2020.
Perpetrators: Israeli Settlement Council in coordination with the Israeli Civil Administration.
Victims: People of the surrounding villages.
Description:
The Israeli newspaper "Ma'ariv" in their Friday issue revealed an Israeli Scheme to establish a cemetery on 140 dunums confiscated from 'Azzun 'Atma , Masha , and Az-Zawiya west Salfit governorate.
The targeted spot is located behind the Annexation and Expansion Wall , nearby the industrial area Sha'er Hashmaron.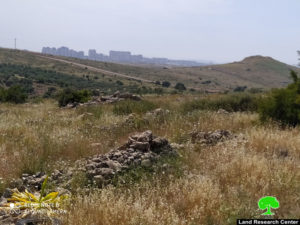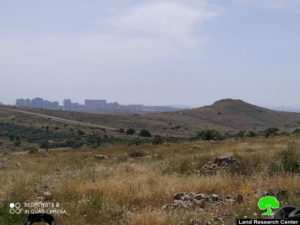 Photos 1+2: The targeted spot in the scheme
Following recommendations of Elkana , Oranit , Shamron settlement council , an outline for the cemetery was prepared to accommodate 15,000 graves.
Yossi Dagal , an Israeli Colonists' leader , and head of colonial clusters north West Bank said:
"We have a plan to settle one million Israeli Jew Colonists in the West Bank after establishing a road network, services, infrastructure, industrial area and a Jewish Cemetery, in order to perpetuate colonization in the West Bank."
The targeted lands in the scheme are in natural blocks "Sersia" , "Khallet Rumaila" , and "Aj-Jabal Al-Azraq" from Azzun 'Atma , Masha , and Az-Zawiya villages.
The Responsible on the legal department in the Colonization and Wall Resistance Commission 'Ayed Marar said that this is an attempt to change facts on the ground, and fabricate cultural identity of the area.
Salfit governorate witnesses an escalation of colonial expansionist projects , the occupation built 24 colonies on its land , and 18   outposts , in addition to bypass roads around the city , then turned tens of thousands into natural reserves in addition to the bypass roads that ate up vast areas of the village lands.