New Colonial Block built Around Havat Ya'er colony / Salfit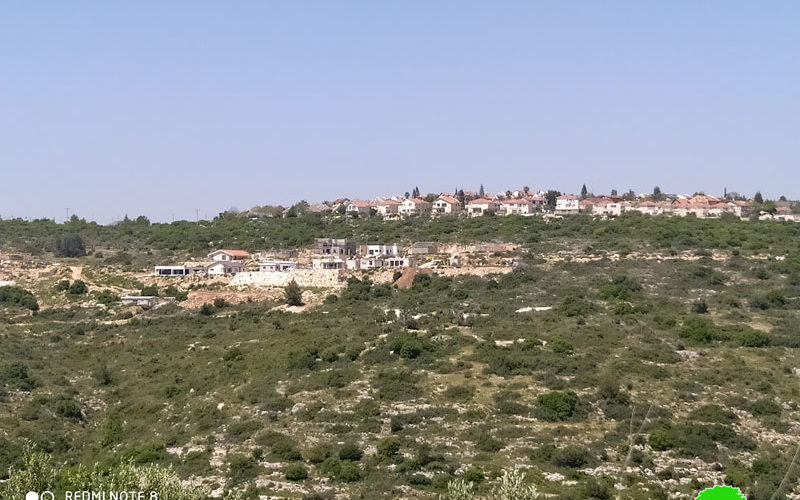 Violation: New Colonial Block.
Location: Deir Istiya and Qarawat Bani Hussan / Salfit governorate.
Date: April 1st 2020.
Perpetrators: Colonists of "Havat Ya'er" colony.
Victims: Farmers at the area.
Description:
The Israeli Occupation Machineries carried on ravaging vast areas of land in "Al-Mawager" area in Qarawat Bani Husan and Deir Istiya north west Salfit in order to establish a new colonial block for Havat Ya'er colony.
Reportedly, the occupation operated several bulldozers to level about 19 dunums of lands classified as state properties in order to establish a new colonial block in Havat Ya'er colony, in addition to set up about 12 caravans west the colony.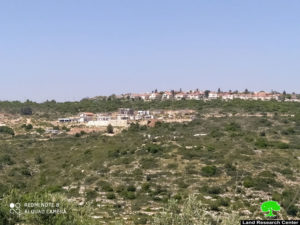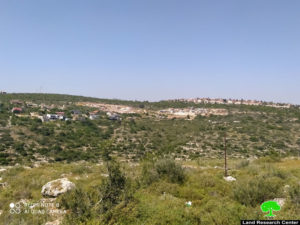 Photos 1-3: Expansions in Havat Ya'er
Reportedly, there is a scheme to expand the settlement double its size to attract more colonists, and impose realities on the ground in line with the occupation's attempts to impose control over vast areas of West Bank lands.
Havat Ya'er was established in 2001 , after the prime minister "Ariel Sharon" took over the government , and gave radical and extremist colonists the green line to take over Palestinian hills, the colony was first established on lands classified as state properties , while part of it was built on a natural reserve and forests area.
The Outpost received great support and intention from the Israeli government after it was legalized by the current Prime Minister Benjamin Natinyahu.
Activist Nathmi Salman (52) from Deir Istiya told LRC:
"Most of the Havat Ya'er residents are extremist Jews , they carry out frequent attacks against farmers and farmlands under the protection of the occupation forces , they also prohibit developmental projects in Palestinian farmlands , and through time Palestinian lands turn into wastelands which makes it easier to the occupation to take over them."
In reality, this is one of eight Israeli colonies on about 10,000 dunums in Wad Qana, the colony provides access and control for hundreds of dunums of agricultural lands, and at the time the occupation claims that Wad Qana is a natural reserve and prohibited Palestinian construction, they gave colonists the freedom to seize and build on these lands.
Land Research Center sees Israel continuous expansion on colonies in the West Bank and Jerusalem at the expense of Palestinian and lands a flagrant violation of Human Rights and all international laws and conventions, which prohibit disposition of public properties in occupied countries.
UN Resolutions
UN Security Council Resolution 242 of 1967: calls for
the Withdrawal of Israel armed forces from territories occupied in the recent conflict;
Termination of all claims or states of belligerency and respect for and acknowledgment of the sovereignty, territorial integrity and political independence of every State in the area and their right to live in peace within secure and recognized boundaries free from threats or acts of force."
UN Security Council Resolution 449 of 1979: the Security Council determined:
"that the policy and practices of Israel in establishing settlements in the Palestinian and other Arab territories occupied since 1967 have no legal validity and constitute a serious obstruction to achieving a comprehensive, just and lasting peace in the Middle East"
UN Security Council Resolution 452 of 1979: states that
"the policy of Israel in establishing settlements in the occupied Arab territories has no legal validity and constitutes a violation of the Fourth Geneva Convention relative to the Protection of Civilian Persons in Time of War of 12 August 1949"  and "calls upon the Government and people of Israel to cease, on an urgent basis, the establishment, construction and planning of settlements in the Arab territories occupied since 1967, including Jerusalem."
UN Security Council Resolution 465 of 1980:
It expressed concern at Israeli settlement policy in the Arab territories and recalled resolutions 237 (1967), 252 (1968), 267 (1969), 271(1969) and 298 (1971). It further called upon the State and people of Israel to dismantle such settlements. The resolution calls on all states 'not to provide Israel with any assistance to be used specifically in connection with settlements in the occupied territories