New plan to expand an illegal Quarry in Az-Zawiya / Salfit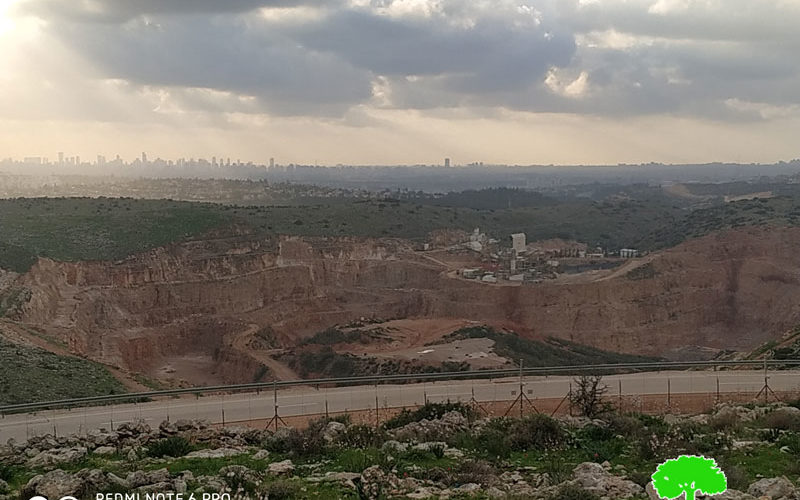 Violation: Expanding an illegal Quarry.
Location: Az-Zawiya town / West Salfit.
Date: March 1st 2020.
Perpetrators: The Israeli Occupation Civil Administration.
Victims: People of Az-Zawiya.
Description:
Early march, The Israeli Occupation Civil Administration has approved to look in an application by German companies Heidelberg and Hanson to expand a quarry built illegally on Az-Zawiya and Rafat lands. The expansions, if the plan was approved will devour about 500 air flow meters around the quarry.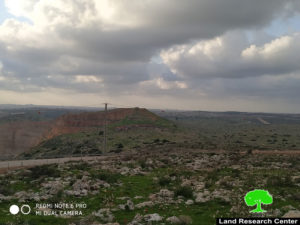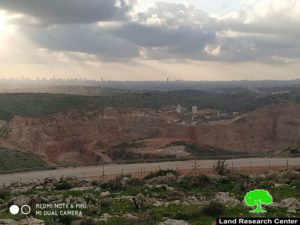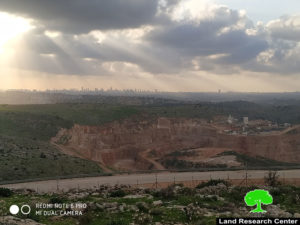 Photos 1-3: The quarry to be expanded
Human Rights Activist in Az-Zawiya 'Azmi Shqer told LRC:
"The Quarry was established to the west of Az-Zawiya in the 80s , the targeted lands were beans fields , after the establishment of the quarry farmers were denied access to them ,the lands were later blocked by the apartheid wall which made it impossible for farmers to reach them again , the surrounding area was later turned into Barren lands."
Az-Zawiya village council head Mahmoud Moqadi told LRC:
"The occupation is looting Palestinian natural resources; Palestinian farmers were deprived from their basic rights, while the occupation authorities forcedly imposed control on the land and allowed foreign companies to invest in them."
Israel established about 13 Israeli Quarries around the West Bank, which is a violation of international agreements related to the protection of people and natural resources under occupation.
About Az Zawiya:[1]
 Located 17 kilometer west of Salfit and adjacent to the Green Line, Az Zawiya has a population of 5230 people according to statistics conducted in 2017. 81% of the population depend on agriculture and sheep grazing while the rest work in governmental jobs or private sector projects. Az Zawiya has a total area of 12,000 dunums, 693 of which are a built-up area of the town. Most agricultural lands in Az Zawiya are planted with olive, figs, and cactus.The Israeli occupation confiscated 1747 dunums of Az Zawiya lands for colonies and the Apartheid Wall as the following:
Two colonies are built on Az Zawiya lands. The first is Mazor Atiqa which was built in 1986 and confiscated 573 dunums. The other is Elkana which was built in 1977 and confiscated 57 dunums. Elkana is inhabited by 3050 colonists.
Bypass road number 5 and it devoured 520 dunums of Az Zawiya lands
The Apartheid Wall which destroyed 579 and isolated 4228 dunums
[1] GIS-LRC