Under Security Claims, Demolishing Ahmad Qumba's family home for the second time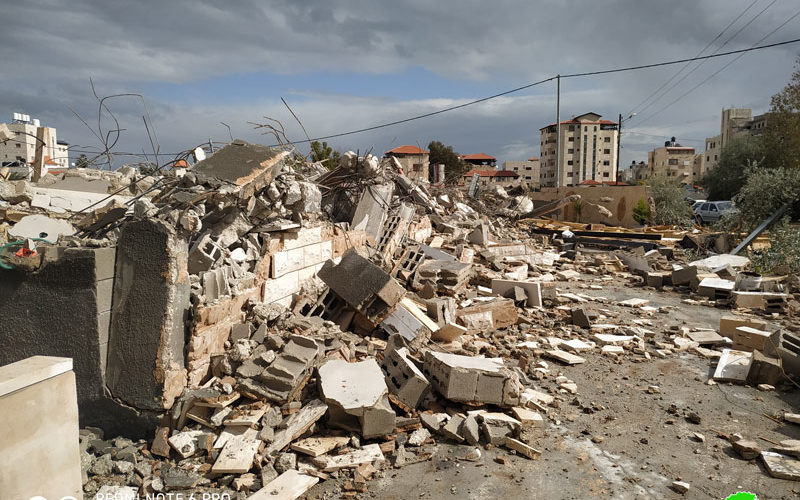 Violation: Security Demolition.
Location: Jenin city.
Date: February 6th 2020.
Perpetrator: The Israeli Occupation Forces.
Victims: Family of detainee Ahmad Qumba'.
Description:
Thursday, February 6th 2020, the Israeli Occupation forces demolished Palestinian detainee Ahmad Qumba' family home in Jenin. Reportedly, Israeli troops encircled the house then completely leveled it to the ground.
The targeted house has a total area of 220 m2 on a 800 m plot, the targeted house is a home for a family of 7, 2 of them are children.
 In January 12th 2020, The Israeli Occupation Army Commander in the West Bank informed detainee Ahmad's family that the house will be demolished for the second time after being rebuilt following first demolition in April 24th 2018.
According to Israeli military laws, when a house is demolished under security claims, it is prohibited to rebuild it at the same location.
Read our reports on Ahmad Qumba's family struggle under Israeli
collective punishment policies:

It should be marked that the order was issued in reference to the British Emergency Law of year 1945, taking into consideration that this law was abolished.
According to article 119 of that law, "Confiscation" of property means that the owner can not re-build structures in case of demolition. Land Research Center sees Israeli practices and measures as a collective punishment against the families of martyrs and prisoners.  The occupation seeks to traumatize and humiliate Palestinian families through such practices.
The Israeli government claims such orders to be deterrent for Palestinians who carry out stabbing attacks. Such attacks come in response for colonists' attacks on Palestinians, the latest of which was represented in torching a family alive, not mentioning running over kids and women,  attacks on trees (torching , cutting down, robbing) and lands confiscation
Since Al-Aqsa uprising since 2015 until 2019, Israeli Occupation Forces demolished 81 residences, of which 13 were demolished in 2019 .
Prepared by