The Israeli Occupation confiscates a classroom from Susiya school – Yatta / South Hebron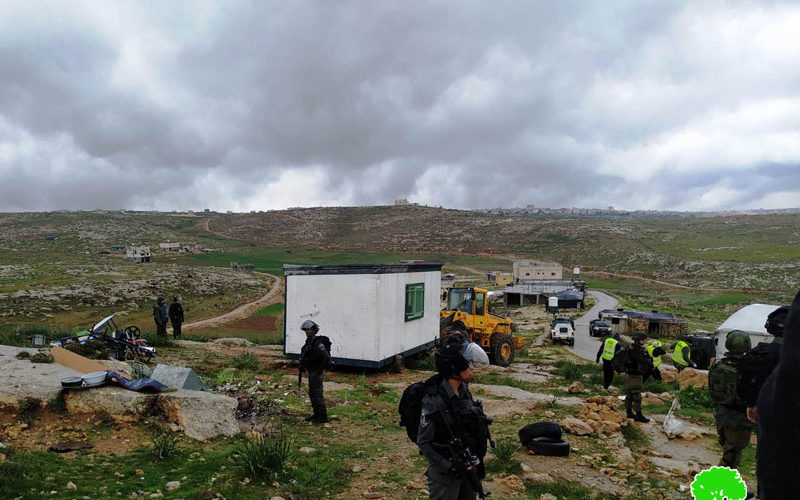 Violation: confiscating a caravan.
Date: February 19th 2020.
Location:  Susiya – Yatta / South Hebron.
Perpetrators: The Israeli Occupation civil administration.
Victims: students in Susiya School.
Description:
Wednesday, February 19th 2020, the Israeli Occupation authorities confiscated a caravan used as a classroom in Susiya basic schools, south Yatta in Hebron governorate.
Reportedly, A massive army forces accompanied by border guards and representatives from the building and organization department in the civil administration raided the western area of Susiya village, and encircled the location.
The fanatic troops targeted a caravan in the school, the caravan makes a classroom for 7 students, the occupation authorities forces the children to get out from their classroom, then dragged the caravan to the main street (about 500 m away from the school).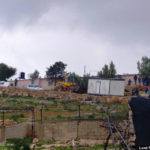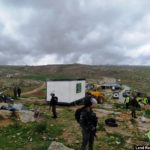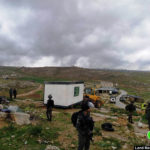 Photos 1-3 : Confiscating a classroom – Source: Susiya school
The occupation forces brought a truck to confiscate the caravan , then put a written notice entitled (confiscation notice) which says : The caravan was confiscated and taken to Gush Etzion settlement.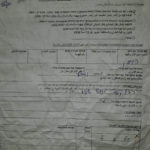 Photo 4: Confiscating a classroom in Susiya
The occupation authorities confiscated the basic classroom without any preceding military notices , this caravan had wheels and was a quick solution for the school's crisis caused by the shortage in classrooms, after confiscating the caravan the school returned to facing the same crisis.
 With a total population of 300 inhabitants, Susiya village is reported to be under the threat of forcible displacement, taking into consideration that the Israeli colony of Susiya founded in the area is constantly expanding at the expense of Palestinian lands.
 Noteworthy, The Israeli settlers established "Susiya" illegal settlement in 1983, on confiscated lands from the Palestinian hamlet of Susiya that originally owned by several Palestinian families.
The Israeli occupation authorities ban establishing a new infrastructure, rehabilitating roads and providing the area with power and water. This step is taken to push people to leave the area.