Elkana settlement expands more on Salfit lands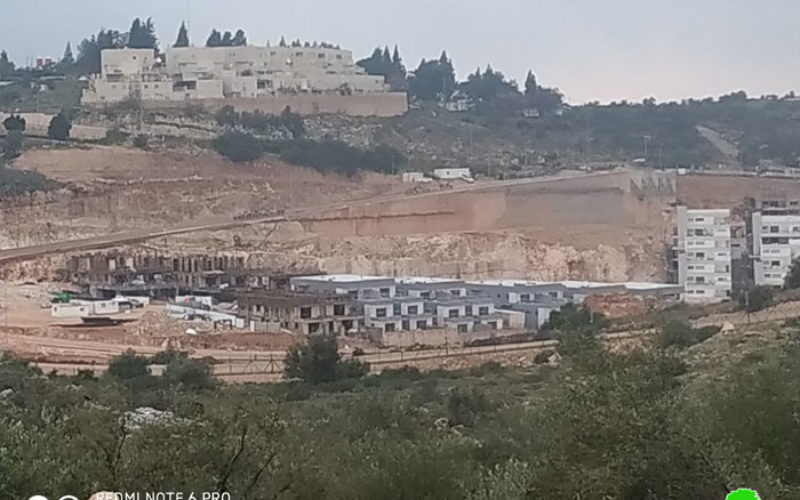 Violation: New colonial block to be added to Elkana settlement.
Location: Mas-ha village west Salfit.
Date: February 1st 2020.
Perpetrators: Settlers of Elkana.
Victims: People of Mas-ha village in Salfit.
Description:
The Israeli Occupation authorities level lands to build a new colonial block to be added to ElKana B illegal settlement.
Reportedly, the occupation authorities are building 24 new colonial units on an area known as "Wad Ash-Shami" , natural block 3 of Masha lands.
The new block eats up more than 24 dunums of Salfit lands that are already confiscated under military orders issued after the construction of the apartheid wall on the village lands in 2001 , under which the occupation imposed restrictions and prohibited tens of farmers from accessing their lands.
During the last ten years Elkana settlement received special support from the Israeli government represented in establishing a services center and a collage, devouring vast areas of Salfit lands that are already isolated behind the apartheid wall.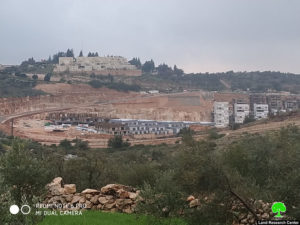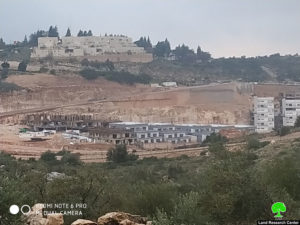 About Mas-ha:[1]
17km away from Salfit governorate, Mas-ha populates 2003 inhabitants on a total land area of 7870 dunums, of which 600 dunums are the village's built-up area. The occupation confiscated massive area from the village for the favor of the apartheid wall and colonization.
The wall is reported to be of 8.9km in length and 100m in width. As per its construction, the wall confiscated 890 dunums of Mas-ha lands and isolated 4235 other dunums from the area. The following colonies are founded on the lands of the village:
Colony

Year of establishment

Population

Area\dunum

Elkana A

1977

3,050

1,373.5

Elkana B

1985

617

539

Shari Tikva

1982

3,692

1,130.5

Benot Orot Israel

1989

N.A

168

Total

7,359

3,211
 Land Research Center sees that grabbing and confiscating Palestinian lands is a flagrant violation of all international conventions and agreements that are related to natural resources:
Article 1 of the International convent on Civil and Political rights: part All peoples may, for their own ends, freely dispose of their natural wealth and resources without prejudice to any obligations arising out of international economic co-operation, based upon the principle of mutual benefit, and international law. In no case may a people be deprived of its own means of subsistence.
–  Article 17, of the Universal Declaration of Human Rights.
 (1) Everyone has the right to own property alone as well as in association with others.
(2) No one shall be arbitrarily deprived of his property.
[1] GIS-LRC