IOF Demolish an Agricultural Room in Al-Buweib – East Yatta/ Hebron Governorate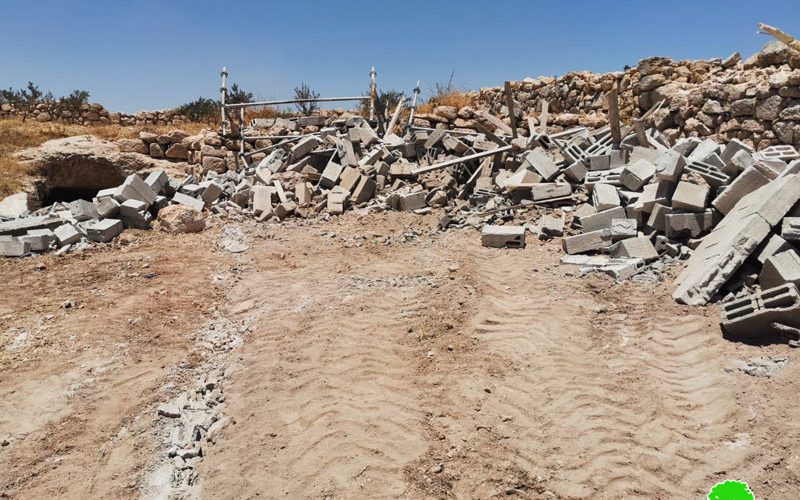 Violation : Demolishing an agricultural room after a 96 hours notice.
Date: 09/07/2019.
Location: Al-Buweib – East Yatta/ Hebron governorate.
Perpetrator: The Israeli occupation civil administration and army.
Victims: Family of Rashid Abu Hadid.
Description:
Tuesday, 9th of July 2019, The Israeli occupation authorities demolished an agricultural room that belongs to Rashid Abu Hadid in Al-Buweib.
Reportedly, an army force accompanied by a staff from the building and organization department and a JCB bulldozer raided the area, and demolished the structure.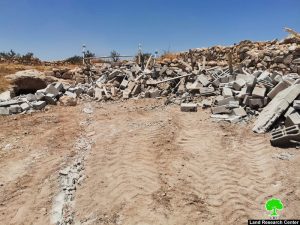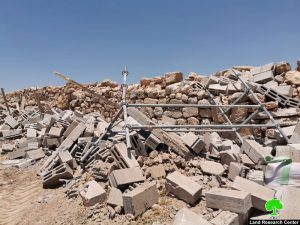 Photos 1+2: The remains of the room after the demolition
The targeted room has an area of (40 m2) , built of bricks and does not have a ceiling yet, the owner started the construction in 2018, in an attempt to use as a store house, and rest inside it  during working days.
In 3/7/2019, the occupation authorities issued a notice "The removal of a building within 96 hours" , referring to military order (1797) of 2018 , the notice was issued in Wednesday , which is followed by the weekend (Friday and Saturday) , the owners was not able to do anything.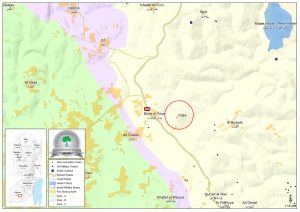 Photo 3: The notice "removal of a building within 96 hours"
Military order (1797) targets houses inhabited for a period less than a month, and structures that are not all set within 6 months in C area.
Noteworthy, The Israeli authorities never gives Palestinian licenses in C area, even though they have legal documents prove they own the lands.  It is also worth mentioning that built up areas in Palestinian communities and villages are too small compared to natural demographic growth
About al-Bweib village:[1]
It is 10km to the east of Yatta town; the village is inhabited by  734  people in 2017 statistics. Al-Buweib is edged by Arab al-Kabana from the east, Zif village and the bypass road no.356  from the west, Pene Hever colony from the north and al-Dairat and al-Refa'iya villages from the south.
International Conventions and agreements pertaining demolition of Palestinian structures:
Article 147 of Geneva fourth convention  : extensive destruction and appropriation of property, not justified by military necessity and carried out unlawfully and wantonly. ( it is considered a serious violation of the convention)
Article 53 of Geneva fourth convention that forbids destroying properties : Any destruction by the Occupying Power of real or personal property belonging individually or collectively to private persons, or to the State, or to other public authorities, or to social or co-operative organizations, is prohibited, except where such destruction is rendered absolutely necessary by military operations.
Article 33 of Geneva fourth convention: No protected person may be punished for an offence he or she has not personally committed.
Article 32 of Hague convention 1907 part g: To destroy or seize the enemy's property, unless such destruction or seizure be imperatively demanded by the necessities of war.
Article 17 of Universal declaration of human rights 10 –Dec- 1948:  No one shall be arbitrarily deprived of his property.
[1] GIS-LRC
Prepared by
 The Land Research Center
LRC