Expanding "Mitzpe Karam" Illegal Outpost on Confiscated Lands from Deir Jarir / Ramallah Governorate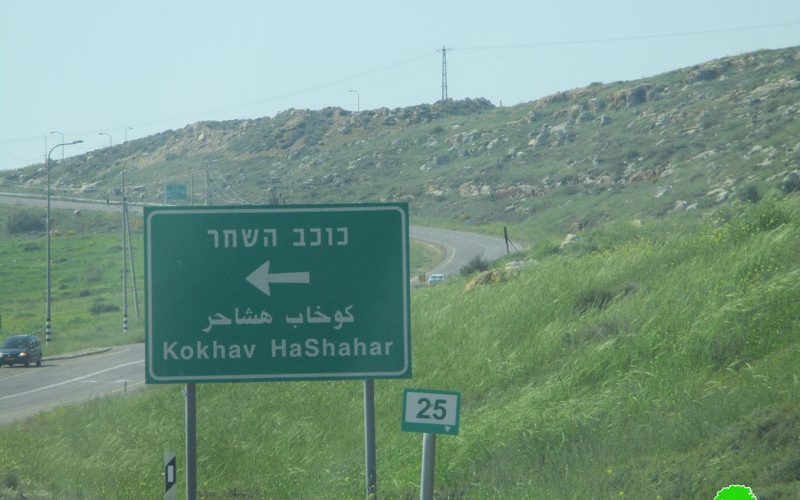 Violation: colonial expansion.
Location: Deir Jarir / North East Ramallah.
Date: 01/04/2019.
Perpetrator: a group of pro – colonization institutions.
Victims: Farmers from Deir Jarir.
Description:
In light of the global silence on Israel's human rights violations at the Palestinian territories, and in time with the Israeli far right government announcement to legalize number of random outposts, it is noticed that "Mitzpe Karam" illegal outpost is expanding , settlers were seen installing tents and barracks east the settlement on confiscated lands from the Palestinian village of Deir Jarir  , in an area also known as Al-Masaheeb in natural block 19.
Noteworthy, the outpost was established in 1999 by  number of extremist settlers , who took over 34 dunums of Privately owned Palestinian lands in Deir Jarir. The location lies in the surrounding of the illegal settlement "Kukhav HaShaher", Thus, Its real owner when only able to access it after coordination with the occupation.
Recently, the fanatic settlers of Kokhav HaShaher carried out several attacks against farmers and herders in Deir Jarir, Kafr Malik and Dibwan, assaults such as herding in Palestinian fields, setting the crops on fire and sabotaging saplings and plants, made it harder to Palestinian farmers to hold on in their lands and resist the assaults.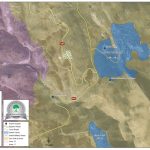 Agricultural commission head in Deir Jarir village Jad Zidani told LRC reporter:
"The land was used in the production of several crops , but in 1999 number of settlers installed a tent in the location followed by caravans , and farmers were denied accessing to it . Nowadays , settlers expanded the plot of the outpost , eating up more than 150 dunums.
In legal terms, most of the confiscated lands are joint properties; some of the owners are dead or abroad. Despite that, we filed an objection to the Israeli court against the Occupation's policies of confiscating Palestinian lands and giving them to illegal settlers , which is a clear violation of Universal Law and international conventions and agreements."
The confiscated lands belong to several Deir Jarir families , namely: Ajaj, Shaja'eyeh and Mokho. In August 2018, the occupation's court decree was in favor of settlers , and that the Israeli government will compensate the Palestinian owners. This shows the dictatorship of the occupation, that steals Palestinian lands,  then offers them a compensation of a sum of money.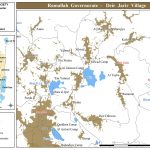 For more information read LRC report: Halt of work military orders on agricultural and residential structures in Khirbet Ras Al-Ahmar/ Tubas governorate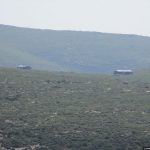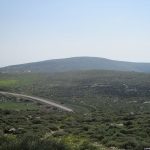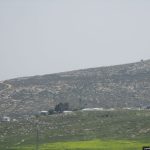 Photos 7-9:  The outpost and the new tents
A new colonial neighborhood:
In the same context, The settlement council of "Kokhav HaShaher" established a colonial block north west the settlement, they placed about 15 caravans on lands that the occupation government considers state property. Noteworthy, the expansion ate up 30 dunums.
Kokhav HaShaher receives special support from the Israeli government, and populated by religious and extremist settlers.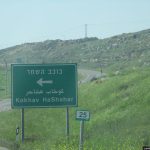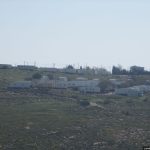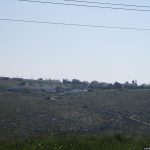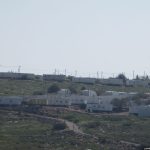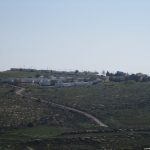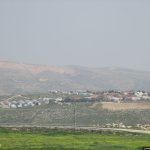 Photos 1-6: The new colonial block in the government
About Deir Jarir:
Located 12 km to the northeast of Ramallah city, Deir Jarir is surrounded by Al Mazra'a Ash Sharqiya and Kafr Malik (north), Silwad (west), Kokhav Hashahar colony (east), and At Tayba village (south).
It has a population of 4469 people (according to 2017 population projections). Its total area is 33,332 dunums, 793 of which are built-up area.
The Israeli occupation confiscated 2482 dunums of the village for the benefit of:
Kokhav Hashahar colony that devoured 1358 dunums of the village lands. It was built in 1977 and is inhabited by 1367 colonists.
Bypass roads number 449 and 458 that devoured 1124 dunums
According to Oslo Accords, about 4906 dunums of Deir Jarir land are under Area B (PA is in charge of civil matters with Israel responsible for security) and 28426 dunums are under Area C (Israel maintains full security and administrative control). 
Land Research Center sees Israel continuous expansion on colonies in the West Bank and Jerusalem at the expense of Palestinian and lands a flagrant violation of Human Rights and all international laws and conventions, which prohibit disposition of public properties in occupied countries.
UN Resolutions
UN Security Council Resolution 242 of 1967: calls for
the Withdrawal of Israel armed forces from territories occupied in the recent conflict;
Termination of all claims or states of belligerency and respect for and acknowledgment of the sovereignty, territorial integrity and political independence of every State in the area and their right to live in peace within secure and recognized boundaries free from threats or acts of force." 
UN Security Council Resolution 449 of 1979: the Security Council determined:
"that the policy and practices of Israel in establishing settlements in the Palestinian and other Arab territories occupied since 1967 have no legal validity and constitute a serious obstruction to achieving a comprehensive, just and lasting peace in the Middle East"
UN Security Council Resolution 452 of 1979: states that
"the policy of Israel in establishing settlements in the occupied Arab territories has no legal validity and constitutes a violation of the Fourth Geneva Convention relative to the Protection of Civilian Persons in Time of War of 12 August 1949"  and "calls upon the Government and people of Israel to cease, on an urgent basis, the establishment, construction and planning of settlements in the Arab territories occupied since 1967, including Jerusalem."
UN Security Council Resolution 465 of 1980:
It expressed concern at Israeli settlement policy in the Arab territories and recalled resolutions 237 (1967), 252 (1968), 267 (1969), 271(1969) and 298 (1971). It further called upon the State and people of Israel to dismantle such settlements. The resolution calls on all states 'not to provide Israel with any assistance to be used specifically in connection with settlements in the occupied territories
Article 46:  the occupying power must not confiscate Private property .
Article 55:  The occupying State shall be regarded only as administrator and usufructuary of public buildings, real estate, forests, and agricultural estates belonging to the hostile State, and situated in the occupied country. It must safeguard the capital of these properties, and administer them in accordance with the rules of usufruct.
Geneve forth convention 1949:
 Article 49: The occupying power shall not deport or transfer parts of its own population into the territories it occupies.
Article 55: Any destruction by the Occupying Power of real or personal property belonging individually or collectively to private persons, or to the State, or to other public authorities, or to social or cooperative organizations, is prohibited.
Article 174:  taking of hostages and extensive destruction and appropriation of property, not justified by military necessity and carried out unlawfully and wantonly.
Prepared by
 The Land Research Center
LRC