Confiscations and threats in the Yatta Hamlet of Al-Fakhit / Hebron Governorate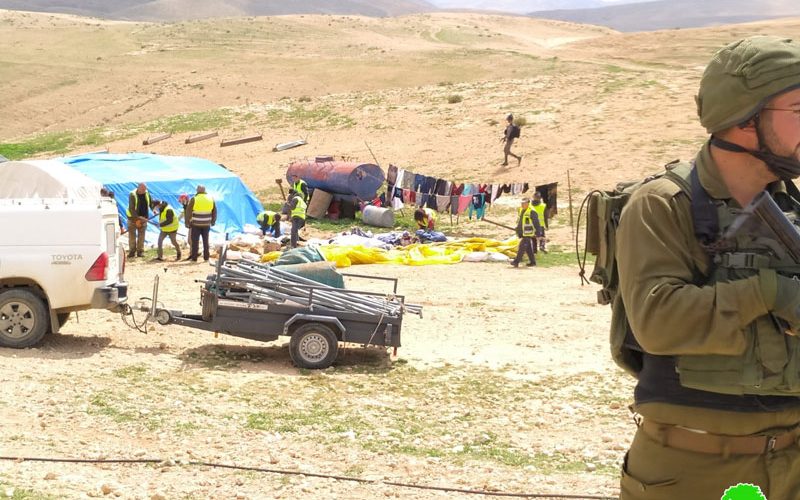 Violation: Confiscations and confiscation threats of tents.
Date: 07/03/2019.
Location: Al-Fakhit – Yatta / Hebron Governorate
Perpetrators: The Israeli occupation civil administration.
Victims: people from Al- Adra family.
Description: The Israeli occupation troops and civil administration raided Al-Fakhit , and confiscated a tent belongs to Ismael Al-Adra , the tent had an area of (30m2) , which was an asylum for a family of (5) of which (2) are children, The perpetrators gave the owner a confiscation notice.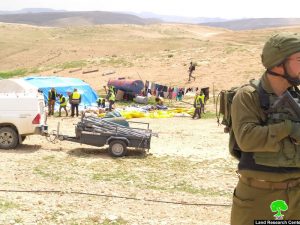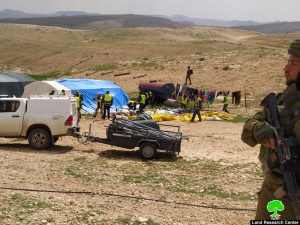 Photos 1+2 : a photo shows Israeli troops confiscating a tent – Masafer Yatta Local Council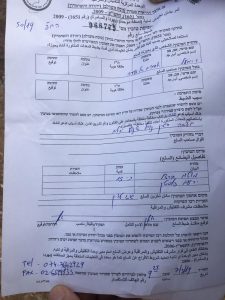 Photo 3: The confiscation notice
The occupation also confiscated a tent used as a barn (60 m2).
In the same context, the Israeli troops served halt of work order on (3) tents and a barn in the same area, on the pretext of placing them before getting proper licenses from the occupation.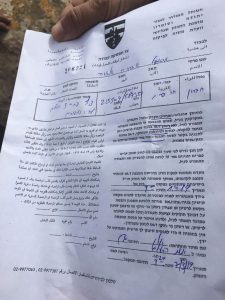 Photo 4 : the halt of work military order.
The halt of work military orders set April 4th 2019 , as the date of the inspection subcommittee to decide the fate of the structures.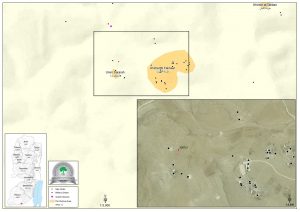 The following table shows more information about the confiscated structures:
#

name

Family members

facility

Area m2

usage

1

Mohammad  Eleyan Al-Adra

6

Residential tent

30

The family's home

Residential tent

20

The family's home

barn

100

Barn for cattle

2

Mohammad  Ismael Al-Adra

4

Residential tent

20

The family's home
Source: firsthand field observation – Israeli violations monitoring section- LRC , March 2019.
It is reported that the demolished structure was built to be used seasonally; especially during the harvesting season. The owner family owns a parcel of land that is planted with winter crops and grains.
About Al-Fakhit:
Al-Fakhit village is relative to Masafer Yatta area and populates about 80 people who live off of agriculture and animal husbandry. The village is edged by Al-Majaz village from the east, Al-Tawamin and Shu'ub Al-Butm from the west, Al-Tabban from the north and Al-Halawah and the apartheid wall from the south.
The village has a total built-up area of 7 dunums only, where most structures are notified of stop-work and demolition by the Israeli Occupation Authorities.
Prepared by
 The Land Research Center
LRC