Sabotage and confiscation of a water network from Masafer Yatta/ south Hebron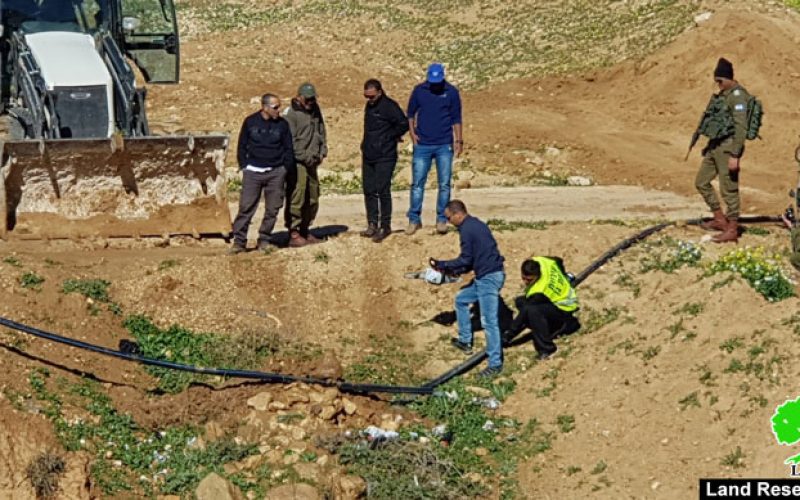 Violation: confiscating a water network.
Date: 13/2/2019.
Location: Masafer Yatta / Hebron governorate.
Perpetrator: The Israeli occupation civil administration.
Victims: people of Masafer Yatta.
Description:
The Israeli occupation troops and their machineries raided Masafer Yatta village, then started digging for a water network and sabotaged it, then confiscated its parts.
The water network used to provide water for 13 communities in Masafer Yatta, and they are ( Janba, Al-Mufqara, Khallet Al-Dabe'a, Sarora, Al-Majaz, Isfe, Maghayir Al-Abed , At-Taban, Al-Fakhit, Al-Halawa, Al-Markez, Beir Al-Ghawanma , Ar-Rakeez).
The Israeli troops reportedly sabotaged the network without any preceding orders.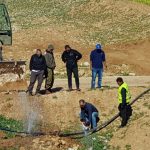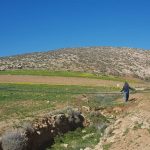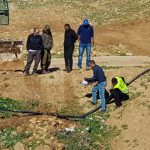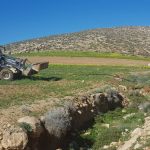 Photos 1-4 : the occupation authorities while  they were sabotaging the network
EU funded this water network project through a human rights organization, the project aims to supply marginalized communities in Masafer Yatta with water, the area is known of its law rates of rainfall due to its desert climate.
The project's implementation was completed in January 2018, it served (1272) people. After the occupation's measurements, people from Masafer Yatta  told LRC reporter: "the occupation committed a crime against us, denying us  from one of our internationally recognized rights, the right of access to clean water. These measurements aim to empty the area from its people and take over it for colonial expansion"
Palestinian communities suffer from Israel's control over water resources in the area, recent study shows that per capita yearly use of Israeli citizens is (344 m3) , while it is (93 m3) for Palestinian citizens. Same study showed that drinking water per capita daily in Israel is (101 m3) , while it is (30 m3) for Palestinian citizens. In agriculture, the study showed that water use in Israeli for agricultural utilities is (1252 m3) , while it is only ( 171 m3) in Palestine.