Serving demolition military orders targeting facilities in Beit Amin/ Qalqilya governorate
Violation: serving demolition military orders.
Location: Beit Amin south east Qalqilya.
Date: 01 /01/2019.
Perpetrator: The Israeli occupation building and organizing committee.
Description:
An officer from the so called building and organizing committee in the civil administration raided Beit Amin south Qalqilya and served demolition military orders to several facilities, the affected were given 7 days to object.
The following table shows more information about the affected:
Affected citizen

Family members

Area m2

Structure's features

Number of Halt of work order

Demolition military order number

photo

Sa'ad Amer

5

180

 

 

90

-3 under construction stores.

-aluminum workshop and a yard.

Sameer Ash-Shaikh

4

60

-an agricultural room built of zinc and bricks.

total

9

330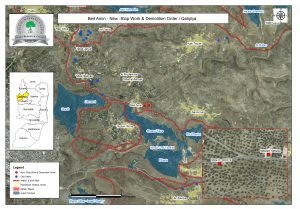 Noteworthy, the targeted structures received halt of work military orders in 04/02/2017. At that time, the affected citizens filed objections to the Israeli court, but the building and organizing committee refused the objections in 27/02/2017 in "Beit El" court but the affected were given another chance to object.
One of the affected Sa'ad Omar told LRC reporter:
"We prepared legal files to get proper licenses and applied them to "Beit El" court, but still the occupation insists to destroy our facilities and our dreams of a secured life".
Beit Amin villagers were victims of several Israeli human rights violations; more than 12 residential and commercial structures are threatened of demolition.
About Beit Amin:
8.8 km south east Qalqilya  , Beit Amin is surrounded by  Seneria village (east), "Izbet Salman" (west), "Al-Mudawar" and "Izbet Ashqar" (south) and "Azzun Atmeh" (south).
According to the Palestinian central bureau for statistics, Beit Amin has  a population of 981 people in 2007 census, and several clans : Ahmad , Ash-Shaikh and Omar.
Beit Amin has a total population of 1566 dunums , 102 dunums are the towns built-up area, 1252 dunums are agricultural lands, and the Israeli illegal settlement  "Shaare Tikva" devoured 54 dunums of the town's lands.
Prepared by
 The Land Research Center
LRC