Settlers uproot 80 olive trees in Ras Karkar Ramallah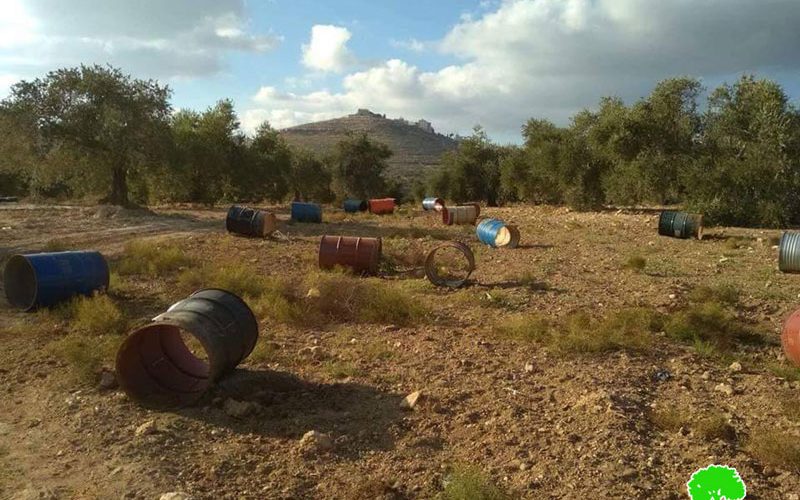 Violation: uprooting trees.
Location: Ras Karkar town / North Ramallah.
Date: August 17, 2018.
Perpetrators: Settlers of "Nerya" outpost.
Victims: As-Samhan family.
Description:
Friday afternoon, Number of settlers from "Nerya" illegal outpost sneaked to an agricultural area north-east Ras Karkar , about 3 km away from villagers homes but only 1.5 km away from the illegal outpost, and carried out ravaging, uprooted 80 trees and wrote radical provoking signs in Hebrew.
According to the ministry of agriculture report, they uprooted 80 trees (70 olive plants cultivated 3 years ago, 3 grapes plants and 7 millennial olive trees (60 years old) were partly destroyed by cutting parts of them), they also destroyed a cistern (with a 60 m3 capacity) through filling it with dirt and rocks, and wrote radical Hebrew signs on its door before they ran away from the location.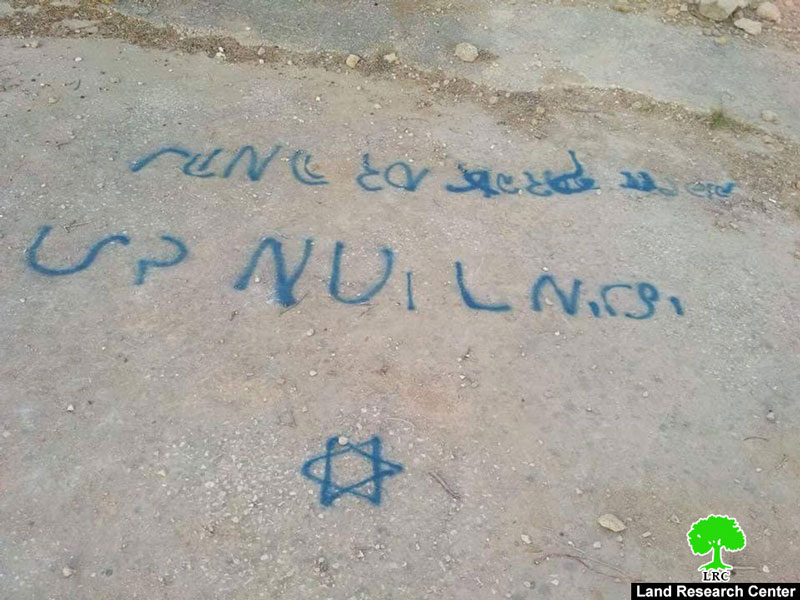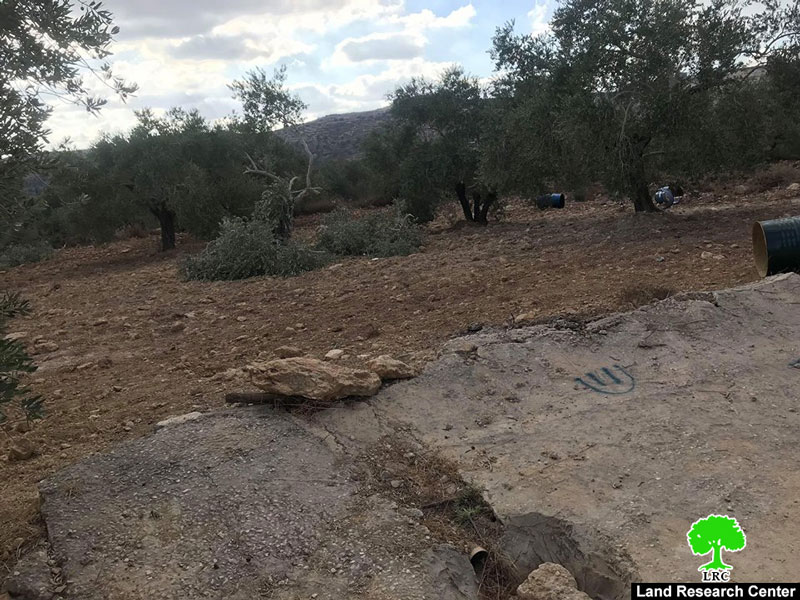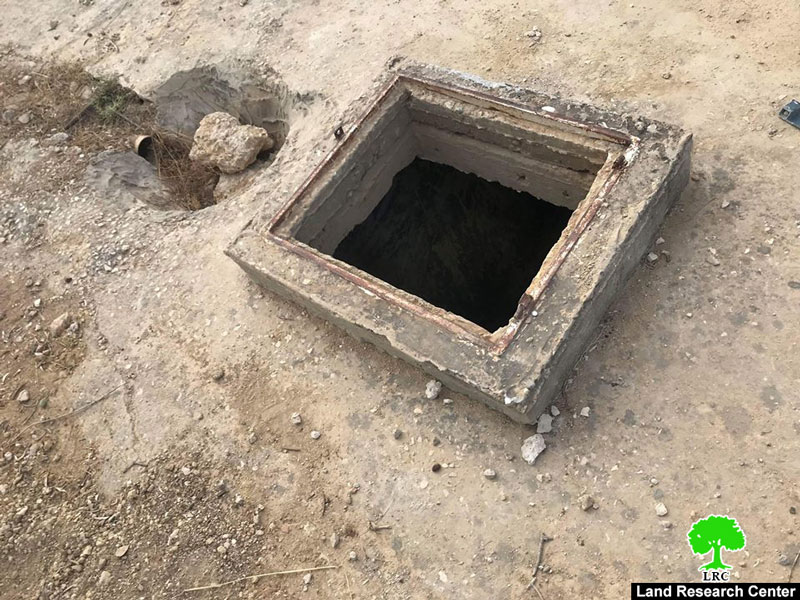 One of the affected villagers from As-Samhan family , Khaled Samhan (41) told LRC observer:
"Saturday morning, when my brothers and I headed to our land,  we were shocked when we found out that illegal settlers uprooted 70 trees and destroyed other 7 millennial olive trees by cutting parts of them, they also uprooted 3 grapes plants and felled a well with water and dirt, and wrote radical signs on the well's door, we immediately called (The cooperation administration) then a number of Israeli police members came by, they wrote a report but did not do anything"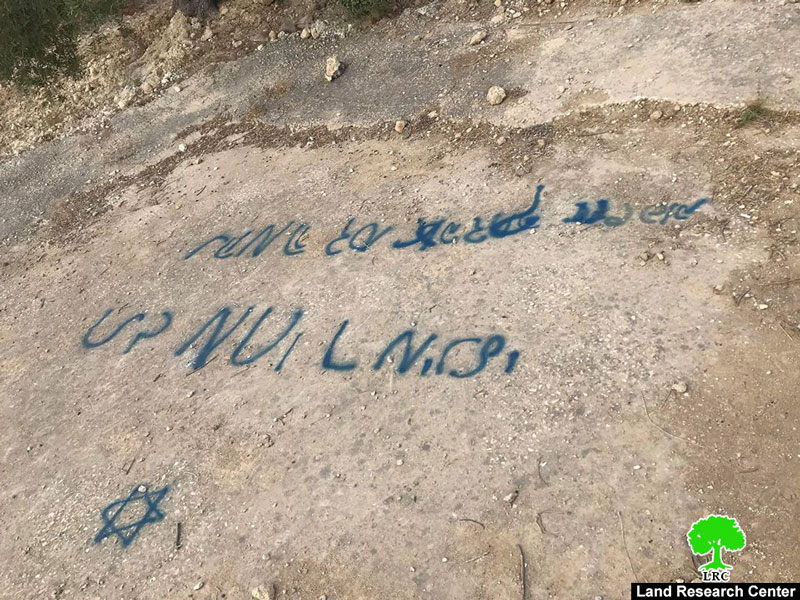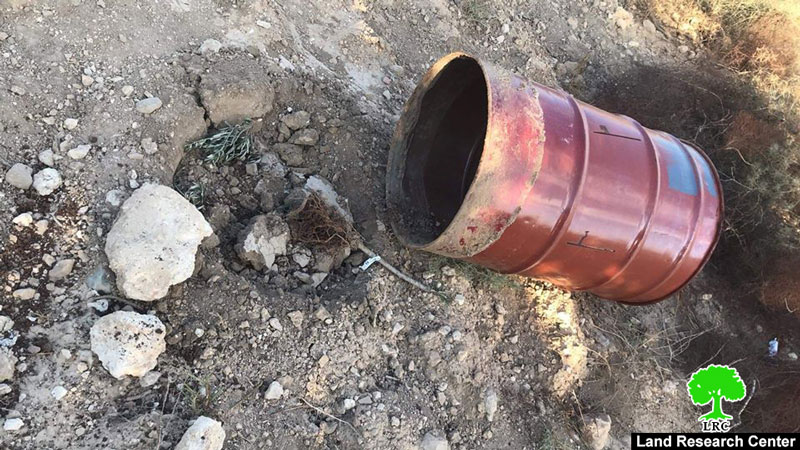 The area was always subjected by settlers as it is an agricultural area and contains more than 9 water springs.
Iyad Haddad an activist told LRC observer:
"Ras Karkar is a subjected area in the northern country side of Ramallah, it is about only 1.5 km away from3 Israeli illegal colonies (Talmon, Dolev and Neria) and about 3 Km from Ras Karkar built up area. In the recent years the area was subjected by Israeli violations like uprooting trees, destroying plants and water wells, and writing radical signs, the occupation's police did not do anything to stop such assaults (the Israeli police is in charge in area C)
Ras Karkar[1]
15 kilometer north  west of Ramallah, Ras Karkar is surrounded by Deir 'Ammar (north),  Kafr Ni'ma and Deir Ibziq  (south), Al Jania (east), Bani Harth (west).
Ras Karkar has a population of 1956 people according to statistics conducted by the Palestinian Central Bureau of Statistics in 2017. It has a total area of 5050, 330 of which are a built-up area of the village.
The Israeli occupation devoured more than 32  dunums of the lands of the village for Talmon C colony which was built in 1989. Moreover, bypass number '463 took over 295 dunums of the village lands.
According to Oslo Accords, 19% of Ras Karkar is under Area B (PA has full civil and security control) while most of the village lands (81%) is under Area C (Israel maintains full security and administrative control). Here are the area in dunums:
Area B (940) dunums
Area C (4110) dunums
[1] [i] Source: Geographic Information System- Monitoring Israeli Violations Team- Land Research Center
Prepared by
 The Land Research Center
LRC