Israeli Occupation Forces confiscate agricultural tents in Tubas governorate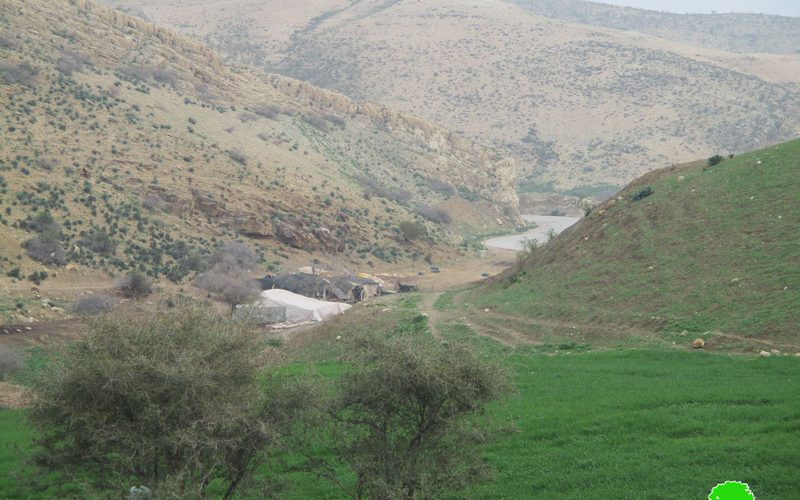 Violation: confiscation of property
Location: Um Al-Jamal community
Date: February 05, 2018
Perpetrators: Israeli Occupation Forces
Victims: Kaa'bnah family
Details:
On February 05, 2018, Israeli Occupation Forces raided the Bedouin community of Um Al-Jamal, east Wad Al-Maleh area and confiscated a number of tents gifted by ACTED organization.
Noteworthy, the tents belong to the families of citizens Suliman Kaa'bnah and his mother Fatima Kaa'bnah and were used for sheep.
The confiscated tents were moved by a military truck to a nearby Israeli camp. The confiscation was on the claim of the item being located in "closed military zone".
It is worth mentioning that the two families were previously affected by similar violations by the occupation. They got their structures demolished several times by Israeli Occupation Forces.
Photos 1-2: the threatened Bedouin community of Um Al-Jamal
The following table shows information about the affected owners and their structures:
No.

Affected citizen

Family

Minors

No. of sheep

Confiscated and damaged item

Remarks

1-

Suliman Kaa'bnah

7

5

69

Fences ( three rolls)
Metal poles (20)
200 metal poles damaged

Had his structures demolished before by the occupation

2-

Fatima Kaa'bnah

1

–

22

Sheep tent (60m)
Fences ( two rolls)

Had her structures demolished before by the occupation

Total

8

5

91
It is worth mentioning that Umm Jamal community is located in Wadi Al Maleh, 12 km east of Tubas. It is inhabited by Al Kaa'bnah people who were kicked out from Beersheba, south of historic Palestine, in the 1948 war.
The residents depend on sheep grazing as their only source of income. They build their shelters with wood and cloth and lead a life that could be described as primitive.
In 2010, the community was forcefully displaced from the area of al-Auja, north Jericho city to the area of Khirbet al-Hadadeyah, east Sahel al-Baki'a; in the same year, the community underwent a massive demolition that caused all its residents to move to the area of Umm al-Jamal.
Prepared by
The Land Research Center
LRC