Israeli Occupation Authorities order 53 dunums in Tubas governorate evacuated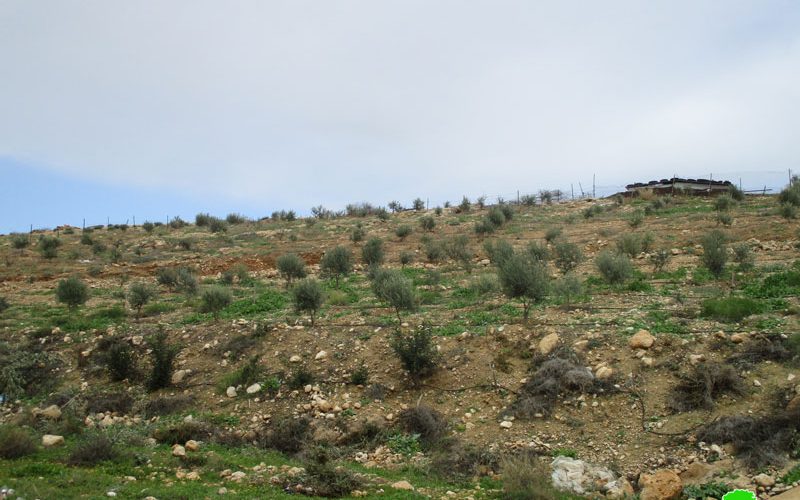 Violation: evacuation order
Location: Sahel Qa'oun area
Date: January 22, 2018
Perpetrators: State Property Department- Israel Civil Administration
Victims: four agricultural families
Details:
Reportedly, the officer of State Property Department- Israel Civil Administration raided on January 22, 2018 Sahel Qa'oun area and delivered four farmers evacuation orders for their agricultural lands within a 45 day deadline. Noteworthy, the targeted lands total 53 dunums in area.
The following table shows information about the targeted lands and owners:
Affected farmer

Location

Family

Affected area\dunum

Nature of land

No. of order

Photo

Eyad Huwaishat

Parcel no. 8 of the natural block no. 112

9

36

Field crops lands

392028

1

Moayad Huwaishat

Parcel no. 10 of the natural block no. 130

11

11.6

Field crops lands

392029

2

Hussein Sawafta

Parcel no. 10 of the natural block no. 130

8

4.8

Planted with 170 olive saplings

392030

3

Nabil Sawafta

Parcel no. 10 of the natural block no. 130

8

0.6

Planted with 19 green trees

392031

4

Total

36

53
Source : Field observation- Department of Monitoring Israeli Violations- Land Research Center-2018
Affected farmer, Hussein Sawafta, told Land Research Center that the affected lands have been planted with trees for over forty years. Not only, the farmers have ownership documents for the their lands, which is surprised them about the occupation's orders.
The other farmer, Nabil Sawafta, is now forced to evacuate his house front yard that is planted with nineteen citrusy trees. Nabil also has ownership document for his land as well.
Reportedly, Sahel Qa'oun area has been a closed area for the period between 1967 until 2013. Palestinians were not allowed inside of it. Ironically, the occupation's authorities leased massive area of lands for colonists to establish agricultural outposts.
In 2013, Israel Land Authority recognized Palestinians'' right to their land in Sahel Qa'oun area after Israel Supreme Court declared them Palestinian.
Land Research Center LRC sees that confiscation and dispossession are considered a violation of all the International conventions and Humanitarian laws including:
Article 17 of the (1948) Universal Declaration of Human Rights stating: "Everyone has the right to own property alone as well as in association with others. No one shall be arbitrarily deprived of his property."
Section ‹G› of article 23 of the (1907) The Hague Conventions asserting: "In addition to the prohibitions provided by special Conventions, it is especially forbidden to destroy or seize the enemy's property, unless such destruction or seizure be imperatively demanded by the necessities of war."
Article 53 of the Geneva Fourth Convention (1948) declaring: "Any destruction by the Occupying Power of real or personal property belonging individually or collectively to private persons, or to the State, or to other public authorities, or to social or cooperative organizations, is prohibited, except where such destruction is rendered absolutely necessary by military operations."
Section 1, Article 11 of the International Covenant on Economic, Social and Cultural Rights (1966): "The States Parties to the present Covenant recognize the right of everyone to an adequate standard of living for himself and his family, including adequate food, clothing and housing, and to the continuous improvement of living conditions.
Prepared by
The Land Research Center
LRC