Israel to legalize three outposts in Palestinian areas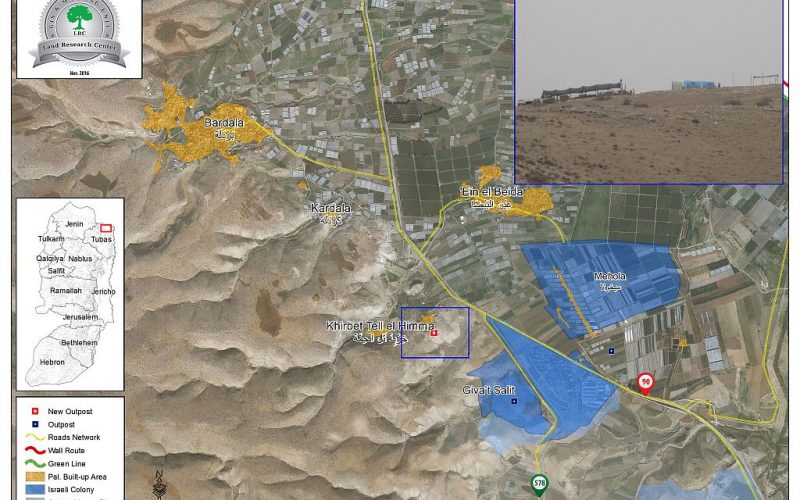 Violation: legalizing Israeli outposts
Location: Palestinian Jordan Valley
Date: December 19, 2017
Perpetrators: the Israeli Occupation Authorities
Victims: residents of the area
Details:
In a session for the Israeli government conducted on December 19, 2017 with participation of several ministries and authority departments , it was declared that three Israeli outpost will be legalized following their prepared master plans and supervision of necessary financial support.
Reportedly, the outposts are Givat Sal'it, Givat Aiden and Atrot, two of which are founded in the northern area of Jordan Valley, where the other is in the middle part.
Givat Sal'it outpost which will be legalized is located next to Sal'it colony that is founded on confiscated lands from the Palestinian area of Khallet Hamad. The outpost was created after demolishing the area of Khallet Hamad and expelling its inhabitants in 2016. Since that time, the outpost has been rapidly growing in area and population; colonists opened roads and linked them to the main colony to create a de facto.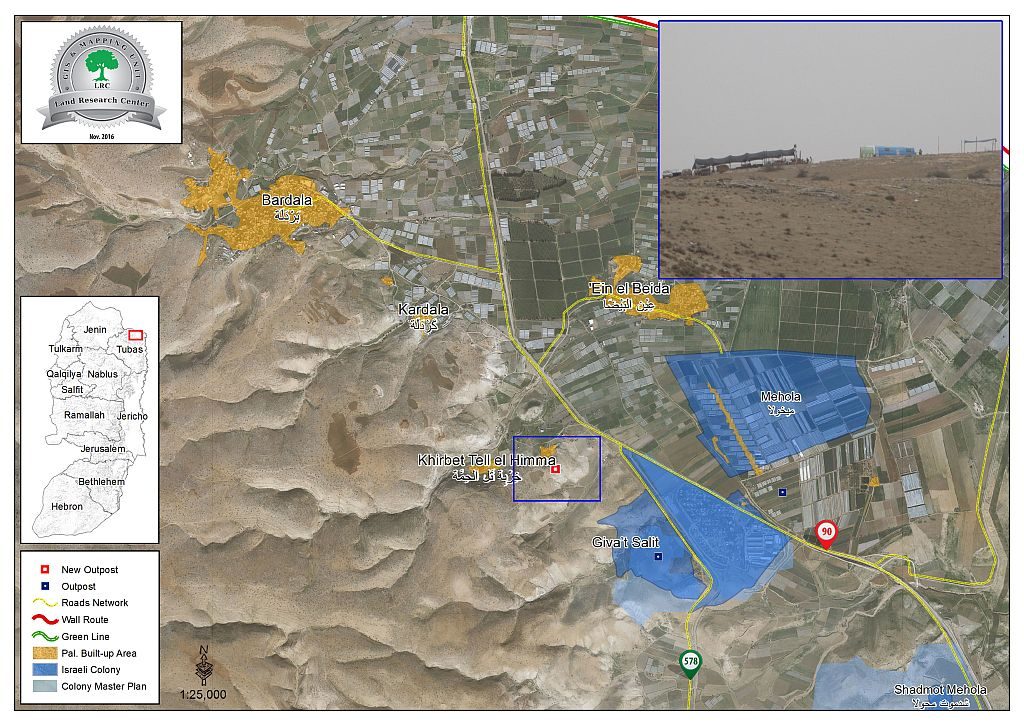 3 km to the south of Shadmot Mehola, colonists established on August 12, 2017 an outpost on the ruins of the depopulated village of "Al-Shwai'r". Today, the government declared intrest to establish an outpost named Givat Aiden in the area. This pose a threat on 400 dunums of agricultural lands, which will subject for colonial activities of expansion and seizure.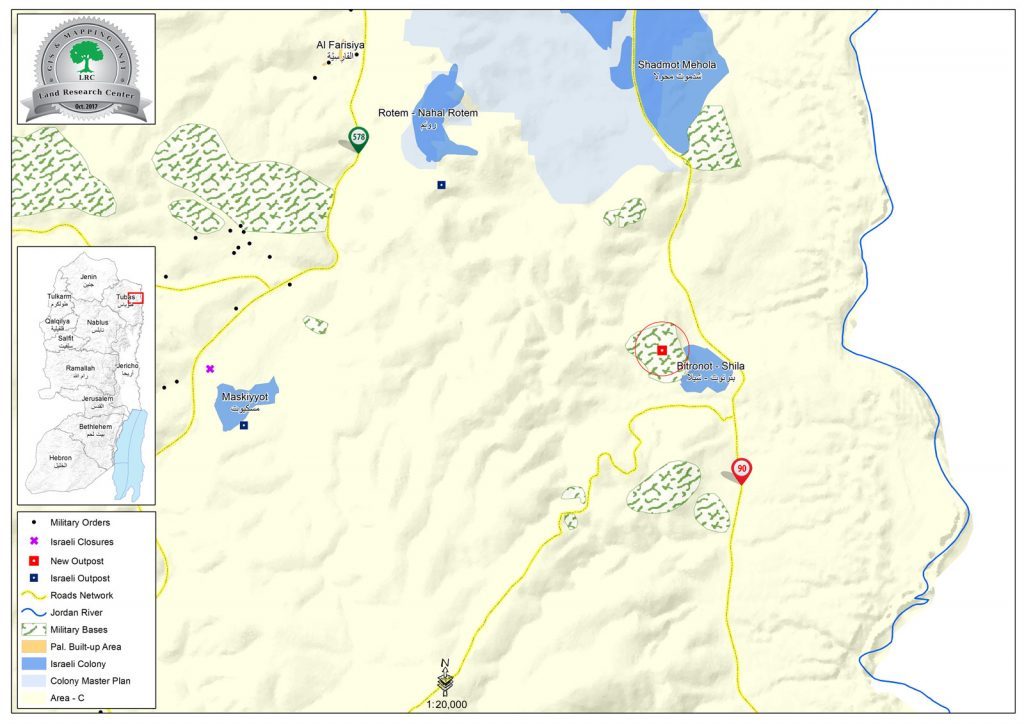 In 2017, the so-called Council of Israeli Colonies in the Jordan Valley transformed massive area of lands taken on the claim of "State Land" into an outpost that was ultimately supported by the occupation government. Now, the occupation is planning to establish another outpost named Atrot in order to fully seize and control the area there.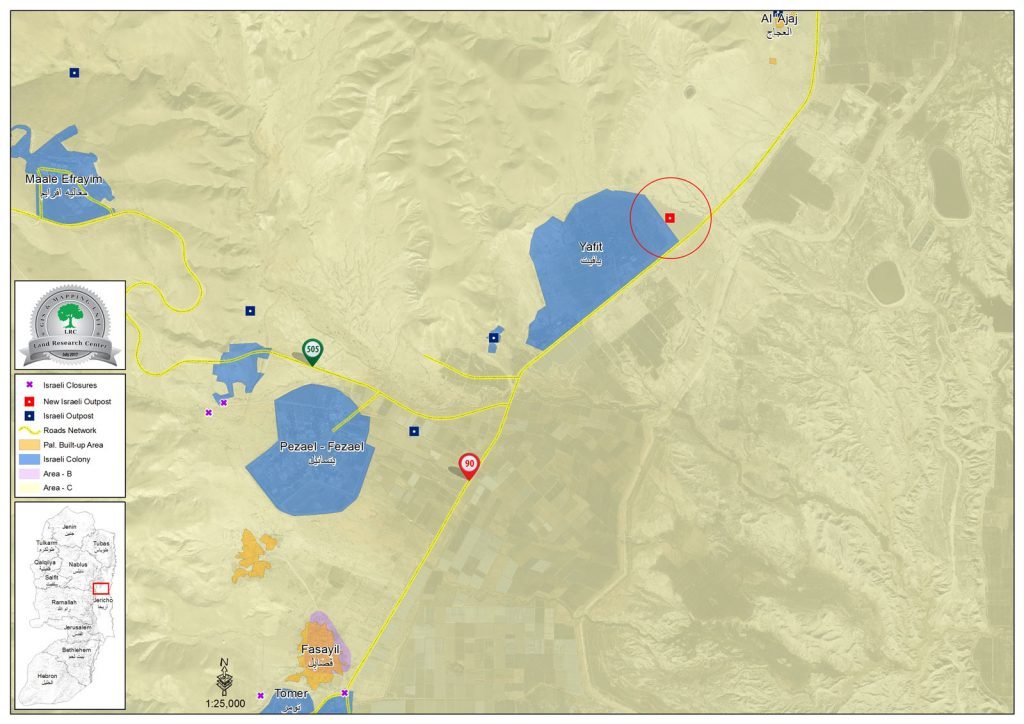 The Palestinian Jordan Valley "al-ghoor" is known for its abundance of pastures and water, not mentioning the beauty of its sceneries and unique nature. For Palestinian, al-ghoor is the Palestine gate to the east.
Since 1967 , the Israeli occupation worked day and night to take over al-ghoor area and its natural resources in all possible ways even those that contradict human rights. Thus, it declared the whole area (720,000 dunums) as the eastern border with Jordan. Minister of Labor Yegal Alon once said: "In order for the integration between the safety of the country and its Jadishness, the Jordan river must be drawn as the eastern border of Israel".
To achieve that, the occupation transformed vast areas into military training camps (400,000 dunums) and established 97 military base. In addition to that, pastoral areas nearby Bedouin communities were changed into landmines fields, leaving Bedouins; especially kids under imminent danger.
Land Research Center sees Israel continuous expansion on colonies in the West Bank and Jerusalem at the expense of Palestinian and lands a flagrant violation of Human Rights and all international laws and conventions, which prohibit disposition of public properties in occupied countries.
UN Resolutions
UN Security Council Resolution 242 of 1967: calls for
the Withdrawal of Israel armed forces from territories occupied in the recent conflict;
Termination of all claims or states of belligerency and respect for and acknowledgment of the sovereignty, territorial integrity and political independence of every State in the area and their right to live in peace within secure and recognized boundaries free from threats or acts of force." [4]
UN Security Council Resolution 449 of 1979: the Security Council determined:
"that the policy and practices of Israel in establishing settlements in the Palestinian and other Arab territories occupied since 1967 have no legal validity and constitute a serious obstruction to achieving a comprehensive, just and lasting peace in the Middle East"
UN Security Council Resolution 452 of 1979: states that
"the policy of Israel in establishing settlements in the occupied Arab territories has no legal validity and constitutes a violation of the Fourth Geneva Convention relative to the Protection of Civilian Persons in Time of War of 12 August 1949" and "calls upon the Government and people of Israel to cease, on an urgent basis, the establishment, construction and planning of settlements in the Arab territories occupied since 1967, including Jerusalem."
UN Security Council Resolution 465 of 1980:
It expressed concern at Israeli settlement policy in the Arab territories and recalled resolutions 237 (1967), 252 (1968), 267 (1969), 271(1969) and 298 (1971). It further called upon the State and people of Israel to dismantle such settlements. The resolution calls on all states 'not to provide Israel with any assistance to be used specifically in connection with settlements in the occupied territories'.
UN Security Council resolutions in regard to Israeli colonies:
UN Security Council resolution 446, article 3 " Calls once more upon Israel, as the occupying Power, to abide scrupulously by the 1949 Fourth Geneva Convention, to rescind its previous measures and to desist from taking any action which would result in changing the legal status and geographical nature and materially affecting the demographic composition of the Arab territories occupied since 1967, including Jerusalem, and, in particular, not to transfer parts of its own civilian population into the occupied Arab territories;"
Un Security Council resolution 452, article 3"Calls upon the Government and people of Israel to cease, on an urgent basis, the establishment, construction and planning of settlements in the Arab territories occupied since 1967, including Jerusalem;"
Un Security Council resolution 465, Strongly deplores the continuation and persistence of Israel in pursuing those policies and practices and calls upon the Government and people of Israel to rescind those measures, to dismantle the existing settlements and in particular to cease, on an urgent basis, the establishment, construction and planning of settlements in the Arab territories occupied since 1967, including Jerusalem;
Calls upon all States not to provide Israel with any assistance to be used specifically in connexion with settlements in the occupied territories;
Un Security Council resolution 242, Affirms that the fulfilment of Charter principles requires the establishment of a just and lasting peace in the Middle East which should include the application of both the following principles:
(i) Withdrawal of Israel armed forces from territories occupied in the recent conflict;
(ii) Termination of all claims or states of belligerency and respect for and acknowledgment of the sovereignty, territorial integrity and political independence of every State in the area and their right to live in peace within secure and recognized boundaries free from threats or acts of force;
Prepared by
The Land Research Center
LRC