Hayovel Israeli colony undergoes expansion on Nablus lands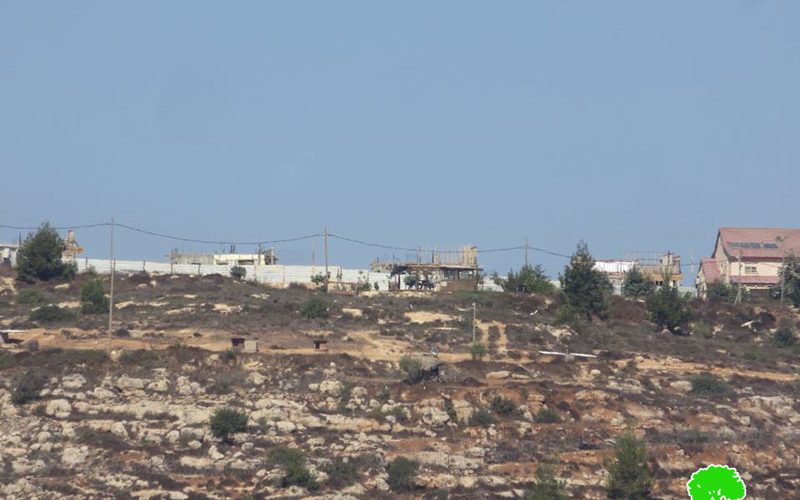 Violation: illegal expansion of a colony
Location: Qaryut village- Nablus governorate
Date: September 01, 2017
Perpetrators: Eli colonists
Victims: residents of Qaryut
Details:
It is reported that Hayovel outpost is undergoing expansion from its southern part; more specifically the area known for Palestinians as "Al-Mawwjah". The outpost is said to accommodate four new residential units.
It should be noted that the targeted lands are private Palestinian properties that are agriculturally unused due to their proximity to the colony. Noteworthy, the occupation bans farmers from accessing lands that are founded nearby any Israeli colony.
The owners of targeted lands managed in 2013 to obtain a decision from Israel Supreme Court to access their lands freely. Unfortunately, the decision remained frozen because the occupation declared the area as "closed military zone".
The outpost Hayovel was declared established by five fanatic Israeli families. They opened an agricultural road atop of a hill in Qaryut village and constructed some houses in there. Technically, the outpost controls vast area of agricultural lands from the village, the owners of which are denied access to but through previous coordination with the Israeli side.
Photos 1-4: side of the expansion works
About Qaryut:
Qaryut is 20 km south of Nablus and 28 km away from Ramallah. It is one of the villages that are totally surrounded by colonies and outposts. The village populates 2321people on a total land area of 8471 dunums, of which 312dunums are the village's built-up area.
The Israeli occupation 1332 dunums from Qaryut village for the favor of the following colonies:
Shilo colony: it was built in 1978 on 799 confiscated dunums from Silon lands. Now, the colony has a total built-up area of 1347.
Eli colony: it was built in 1984 on 553 confiscated dunums. Now, the colony has a total built-up area of 3360 dunums.
Prepared by
The Land Research Center
LRC