Fanatic Israeli colonist slash tires of Jerusalemite cars and write  insults against Prophet Mohammad (PBUH) in Shu'fat village in Jerusalem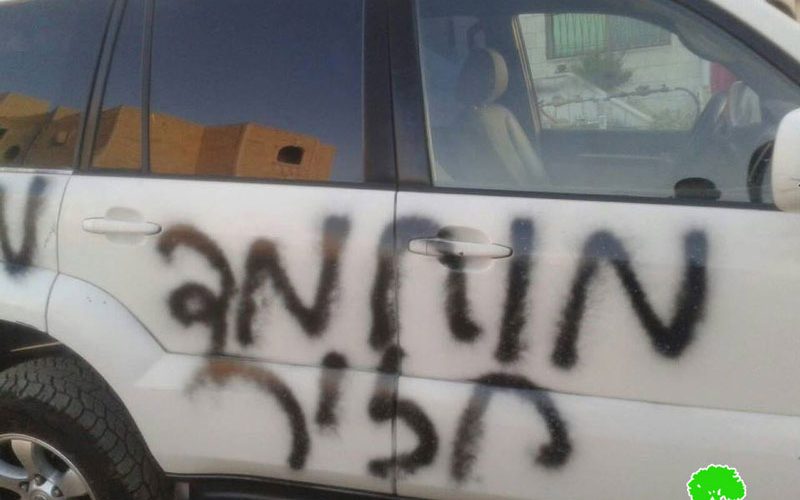 A number of extremist colonists wrote on ay 09, 2017 insults against Prophet Mohammad (PBUH) and racist slogans in the neighborhood of Shu'fat north of Jerusalem in addition to slashing the tires of several vehicles. The slogans written by Price Tag gangsters included sentences that translate "Death to Arabs".
Residents of Shu'fat were surprised on by the damages caused in their area .
The residents explained that settlers wrote insults against Prophet Mohammad (PBUH), "revenge" and "price tag" slogans on the walls and vehicle of the locals. They also slashed the tires of 8 vehicles in Beit Safafa area that were parked in front of the locals' homes.
In the same context, gangsters of Price Tag attacked a number of cars in Ara town in the occupied territories and set fire to two other vehicles.
Members of Price Tag are relative to fanatic religious groups that reinforce extreme violence and terror attacks against Arabs and their properties. During the past five years, such groups carried out attacks against Muslim and Christian places of worship and arson attacks that left Palestinian family burned down to death.
Also, one of the most heinous crimes Price Tag gangster ever committed is the burning of kid Mohammad Abu Khdair alive.
Prepared by
The Land Research Center
LRC