Israel Ministry of Tourism introduce Palestinian areas as Israeli by sign boards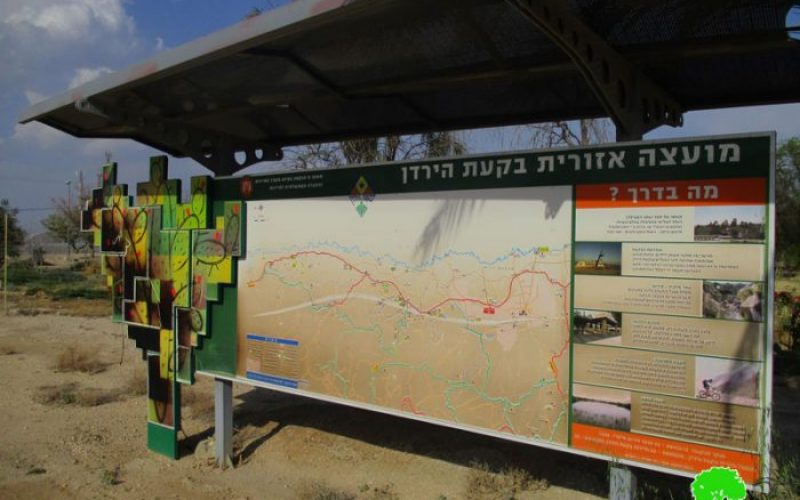 Violation: stealing Palestinian areas' identity
Location: Palestinian Jordan Valley
Date: beginning of April 2017
Perpetrators: Israel Ministry of Tourism
Victims: residents of the Palestinian Jordan Valley
Details:
In a systemic step to deface the Arab Palestinian identity of villages and areas of Palestinian Jordan Valley, the so-called Israel Ministry of Tourism installed signboards to refer to Palestinian areas as Israeli in a step to attract more tourists to the area, stretching from Dead Sea reaching to Bisan checkpoint in the north of Palestine.
This technique of stealing the Arab identity of places is seen as blatant violation of all International Laws and Covenants that called upon persevering the heritage and history of occupied lands.
Not only, the occupation authorities worked to mention the names of Israeli colonies and gatherings in the area, marginalizing tens of Palestinian locations and communities that they consider unrecognized until the moment.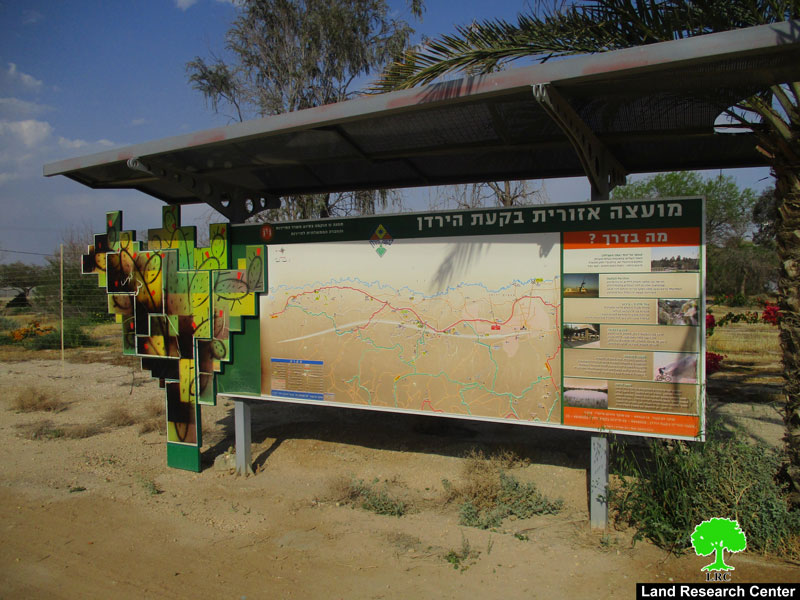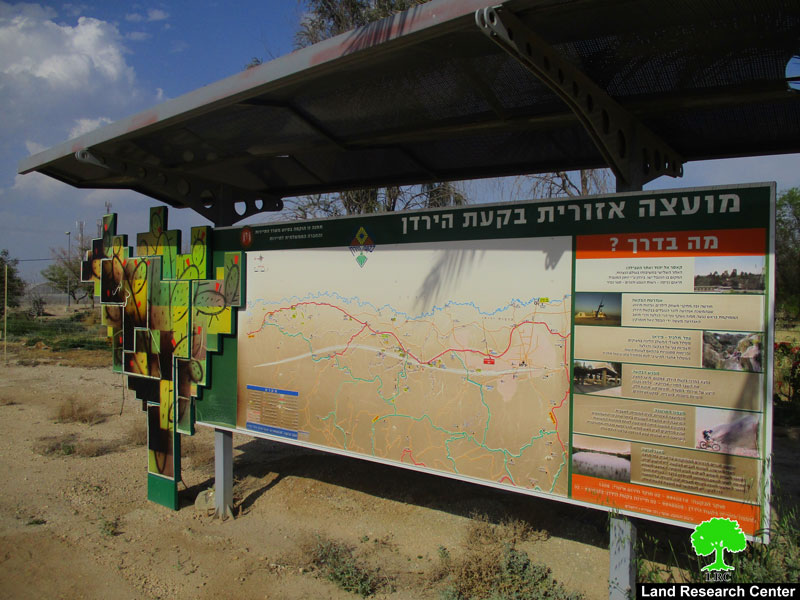 Photos 1-2: one signboard nearby Tomer colony, which indicates Hebrew names of places and touristic maps

About Palestinian Jordan Valley (Al-Ghour)
It should be marked that the Israeli occupation authorities declared in 1967 the area of Jordan Valley (1,024,722 dunums) as the eastern borders of Israel. Only 13,000 dunums are considered built-up area that is inhabited by 62, 876 people from 27 Palestinian communities divided as follows:
Northern Ghour (Tubas governorate): it includes several villages and towns namely Bardala, Ein Al-Beida, Atuf, Kardala, Al-Aqaba, Ibziq, Yarza, Al-Farisiya, Al-Maleh, Al-Ras Al-Ahmar and Humsa.
Middle Ghour ( Nablus governorate): it includes several villages and towns namely Al-Nasiriya, Al-Aqrabaniya, Beit Hasan and Ein Shibli.
Southern Ghour (Jericho governorate): it includes several towns and villages namely Marj Na'ja, Al-Jiftlik, Fasayil, Al-Auja, Al-Nuwei'ma, Ein AL-Duyuk, Ein Al-Sultan, Deir Al-Qilt, Aqabat Jabr, Deri Hajleh and Nabi Musa.
Also, the occupation took over more than 400,000 dunums from Al-Ghour lands and declared them military zone inaccessible for Palestinians. Any agricultural or residential activity in such area is banned. Not only, the occupation established 97 military zones and planted vast areas of dunums with landmines, imposing imminent threat on residents' lives.
According to a comparison study conducted by Land Research Center, lands designated for Palestinian construction in the Jordan valley doesn't exceed 1% of the total area where Israel got a share of 3% for the colonization.
Prepared by
The Land Research Center
LRC