Israeli Occupation Forces notify structures of Stop-Work in Hebron governorate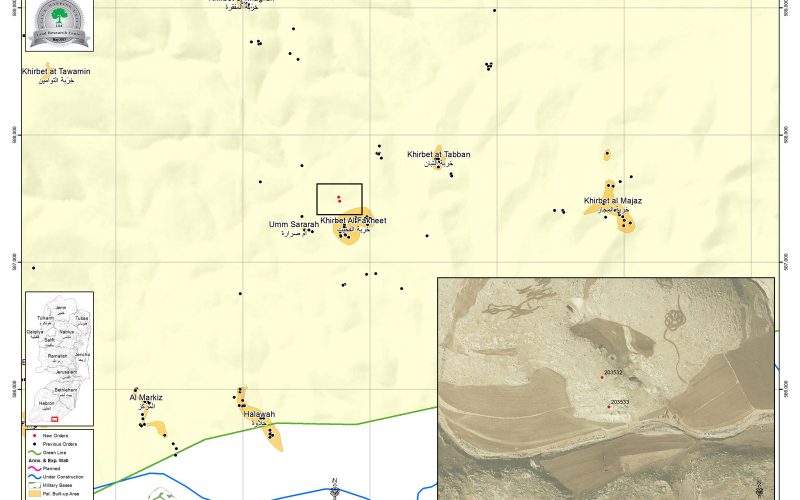 Violation: serving stop-work orders
Location: April 23, 2017
Date: Al-Fakhit area- Yatta town
Perpetrators: Israel Civil Administration
Victims: Raed and Mohammad 'Moor
Details:
Israeli Occupation Authorities served on April 23, 2017 stop-work orders on residential and agricultural structures owned by residents from Al-Fakhit hamlet in Yatta town on the claim of "unlicensed construction".
Citizen Khadr 'Moor said that a vehicle relative to Israel Civil Administration and an army patrol raided the area at noon and hanged the orders on the targeted structures. The force took photos of the structures before they had left the area.
He also pointed out that the owners of the targeted structures reside in them only during spring and summer, which is time for reaping seasons.
The order mentioned that the structures were unlicensed and built in area classified "C" according to Oslo Accords. Also, the notices ordered immediate halt on construction works and assigned May 18, 2017 as the hearing session of the Inspection Sub-Committee in the Israeli court of Beit El to consider the status of the notified structures.
The following table shows information about the affected owners:
No.

Affected owner

Family

Structure

Area\m2

No. order

Remarks

1

Raed 'Moor

9

Agricultural room

25

203532

Metal slabs. Built in 2017

Toilet

5

Cement bricks

2

Mohammad 'Moor

10

Cave

50

203533

Roofed with metal slabs
Source : Field observation- Department of Monitoring Israeli Violations- Land Research Center-2017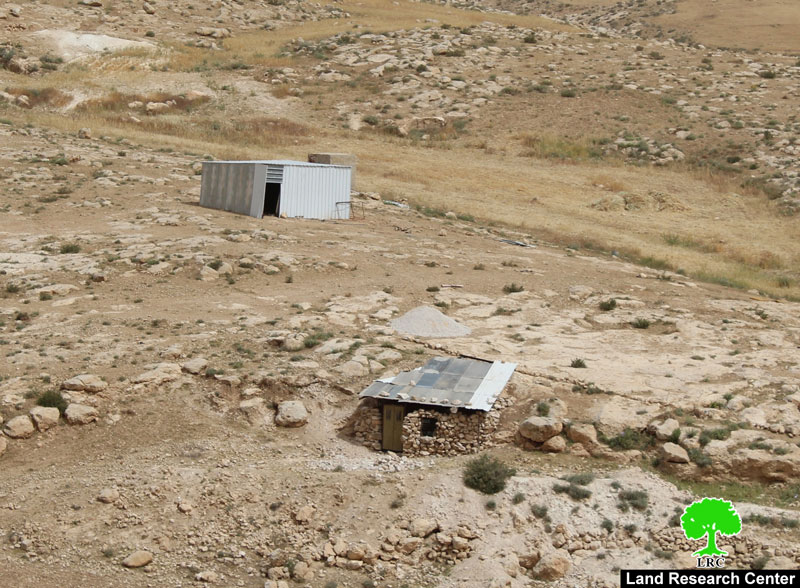 Photo 1: the targeted structures
About Al-Fakhit:
Khirbet Al-Fakhit is relative to Masafer Yatta and populates 80 people who live off of agriculture and animal husbandry. The hamlet is edged by Khirbet Al-Majaz from the east, Khirbet Al-Tawamin and Shu'ub Al-Butm from the west, Khirbet Al-Tabban from the north and Khirbet Al-Halawah and the apartheid wall from the south.
Prepared by
The Land Research Center
LRC