Israeli Occupation Forces confiscate fuel pump and close commercial facility in Beit Ummar village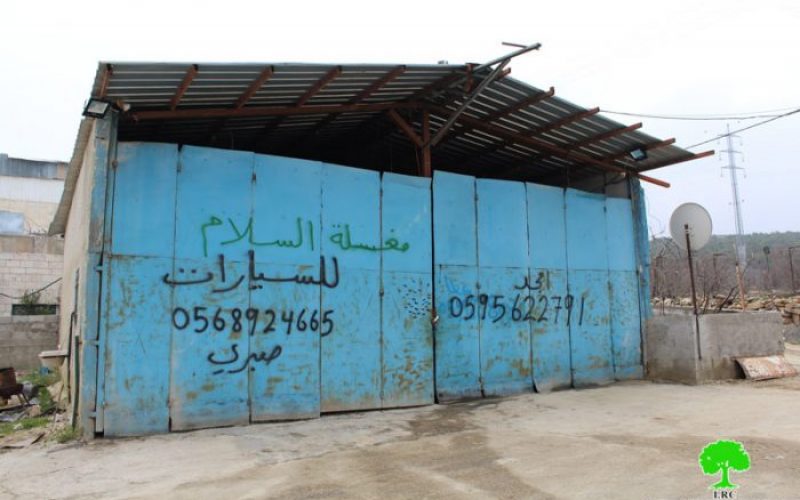 Violation: confiscation and closure
Location: Beit Ummar town- Hebron governorate
Date: February 20, 2017
Perpetrators: Israeli Occupation Forces
Victims: citizen Sabri Abu Mariya
Details:
Israeli Occupation Forces confiscated on fuel pump and closed carwash in Beit Ummar village, north Hebron. Affected citizen Sabri Abu Mariya said that a force from the Israeli occupation army and a staff from Israel raided the area of "Beit Za'ta", east of the village and carried out the attack. Some technicians dismantled the fuel pump and loaded it on a truck. The force then ordered the carwash closed until further notice and threatened owners of confiscation if they reopen it again.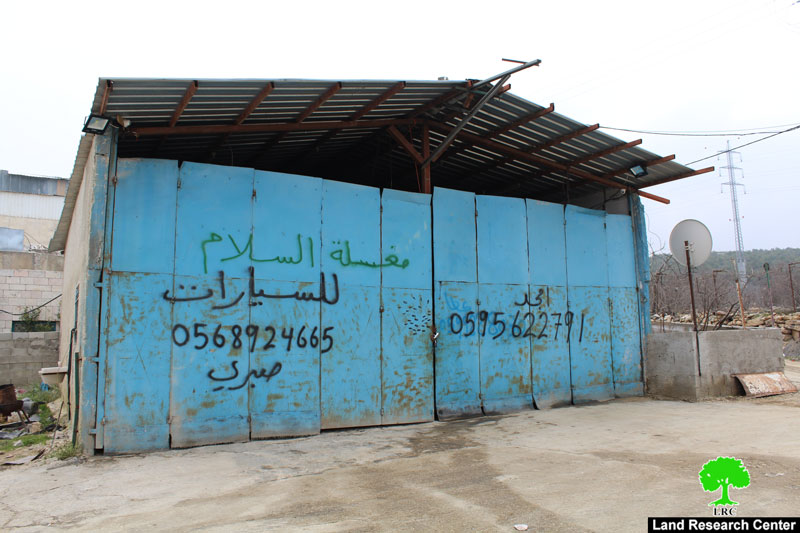 Photo 1: view of the closed facility

With a total area of 110m2, the threatened structure was built by metal slaps in 2012. Israeli Occupation Forces notified the carwash on the claim of "unlicensed construction" within area classified "C" according to Oslo Accords. Noteworthy, the owner of the structure submitted a legal objection to the order and attempted at obtaining a license but the occupation never granted him one.
It should be noted that four families (20 members including 7 children) live off of the threatened structure. Now, the families' only source of income is now cut off. Abu Mariya pointed out that the confiscated pump is worth of 1700 dollars.
About Beit Ummar:
It is located 12 km to Hebron city. The village's total area is 21,285 dunums, of which 1,375 dunums are considered the built-up area; around 13, 548 people inhabit Beit Ummar.
The Israeli occupation authorities confiscated 560 dunums from Beit Ummar for the favor of the bypass road no.60. The occupation also confiscated 1,216 dunums for the favor of the following colonies:
Colony

Year of establishment

Dunums confiscated from Beit Ummar

Built-up area\dunums

No. of colonists

Karmei Zur

1984

179

289

623

Migdal Oz

1977

682

1,076.4

298

Kfar Etzion

1976

18.6

923.5

404

Efrat

1979

98.6

2,063.6

7,037

Alon Shevut

1971

237.8

934

3,146

Total

1216

5,286.5

11,508
Source: Geographic Information System- Monitoring Israeli Violations Team- Land Research Center
Some international laws and convections pertaining to confiscation and destruction of properties:
Art. 147. Grave breaches to which the preceding Article relates shall be those involving any of the following acts, if committed against persons or property protected by the present Convention: wilful killing, torture or inhuman treatment, including biological experiments, wilfully causing great suffering or serious injury to body or health, unlawful deportation or transfer or unlawful confinement of a protected person, compelling a protected person to serve in the forces of a hostile Power, or wilfully depriving a protected person of the rights of fair and regular trial prescribed in the present Convention, taking of hostages and extensive destruction and appropriation of property, not justified by military necessity and carried out unlawfully and wantonly.
Article 17 of the (1948) Universal Declaration of Human Rights stating: "Everyone has the right to own property alone as well as in association with others. No one shall be arbitrarily deprived of his property."
Section ‹G› of article 23 of the (1907) The Hague Conventions asserting: "In addition to the prohibitions provided by special Conventions, it is especially forbidden to destroy or seize the enemy's property, unless such destruction or seizure be imperatively demanded by the necessities of war."
Prepared by
The Land Research Center
LRC