Israeli decisions to suspend the residency of Martyr Qunbar's family members
Israeli newspaper "Yediot Aharonot" said January 10, 2017 the Israeli Minister of Interior, Aryeh Dar'ee, decided to suspend the residency of the Martyr's mother as well as 12 other relatives after conducting deliberations with the heads of the Israeli General Security Service (Shin Bet), Population and immigration authority and the head of the government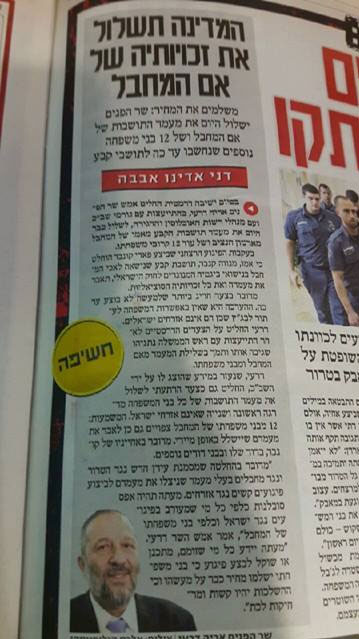 Photo of the advertisement featured on "Yediot Aharonot" newspaper
The occupation forces raided the family house of Martyr Fadi Qunbar who carried out a run-over attack in the settlement of Armon Hanatsiv (established on the lands on the village of Jabal Al-Mukabber) earlier this week.
The Martyr's family explained that the forces raided their house after surrounding it, and forced the residents to gather in one room. Afterwards, they took the measurements of the house and checked its walls in addition to taking pictures from the inside.
Also, Israeli forces dismantled the mourning tent for martyr Fadi Al Qunber and imposed several collective punishments on his family member.
Witnesses explained that the forces raided several neighboring houses and handed them administrative demolition orders under the pretext of building without a permit. Witnesses pointed out that 10 families received demotion orders.
Prepared by
The Land Research Center
LRC