Israeli Occupation Forces turn Furush Beit Dajan village into military training zone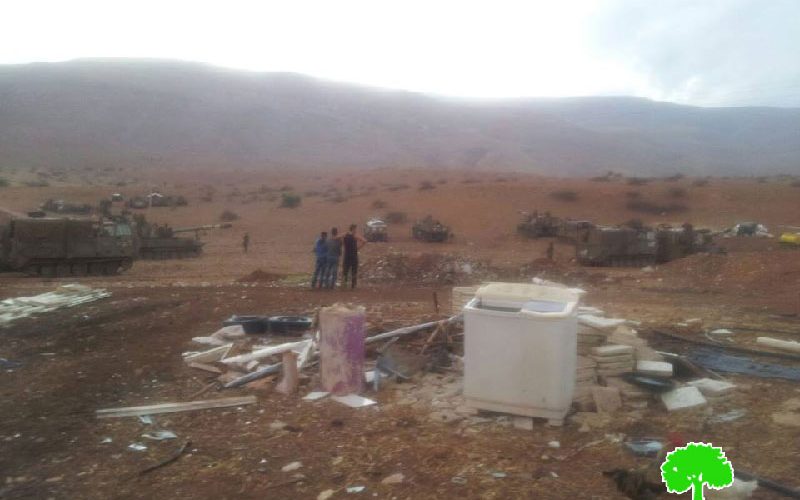 Violation: turning Palestinian area into military training zone
Location: Furush Beit Dajan village
Date: November 02, 2016
Perpetrators: Israeli Occupation Forces
Victims: residents of the area
Details:
The area of Furush Beit Dajan village of the Palestinian Jordan Valley witnessed on November 02, 2016 a new Israeli targeting against the land and humans.
It is reported that the around 90 Israeli dozers and some military vehicles for moving soldiers encircled the area's houses without any prior notice of evacuation and carried out military trainings. Noteworthy, trainings lasted until after midday, taking into consideration that the forces imposed a curfew on the area.
Bullets, stun grenades and flash grenades were fired during the training time.
It should be marked that the heavy machineries of the occupation army swept and ravaged the lands prepared for winter crops. The ravaged area totaled around 16 dunums.
Inhumanly, the occupation troops and tanks started firing and conducting the training not caring about the children and elderly people that are based few meters from the training location.
Photos 1-4: the occupation machineries at time of the trainings
Over the course of the past five years, the Israeli Occupation Forces have been conducting military trainings in the area of Palestinian Jordan Valley. As a result, many communities were repeatedly evacuated where vast area of agricultural lands were ravaged, not mentioning the injured and killed people due to the trainings' leftovers.
About Furush Beit Dajan:
It is located in the middle of Palestinian Jordan Valley and is considered an extension of Beit Dajan village, east of Nablus. It has a total population of 1500 people, 50% of which descend from Bedouin origins; sheep grazing and agriculture are the main sources of income for such people
The village has a total land area of 14000 dunums; the occupation confiscated 12000 dunums of it for the sake of establishing the colony of al-Hamra in the western side of the village, the colony of Mekhora in the southern part and a military camp in the eastern side of it.
The village lacks a master plan; a thing that allowed dozens of residences to be notified by the occupation in addition to other dozens that were demolished as a result.
The village has about 450 dunums of protected vegetables and 1600 dunums of citrus plantation.
Prepared by
The Land Research Center
LRC