Increase in settlement size as existing settlements expand in the oPt
"New Israeli Plans and tenders exposed"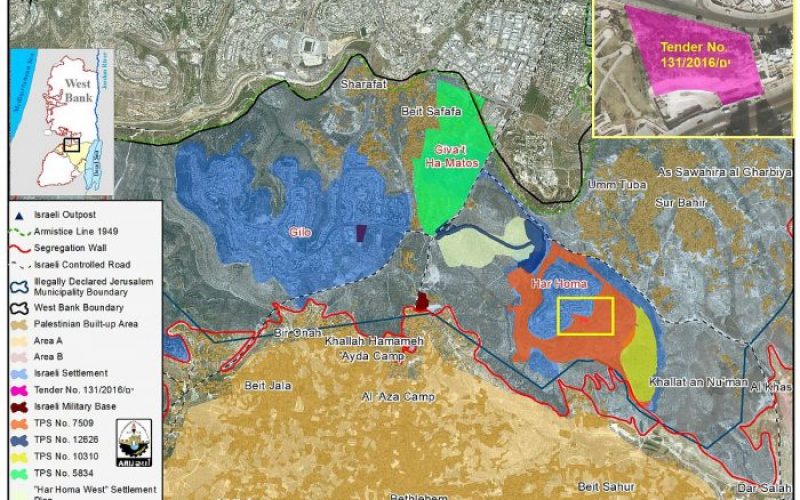 Israeli occupation authorities prepare to add more settlement units in a number of Israeli settlements in the occupied West Bank (oWB). New Israeli plans and tenders were published by the Israeli Ministry of Interior and Israel's land Administration last week depicting new construction to take place in several settlements in oWB. Two of the settlements are located in the Israeli so-defined "settlement blocs" in the oWB, Ariel Industrial in Salfit Governorate and Modi'in Illit in Ramallah Governorate; while a third and last settlement located in the Bethlehem Governorate, in the part that was illegally and unilaterally annexed to Jerusalem in 1967, is slated for expansion, namely Har Homa settlement. Table 1 below portrays the plans and tenders which are going to be implemented in the aforementioned settlements:-
Table 1: Details of the deposited plans in Ariel and Modi'in Illit settlements

No.

Settlement Name

Plan No. / Tender No.

Affected Palestinian Community

Area of land
(dunums)

1

Ariel

יוש/ 6/ 6/ ת/ 130

Burqin, Tulkarem

18.407

2

Modi'in Illit

יוש/ 23/ 1/ 208

Al Midya, Ni'lin

19.33

Har Homa

131/2016/ים

Bethlehem

4.645

Total

42.382

42.382

Israeli Ministry of Interior, 2016

Israel's Land Administration, 2016
The overall expansion is planned to take place on 42 dunums of the neighboring Palestinian communities. Below is a detailed description of the deposited plans:-
(1) Expansion in Ariel Settlement – Salfit Governorate
The plan approval in Ariel settlement holds number יוש/ 6/ 6/ ת/ 130 and is going to be implemented west of Ariel settlement, in the part Known "Ariel West Park Industrial Zone", an industrial area affiliated to the Ariel settlement settlement nearby. The expansion is to take place on 18.407 dunums of land of the nearby Bruqin village. See Table 2
Table 2: Details of Plan No. יוש/ 6/ 6/ ת/ 130 in Ariel Settlement

1

Type of Structure

Area of land
Dunums

Percent

2

Industrial Area

10.660

57.91

3

Roads

6.101

33.15

4

Private Area

1.646

8.94

Total

18.407

100

Israeli Ministry of Interior, 2016


Photo 1: Plan No. יוש/ 6/ 6/ ת/ 130 in Ariel Settlement – Salfit Governorate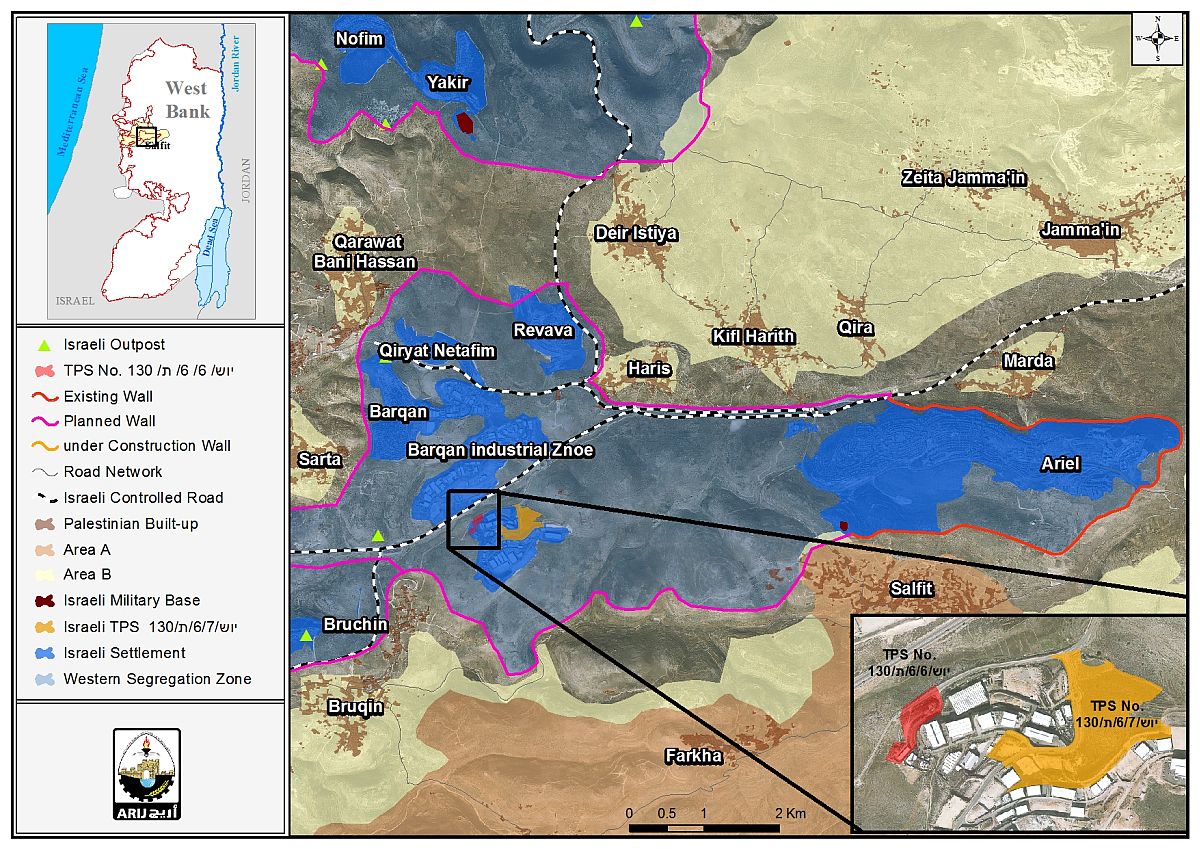 Map 1: Expansion to take place in Ariel Settlement
Note that On the 4th of September 2016, the Israeli higher planning council at the Israeli civil Administration deposited a new town planning scheme (TPS) intended for the expansion of Barqan Industrial Zone west of Ariel. The deposited TPS holds number יוש/ 7/ 6/ ת/ 130 and states the confiscation of 138.2 dunums of lands of Haris village in Salfit Governorate for that purpose. For more information, click here: Large scale land confiscation in Salfit Governorate:
(The expansion of "Barqan Industrial settlement" on 138 dunums of Haris village)
(2) Modi'in Illit Settlement in Ramallah Governorate
The expansion to take place in Modi'in settlement comes with regard to plan No. יוש/ 23/ 1/ 208 and indicates the confiscation of 19.33 dunums of lands Al Midya and Ni'lin villages in Ramallah Governorate. Table 2 below summarizes the purpose of the plan in Mod'in Illit settlement.
Table 2: Details of Plan No. יוש/ 23/ 1/ 208 in Mod'in Illit settlement

1

Type of Structure

Area of land
(Dunums)

Percent (%) of total area

2

Residential Area A

3.70

19.14

3

Residential Area b

4.26

22.04

4

Engineering Facilities

0.16

0.83

5

Public Buildings

0.78

4.04

6

Open Public Area

4.90

25.35

7

Proposed Road

4.36

22.56

8

Approved Road

0.01

0.05

9

Existing Road

1.16

6.00

Total

19.33

100

Israeli Ministry of Interior, 2016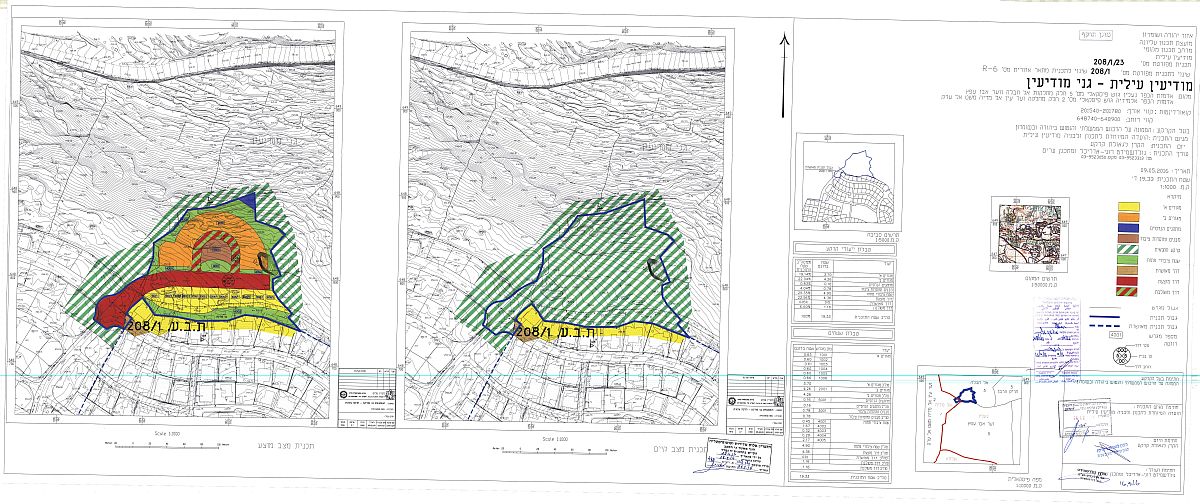 Photo 1: The new expansion in Modi'in Illit settlement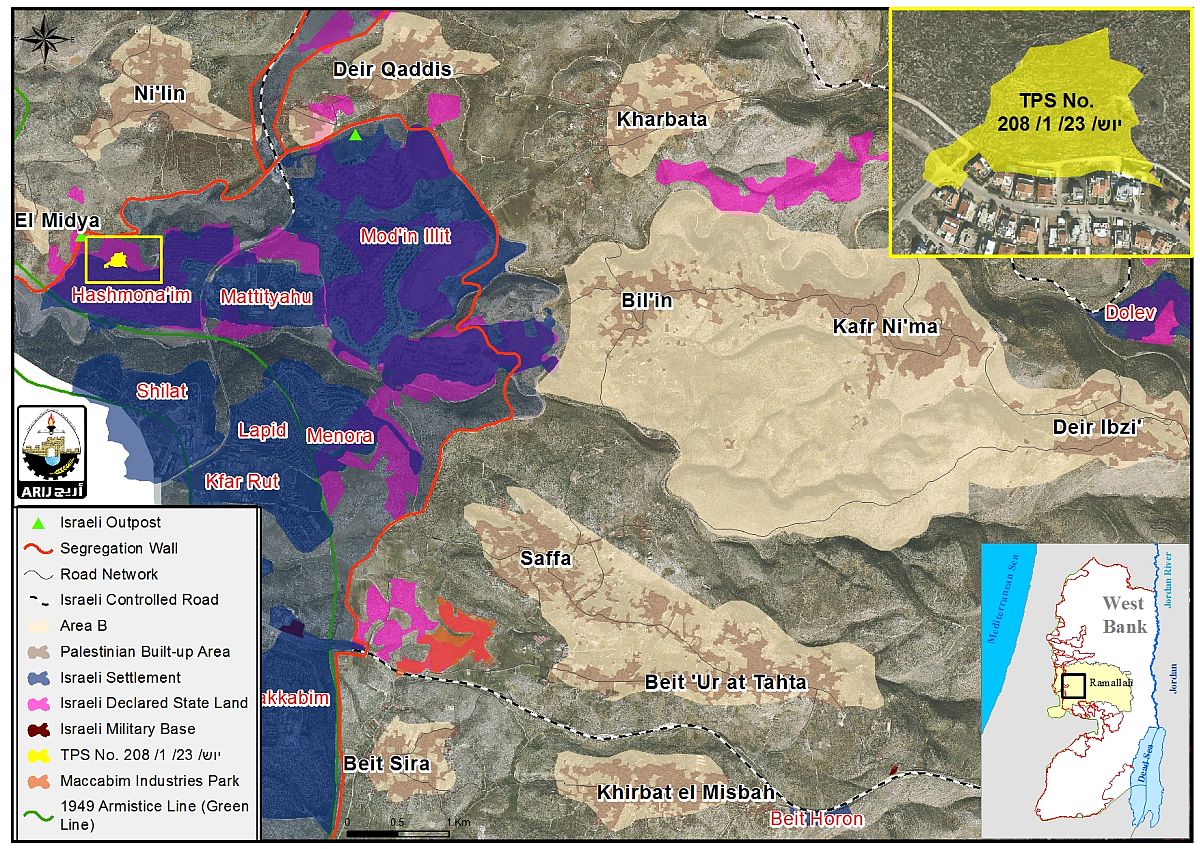 Map 3: Plan No. יוש/ 23/ 1/ 208 in Mod'in Illit settlement
(3) Har Homa settlement in Bethlehem Governorate
The Israel Lands Authority and the Ministry of Construction and Housing published on the 29th of September 2016 a new Tender offering proposals for the signing of a direct lease – for 49 years with an option to extend for another 49 years – in Har Homa settlement in Bethlehem Governorate. The tender holds number 131/2016/ים and indicates an expansion to take place in the settlement over 4.6 dunums of land for the construction of 130 Settlement units. The deadline for submission of bids is on the 31st of October 2016 . Note that the published tender in Har Homa settlement comes as part of plan number 7509[1] .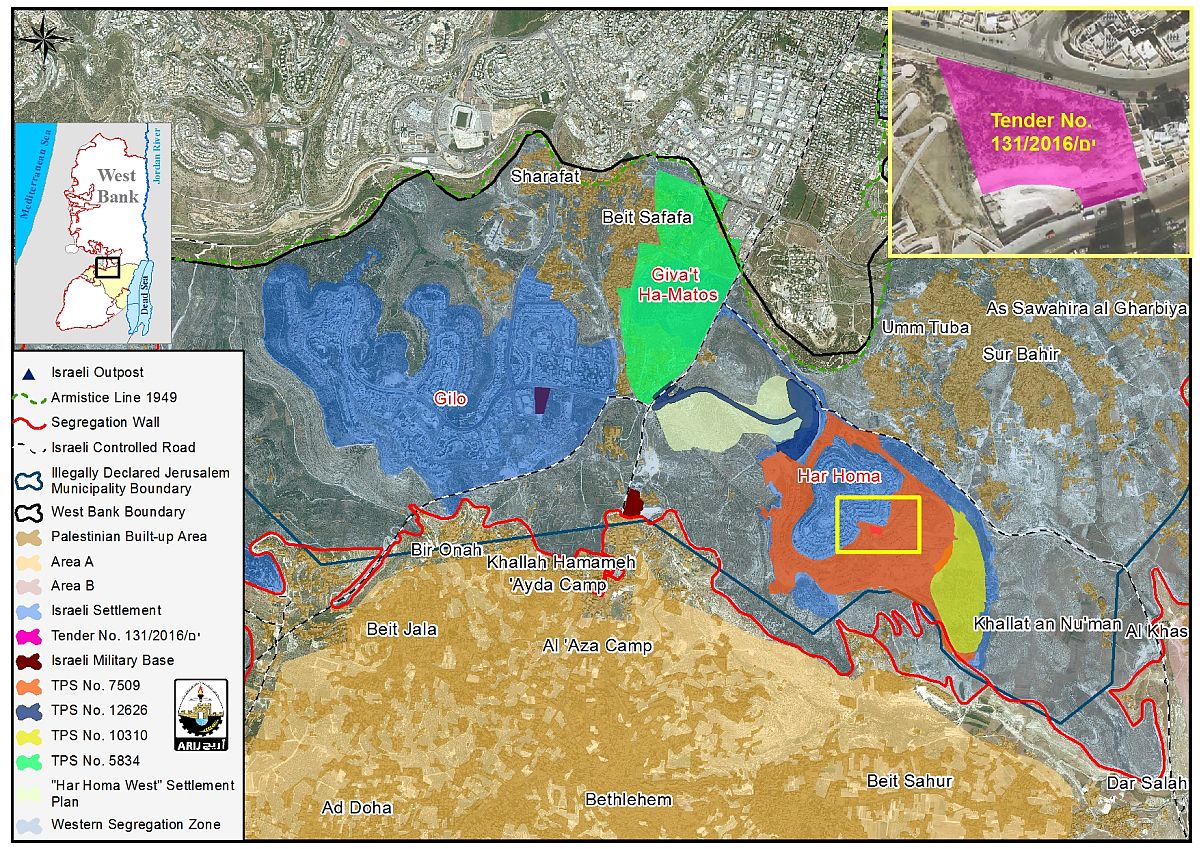 Map 3: Expansion to Take place in Har Homa settlement – Bethlehem Governorate
Note that the three settlements are located west of the Israeli segregation wall route which is set to annex 733 square km of the West Bank territory and annex around 103 Israeli settlements upon its completion[2].
To conclude,
Israel's pursuit of expansion in settlements of the West Bank and those inside occupied East Jerusalem is a clear message that Israel is not interested in establishing not even a groundwork for a peace process with the Palestinians, but rather in maintaining the situation as it is where it continues to hold control of 61% of the West Bank territory as "Area C" in order to continue to change the reality on the ground to fit its own visions.
[1] פרטים על תכנון תוכנית: 7509
http://www.mmi.gov.il/iturtabot/taba4.asp?MsTochnit=7509&kod=3000&gis=false
[2] In June 2002, Israel started the construction of the Segregation Wall in the occupied West Bank. It claimed that the wall will defend its citizens against "terror activities". However, Israel has used the Segregation Wall as a political tool to grab as much Palestinian land as possible and exercise more control over the Palestinian territory in an attempt to sustain the future of its settlements in the occupied Palestinian territory. So far, Israel has completed the construction of more than 60% of the wall in the occupied Palestinian territory and upon its completion, it will guarantee the annexation of 103 Israeli settlements out of 196 and housing more than 80% of the total settlements population in the oWB (+763,000) in addition to 60 outposts and other military installations to its unilateral and illegal border.
Prepared by:
The Applied Research Institute – Jerusalem