Eviction notice for Humsa hamlet on claim of  "conducting military training"
Violation: forcible eviction
Location: Humsa Al-Fauqa
Date: September 21, 2016
Perpetrators: the Israeli occupation army
Victims: 15 families
Details:
A massive force from the Israeli occupation army on September 21, 2016 raided the area of Humsa Al-Fuqua that is 7km to the east of Ro'i colony and delivered eviction orders for 15 families. The notices ordered the eviction of homes and barns during the following days and times:
Friday September 23 from 6:00 a.m. until 11: 00 a.m.
Thursday September 29 from 6:00 a.m. until 11: 00 a.m.
Friday September 30 from 6:00 a.m. until 11: 00 a.m.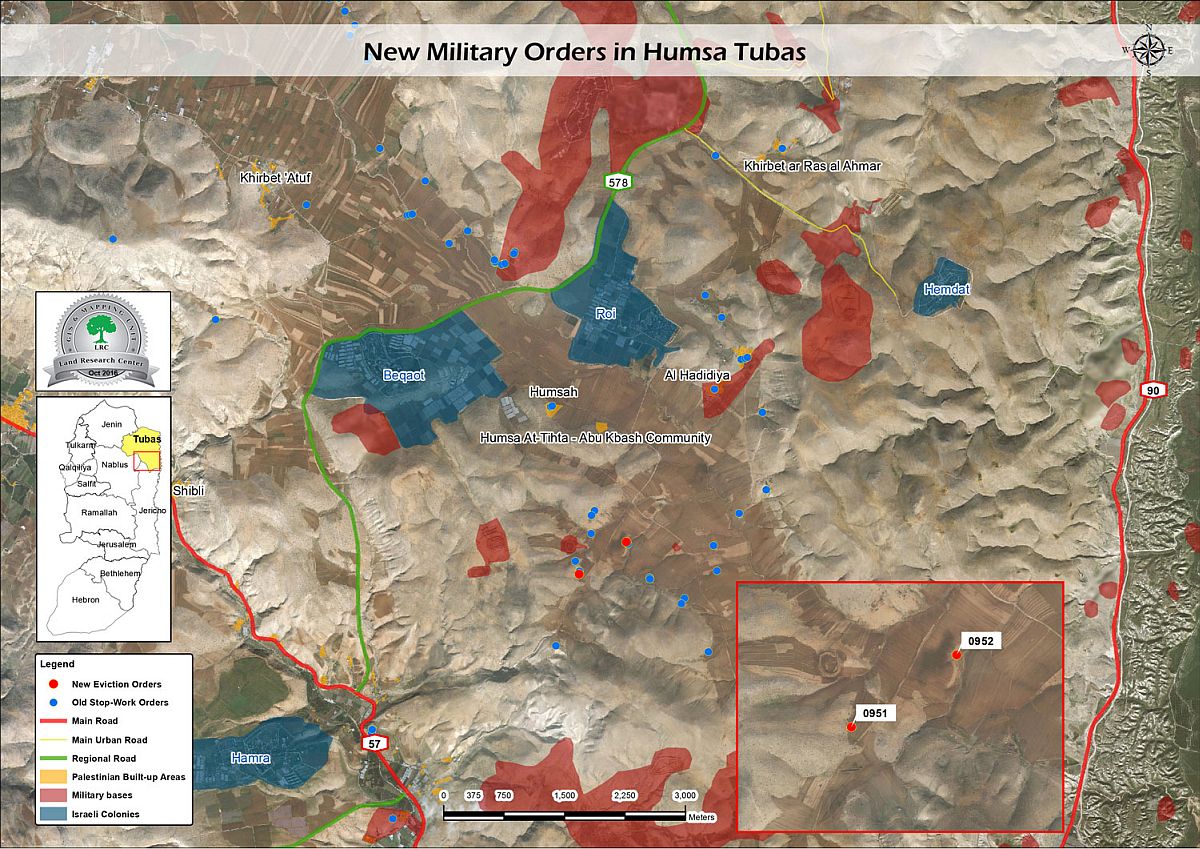 The affected people total around 137 members including 67 children, whose pastures and structures founded nearby the hamlet will be subject to destruction due to the military trainings. This has a negative psychological effect on kids and women in addition to the physical damage that follows lands and crops.
It should be marked that Israeli military trainings caused vast area of pastures to become inaccessible, not mentioning the damage that followed crops due to the leftovers of trainings.

Photos 1-3: the Bedouin community in Humsa
About Humsa Al-Fauqa:
The residents of Humsa AL-Fauqa hail from the area of Bir Al-Saba, south historical Palestine; they were forcibly expelled to the Al-Samou' area, south Hebron. Due to the lack of water, most of them; especially Abu Kbash family moved to area of Palestinian Jordan Valley and settled down in the area of AL-Jiftlik.
It should be marked that the occupation carried out four demolition operations on the area where Abu Kbash family lives in the period between 1996-2000. As a result, the family had to move to Humsa AL-Fauqa in 2006.
Since that time, the occupation has been chasing and delivering them stop-work and demolition orders. In 2010, they were threatened of demolition but managed to obtain an injunction in 2011. Eventually, the community was demolished despite all efforts.
Prepared by
The Land Research Center
LRC