Israel deposits building plan for Oranit settlement in Qalqilyia Governorate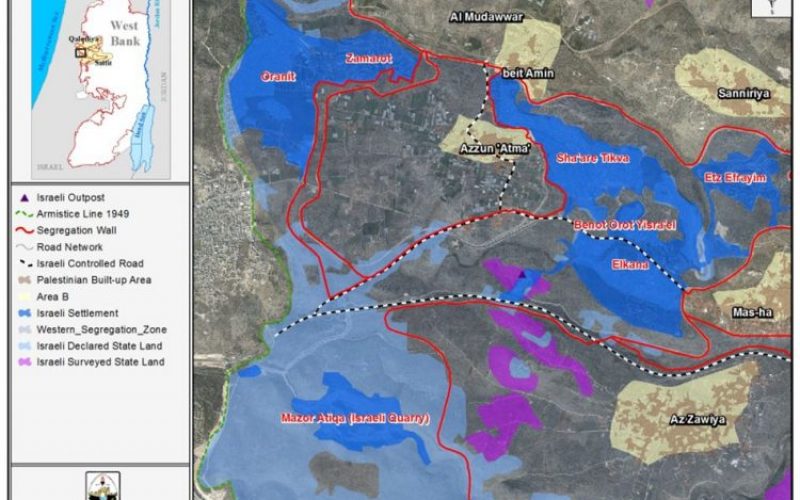 On the 12th of July 2016, the Israeli High planning council[1] of the so-called Israeli Civil Administration (ILA) in the occupied West Bank posted an Advertisement in the Palestinian Al Quds d aily newspaper of a plan designated for settlement building on lands of Siniryia village in Qalqilyia Governorate. The Ad was signed by Eng. Natalia Orbuch, head of the Israeli Settlement sub-committee at the Israeli Civil Administration in the occupied Palestinian territory, and declares the deposit of Town Planning Scheme (TPS) No. 121/20/ יוש in Oranit Settlement in Qalqilyia Governorate. Provisions of the plan as deposited come as follows:
Basin No. 4: Haraeq As Suwwana, Siniryia village Lands
Block No. 9164, part of parcel No. 79, Siniryia lands
Oranit City, Oranit Local Council
The plan declares Land Rezoning from agricultural to residential (Phase A) to build four settlement units on 1.211 dunums of land.
Referring to chapter No. 20/24 of the Israeli City, Village, and Building Planning Law no. 79 of 1966, the Israeli settlement sub-committee declares the deposit of the Town Planning Scheme (TPS) No 121/20/ יוש as an amendment to the Regional plan No. S/15/ יוש. Below is a copy of the posted Ad in Al Quds Daily Newspaper
Photos 1-6: Town Planning Scheme (TPS) No 121/20/ יוש
Affected Palestinians land owners were given a time period of 60 days to object the plan and have to submit all the documents that support their objection, including a survey map or other related documents that can identify the site and prove land ownership;
Photos 7-8: Town Planning Scheme (TPS) No 121/20/ יוש
Note that on the 13th of April 2016, Americans for PEACENOW movement published on its website a report indicating that Israel has advanced building plans in a number of settlements in the occupied Palestinian territory (oPt) during the first quarter of 2016. The report listed a total of 674 new settlement units planned to be built in 14 Israeli settlements in the oPt, out of which, TPS No. יוש/ 20/ 121 was deposited. For more related information, click below:Netanyahu's Government towards approving raft of settlement construction in the oPt
Oranit settlement at a glance
The settlement of Oranit was established in 1983 on lands of Qalqilyia Governorate. Today the settlement is home to 9093[1] Israeli settlers and occupies a total land area of 1795 dunums. Throughout the years of occupation, Israel's Government has been expanding the settlement of Oranit and has grown to become one of the most significant settlements in the occupied Palestinian territory. See Table 1
Table 1: Plans deposited for building in Oranit settlement in Qalqilyia Governorate
No.
Settlement Name
Plan No.
Date of Deposit
Area (Dunums)
1
Oranit
או/ 01/ 2/ 3/ 121
22/02/2016
2
Oranit
121/10
9/5/2001
194.5
3
Oranit
121/10/3
28/07/04
4
Oranit
121/11
20/09/00
5
Oranit
121/12
29/04/2014
NA
6
Oranit
121/13/1
11/5/2014
7
Oranit
121/14
31/08/11
15.507
8
Oranit
121/15
10/10/2013
NA
9
Oranit
121/16
1/4/2016
9.4
10
Oranit
121/2
14/11/90
19.793
11
Oranit
121/20
11/7/2016
1.211
12
Oranit
121/21
11/9/2013
13
Oranit
121/23
4/3/2015
14
Oranit
121/3
10/4/1991
631.383
15
Oranit
121/3/1
5/5/1993
11.759
16
Oranit
121/3/10
28/07/04
117.689
17
Oranit
121/3/11
18/03/09
18
Oranit
121/3/14
26/11/2015
19
Oranit
121/3/14
21/10/15
20
Oranit
121/3/15
12/8/2015
21
Oranit
121/3/16
29/04/15
22
Oranit
121/3/2
27/09/92
23
Oranit
121/3/4
27/09/92
24
Oranit
121/3/7
5/10/1995
25
Oranit
121/3/8
20/03/96
6.757
26
Oranit
121/3/9
27
Oranit
121/3/9
27/01/99
28
Oranit
121/3/9/1
20/09/06
29
Oranit
121/4
28/10/92
33.945
30
Oranit
121/5
6/1/1993
47.5
31
Oranit
121/6
27/09/92
11
32
Oranit
121/7
11/9/1996
7.635
33
Oranit
121/8
11/9/1996
9.391
34
Oranit
121/9
30/04/97
147.918
35
Oranit
121/9/1
36
Oranit
121/11/1
30/04/2015
37
Oranit
ב/121/3
25/12/91
Total
1231.443
Moreover, the construction of the Israeli Segregation Wall in the occupied West Bank has set the settlement of Oranit on the western side of the wall, in the area that has become known to the Palestinians, as the "Western Segregation Zone", the area isolated between the 1949 Armistice Line and the path of the Israeli Segregation Wall. See Map 1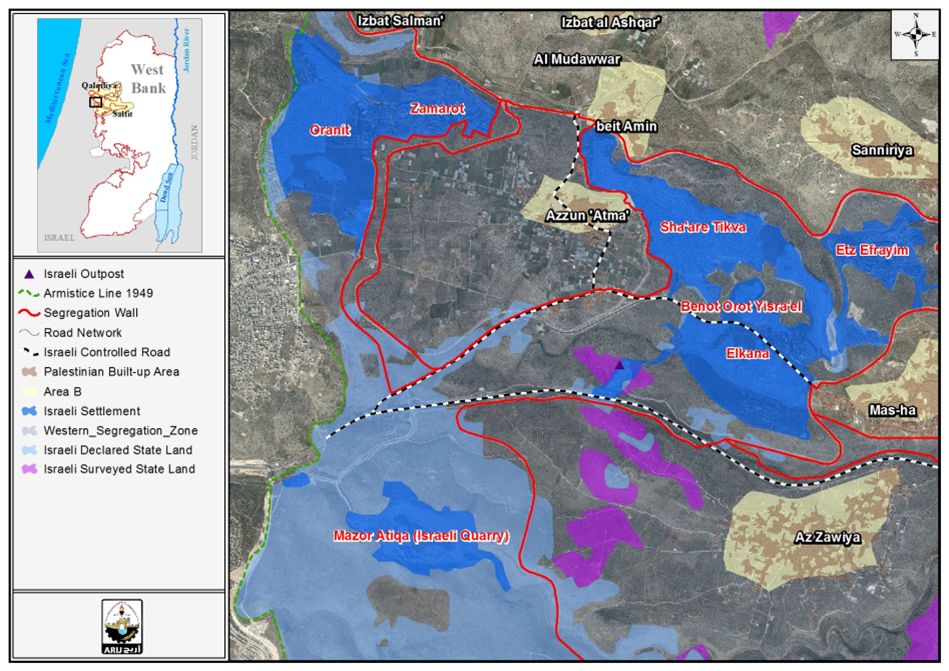 Map 1: Oranit Settlement in Qalqilyia Governorate
To conclude
Israel is persistent to continue building in Israeli settlements in the occupied Palestinian territory and seems to have no regard for international law in that regard. The Israeli government continues to promote plans or approve tenders for hundreds of settler homes on occupied Palestinian land in the West Bank and the scale of these plans has reached an "unprecedented" level.
The Palestinians have repeatedly called for Israel to freeze settlement construction as a precondition to resume talks with the Israelis about the final status issues; however, Israel has been using "the peace talks" as a cover to create "irreversible facts on the ground" in the West Bank in anticipation of any possible future agreement with the Palestinians.
The negotiations about the borders of the future Palestinian state is useless as long as Israel continue to confiscate Palestinian land and build in Israeli settlements, and even more widens the gap between Israelis and Palestinians to reach a just and lasting solution to the Israeli Palestinian conflict.
[1] Jewish Population Stats for Judea & Samaria (the West Bank)
State of Israel, Based on Ministry of Interior Population Registry compiled by Former Knesset Member, Yaakov "Ketzaleh" Katz
http://clicks.aweber.com/y/ct/?l=HXd2E&m=3.IUphudmAEG2J5&b=F2KL7XTgGN8H6xpN6_eF_A

Prepared By
The Applied Research Institute – Jerusalem
ARIJ